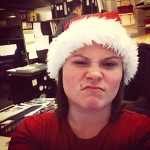 Don't let Amanda's Scrooge face fool you. She's actually one of the internet's most thoughtful gift-givers. She's a kindred spirit who dishes up gift ideas on her site, You're Welcome. Yes, the name indicates precisely her sense of humor, as you'll see.
You're Welcome is "a gift guide for all of life's awkward occasions," including estranged family members' weddings and assorted accidental pregnancies. She just wrapped her 12 Days of Gift Guides featuring 11 Pipers Piping: Gifts for a Stoner and 5 Golden Rings: Gifts for a Golddigger.
Amanda lives in Brooklyn and currently works in publishing in NYC where she interviews people such as Sheryl Crow, appears in publications such as Every Day With Rachael Ray, and writes "about ridiculous topics such as how to keep your lunch safe from a lunchroom bandit." Thanks & happy gifting, Amanda!
Comments Off