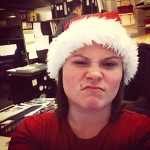 Don't let Amanda's Scrooge face fool you. She's actually one of the internet's most thoughtful gift-givers. She's a kindred spirit who dishes up gift ideas on her site, You're Welcome. Yes, the name indicates precisely her sense of humor, as you'll see.
You're Welcome is "a gift guide for all of life's awkward occasions," including estranged family members' weddings and assorted accidental pregnancies. She just wrapped her 12 Days of Gift Guides featuring 11 Pipers Piping: Gifts for a Stoner and 5 Golden Rings: Gifts for a Golddigger.
Amanda lives in Brooklyn and currently works in publishing in NYC where she interviews people such as Sheryl Crow, appears in publications such as Every Day With Rachael Ray, and writes "about ridiculous topics such as how to keep your lunch safe from a lunchroom bandit." Thanks & happy gifting, Amanda!
What's the best gift you've ever received?
While I love giving and receiving actual gifts, my favorite gifts are usually activity-based. What better way to let someone know you care about them than to say, "Hey, I planned this elaborate day for us to share together; don't give me an attitude for once." For my 25th birthday, my father planned a trip to New Orleans for just the two of us. He even coordinated the time off with my boss, while I remained totally in the dark. The day of my birthday, a giant box was delivered to my office, filled with Mardi Gras paraphernalia and an adorably clunky poem he had written himself, informing me where we were going and when we were leaving. We had a great time—despite the four-hour-long "Impact of Hurricane Katrina" bus tour he made me go on. I definitely needed a drink after that one. Luckily, I was in the right city.
What's the best gift you've ever given?
One of my best friends is a total hippie. She, like most of "her kind," loves jewelry. "Jewels," she calls them, like she's some sort of a weird pirate. Luckily, I found a (now-defunct) website that created custom beaded bracelets based on the soundwaves of a personally recorded message. Once you recorded your message, they would create a bracelet in the form of your unique soundwave. The message I recorded had a lot of meaning to the two of us, and it ended up being one of the coolest, most creative gifts I've ever given.
What's the most inexpensive item you could receive that warms your heart every time?
Cards, definitely. I'm a big sucker for quirky cards, and I am probably the only person you could describe as going "buckwild" in a fancy paperie. My girlfriend and I mail each other cards a few times a month, even though we see each other all of the time. The best one I ever sent came out of a funny argument: after weeks and weeks of trying to convince her that she pronounces the word "tennis" wrong, I found this handmade Love/Love tennis-themed card on Etsy. This card set the perfect stage for me to say, "I love everything you mispronounce in your bastardized Southern accent."
What's the best food to give as a gift?
There are a lot of great food items and gift baskets you can find, but they can turn out to be a little disastrous if you're not careful. One Christmas, I bought my Dad a specialty basket from Murray's Cheese. They're a renowned NYC cheesemaker, and I thought my father, a former chef, would appreciate it. Unfortunately, the basket was a little too adventurous, even for him. One of the cheeses was described as "a raunchy treat," and it was exactly that. He ended up throwing it out in the dumpster behind the grocery store because he didn't want it to stink up the house until garbage day rolled around.
After that experience, I've become a fan of making your own food to give as gifts rather than picking up pre-packaged stuff. Each year, my mom makes to-die-for sugar cookies; they're the only thing certain family members request. My dad makes gift baskets with homemade beef wellington, twice-baked potatoes, and French onion soup. With that standard being set for me, there's no way I could get away with giving someone a gift basket from somewhere like Harry & David.
What's your most extravagant Want?
After years and years of living in dilapidated New York City apartments, paying approximately one million dollars a month in rent, you better believe that I have real estate dreams—big time. All I really want is an insanely nice apartment that's decked out with furniture from Restoration Hardware.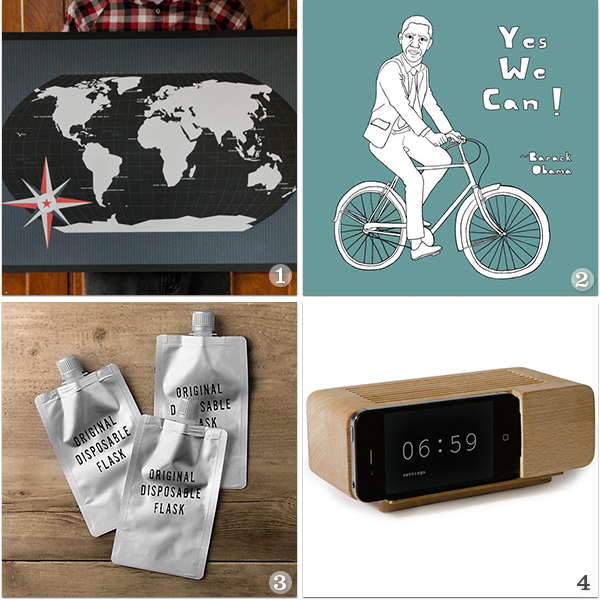 What Amanda wants to give:
1. When my father bought a sailboat a few years ago, my mother and brother became unwilling "First Mates" in my father's nautical fantasy life. All they want to do is stay on land and watch TV, but this "life at sea" has been thrust upon them, and there's nothing they can do about it. This Black World Map will serve as a reminder to my family of the vastness of the open water, and also of all of the places they can't actually sail because they are so inept.
2. I'm not political, but what I am is a jerk. If I lived in the 1920's, I'd be referred to as a "rabble rouser." That's why this Barack Obama on a Bike print that espouses his "Yes We Can" catchphrase would be a great gift for all of my conservative relatives.
3. While they've slightly diminished their drinking prowess post-college, my friends are still seasoned boozers. What I'm trying to say here is that I still have to buy a lot of Bud Light for my annual Christmas party. These disposable flasks are perfect for the drunk who is on-the-go. And for $15, everyone is going to get one this year.
And something she wants for herself:
4. Is there anyone in the world that manually sets an alarm clock anymore? It's all about your iPhone's alarm clock, so I love this wooden alarm clock that will cradle the phone, serving as a stylish charging dock for my precious, precious iPhone. There's even an accompanying app for this piece that was designed in the style of vintage alarm clock's interfaces. I'm commencing my geek-out now.