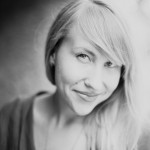 Alyssa is all kinds of cool. She's a tastemaker, trendsetter, and terrific graphic designer. She publishes a blog of inspiring things to like and love—music, art, fashion, it's all there. In addition she's also the creator of welikewelove, a quarterly magazine of wonderful things, currently in it's 9th issue.
welikewelove is born out of a love for discovery, and the belief that discoveries are best shared with excitement and the barely controllable urge to include someone. You may remember this interview we did with the mag in the summer—so fun!
While I miss her IRL, she's here virtually today to share gifting secrets with you! And for a dose of Christmas cheer, be sure to check out her Joyeux Noel board on Pinterest. It's dreamy.
What's the best gift you've ever given?
I'm not sure I have a favorite GIFT I've given, but I love giving gifts to my husband, family or friends when they least expect it. Any time BUT their birthdays, anniversary, Christmas, etc. (Don't worry, I still treat them well on those days!) Randomly when I'm shopping at a store or online, I'll see something that is so perfect for them– a record, t-shirt, necklace, book, etc– I'll pick it up and either give it to them right away or save it for a special moment. I love giving when they least expect it. I love the element of surprise!
Tell us about a gift-giving ah-ha moment you recall.
Some people in my life are really hard to buy for– they have what they need and what they want. Or they buy it as soon as they want it. My ah-ha moment came when I realized I could buy them "an experience". So, I buy a ticket or two to a concert, theatre, dance, orchestra, art opening, art class, restaurant tasting, cooking class, etc… and the best part is, buy yourself a ticket and you can do it together!

What should someone never get you?
My least favorite gift to receive is bath products. To me, in past gift-giving situations, it has seemed like the default gift to give when you don't know what to give (to a girl). Plus, It doesn't help that I don't like to take baths.
Who's the hardest person in your life to buy gifts for?
My Dad is the hardest person to buy for. We pick names for Christmas with my family, and guess what, I have his name this year! He doesn't really want anything, ever! And the thing he loves the most is out of my price range (motorcycles & building custom bikes). What I usually do, is buy him a gift certificate to a bike shop so he can put that towards what he really REALLY wants. And he is the happiest man on Christmas day– so maybe he is actually the easiest person to buy for?!
What's the most inexpensive item you could receive that warms your heart every time?
I love receiving books (fiction, non-fiction, coffee-table, etc). But the thing that warms my heart the most, is a thoughtful note in the front from the giver. I love being able to look back, remember who gave it, and see their handwriting.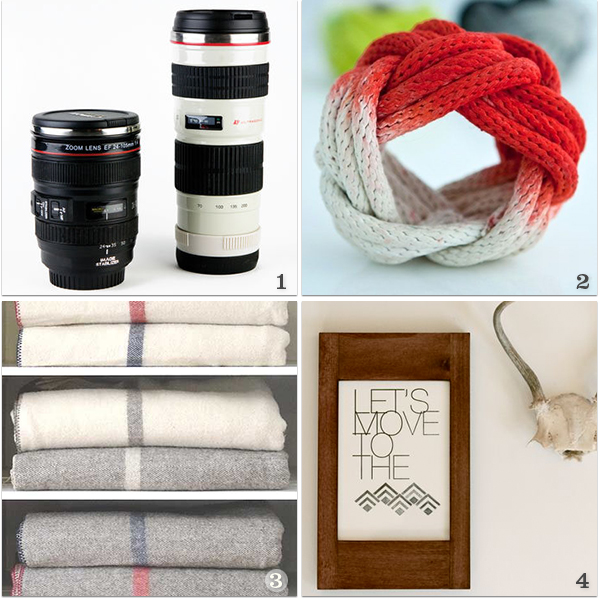 What Alyssa wants to give:
1. A few months ago, I surprise gifted Shane with the bigger (70-200mm) Canon lens mug thanks to Wantist– he's a photographer, so it was a big hit! I would love to add to his collection and get him the smaller (24-105mm) mug.
2. My sister is super creative with her style and loves adding bold accessories to her wardrobe. This bracelet would be the perfect addition to her accessory collection.
3. If I could afford to really splurge, I would buy one of these blankets for my dear friend. This would look amazing in her eclectic living room!
And something she wants for herself:
4. I'm on the hunt for some typographic/graphic posters to add to our art collection. And I really love this cute saying and the simplicity of this print.