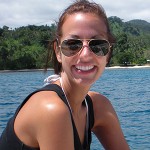 Maggie is an L.A.-based writer, TV critic and lover of all things pop culture (you can see her stuff at AOL TV and The Huffington Post or follow her on Twitter). She's got more energy than a bumblebee and is one of the nicest people you'll ever meet. As you'll read, her husband's quite the sweet guy too.
When she's not interviewing celebrities or scooping a story, her favorite multi-tasking hobby while keeping up with bad TV is online shopping—and she's a big fan of Wantist. In all her adorableness, here she is. Thanks, Maggie!
What's the best gift you've ever received?
The best gift I've ever received is a sun deck that my husband (and a few friends he bribed with tacos and beer) built for me for my 30th birthday. We'd lived in our house for a year, and it was so close to perfect, but my prized chaise lounges — once my grandmother's — were always in the shade. The sun deck is a fabulous place to "work from home," watch the sunset with a cocktail or get some quiet time with a great view.
What's the best food to give as a gift?
The best food to give is anything homemade. From an assortment of pickled veggies your giftee can set out with dips at a party, to cookies or brownies straight from a package, food is always a gift that's made with love. My new favorite that a lot of people will be seeing in their stockings come Christmas? Our house-made bitters in an assortment of flavors, suited to each recipient's taste.

What's your most extravagant Want?
The want I want more than any want isn't really a tangible thing: I love to travel. Last year, we trekked around Spain and Italy, and it was fabulous, but pretty much the day after we got back I started planning our next big adventure to Greece. It's still a year away — we don't have *that* much vacation time! — but having something to look forward to always makes the trip even more special.
Have you ever given a gift in an interesting way?
My husband, Tripper, is amazing. Even when I think I'm being amazing, he's secretly been plotting something that always one-ups me — never on purpose, but that's just the way he is. I've only ever really surprised him one time, and it's been my claim to gifting fame for a couple of years now. I managed to have a full consultation and full 48-hour installation of surround sound speakers inside and outside of our house without him ever having any idea. He walked in the house one afternoon and voila! Every dude's dream.
Who's the hardest person in your life to buy gifts for?
My parents are particularly tricky to shop for, but my dad is the worst, hands down. There's nothing that he really wants that he doesn't just buy himself, which makes coming up with unique ideas nearly impossible. The man is obsessed with music, owns more iPods than even makes sense, and always just asks for iTunes gift cards. Instead, I've started getting him tickets to live concerts — still a fun music experience, but one he wouldn't think to buy for himself, and it's an instant date night for him and my mom.
What Maggie wants to give & Something she wants for herself: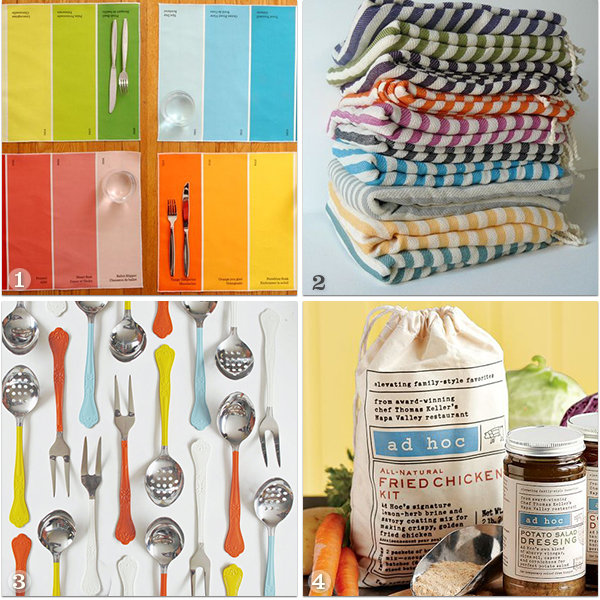 I'm a loyal Wantist-inspired shopper: In the last year alone, I've gotten this spray paint can cocktail shaker for my husband who loves a good gin martini, and this beer-making kit because he loves IPAs just as much. There's the InsideOut champagne glasses that were a huge hit with my in-laws, and the unzipped glass zipper bag that I keep little mints in at home, and … well, you get the idea. Narrowing my picks down to just a few here wasn't easy, but here goes:
1. Most nights, we end up eating dinner sitting on our living room floor in front of the TV (it's a hazard of my job!), but lately I've become obsessed with placemats for those occasions when our dining room table is on display. These bright and funky paint chip versions mean I'll never have to decide on just one boring color to buy. (Paint Chip Placemats)
2. For my mom, these Handwoven Turkish Beach Towels. I come from a long line of sun worshippers. Say what you will about the importance of slathering on SPF 50, but sometimes a spritz of 15 and an hour outside is all you need for a shot of Vitamin D-provided energy and a nice glow. Living in Texas, my mom will love how lightweight and super-absorbent these happy striped towels are.
3. Like me, my sister loves to entertain. While I tend to skew more modern with my personal styles and home decor, she likes the classics. These inspired serving pieces are the best of both worlds: fun vintage details with a splash of poppy color. (Superior Servers)
4. For our Napa travel buddies, this Ad Hoc Fried Chicken Kit. We've lived in L.A. for years and have visited wineries all around Santa Barbara, but our very first trip up to Napa is just days away. We're meeting a few friends there, all coming in from different cities, and beyond a lot of wine tasting, one stop I'm truly excited about is brunch at Thomas Keller's Ad Hoc. If the fried chicken is as good as everyone says it is, this kit would be a great post-trip surprise.
Your turn! Want to Give & Tell on Wantist? Let's do it! Email me for details.