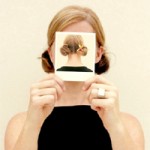 Have you ever looked at a piece of art and thought, "Damn, I love that." And if you're an artist like Danielle, you might also be thinking, "Damn, I wish I thought of that."
The feeling is, as she puts it, "a rush of uplifting inspiration… and total soul-crushing jealousy all at the same time." A couple years ago Danielle started sharing her jealousy out loud on her blog aptly named, The Jealous Curator. The site features the work of emerging contemporary artists from a variety of disciplines and may in fact, make you quite jealous.
Whether it's their talent that's got you green or your wish to acquire one of the lovely pieces Danielle shines a light on, you'd be hard pressed not to find something you adore on every page and admire her great taste and beautiful curation. I certainly do.
She recently started taking her jealous curation from the blogosphere, to the white walls of actual galleries. (So jealous.) Today she's here with us. Sharing her gifting tales and favorites from Wantist, it's The Jealous Curator!
What's the best gift you've ever received?
When I was twelve, I got a one-piece pink snowsuit, and ski lessons for the winter. That was the best Christmas morning ever! Oh boy, I was going to look sooo good on that mountain!
Have you ever done any sneaky research to determine the right gift for someone?
My husband, Greg, has always wanted a wooden ring but could never find one (they're really hard to make for men, because the wood is so fragile so making a ring with a big enough hole is tough!). Anyway, our fifth wedding anniversary was coming up, and I remembered that "wood" was the traditional gift. I set out to find a jewelry designer that would make a ring for the love of my life… and I found one! An amazing woman in Seattle who made cuffs, earrings, necklaces, and yes, rings from salvaged wood. I had to do a bunch of sneaky measurements from old rings, and a few really good guesses, but it worked! She designed a gorgeous ring that fit him perfectly. On the night of our anniversary I gave it to him, and he was surprised/thrilled/stunned! He has a men's lifestyle blog, and actually wrote a post about it (yep, that's how you know he really loved it!)

What's your favorite reason to celebrate with a gift?
I love, and I mean LOVE, Christmas. When I was a kid I used to be awake by 5am just waiting to get up and open my presents. Well, a couple of decades later and I still wake up at 5am on Christmas morning… but now it's because I'm so excited to watch my family open their gifts! (Ok, and I kinda want my gifts too!)
Who's the hardest person in your life to buy gifts for?
I have a couple of those people! My sister returns everything, and my mom "wants for nothing". After years of trying to find the perfect gift for them, now they both get gift cards, and occasionally I'll make them a piece of art… because then it would be too rude for my sister to return, and how can a mother not want her child's artwork, right?!
What's your most extravagant Want?
Art! I want lots of art, and a beautiful big space to put all of it in. Maybe my own gallery… now, that's a pretty extravagant want!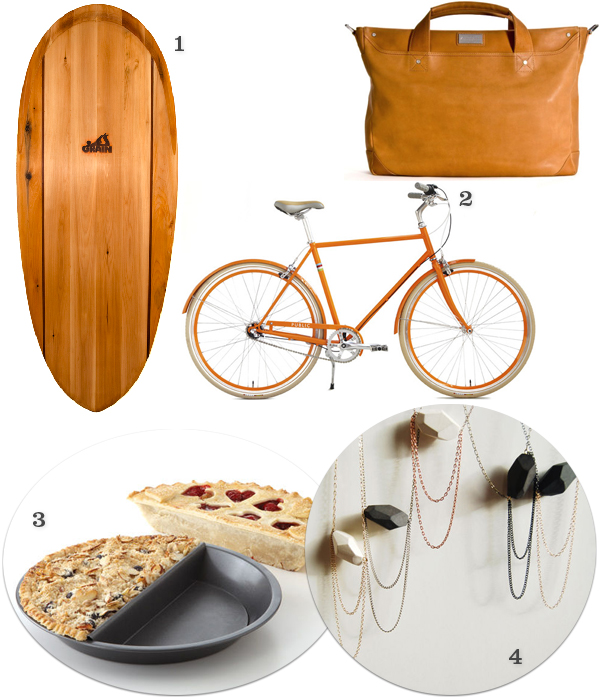 What Danielle wants to give:
1. I want this sea sled for my super-stylish/outdoorsy husband. He knows what he's doing on snowboards and skateboards, but he has yet to conquer the sea. And the fact that this body board is made out of wood – bonus! (Remember the ring? Yep, he loves things made from wood!)
2. My dear friend Kira is currently living in Amsterdam writing her second novel… so I picked two things for her! A gorgeous bag to carry her newly written pages, and an orange bike from Public to help her get around that beautiful city.
3. Ok, this one is for my indecisive sister (the notorious gift-returner) who also happens to be an amazing baker. This split decision pie pan will give her options – no need to return the blueberry pie, she's got cherry as a back-up!
And something she wants for herself:
4. I would like one of these necklaces, please! I have a thing for geometric shapes, and I rarely treat myself to jewelry… hm, so maybe I'll take all of them!
Your turn! Want to Give & Tell on Wantist? Let's do it! Email me for details.