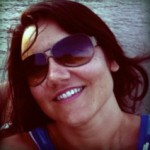 Today's guest gift-giver is the wonderfully fun Amy Ferguson. She's a southern girl who has lived in New York for the past seven years. Amy's a crafty, artsy, goofball—it's no surprise why we love her so. She works as a freelance Art Director at various ad agencies in NYC and there's a very good chance Amy's work has popped across your TV and made you laugh.
She lives in the West Village, blogs happy things at Old Sweet Song, and has single handedly brought back the ultimate DIY gift idea here at Wantist, Rob Gordon style. Thanks, Amy!
Could you share a wrapping secret with us?
I really love the look and versatility of wrapping gifts with brown kraft paper. I like tying the gifts with string but I mix up the variety of string. Sometimes I use red and white bakers twine or just plain old white twine. And I just got an awesome spool of neon pink twine from the hardware store and it looks fantastic with the brown paper. There's something sweet and retro about the look but it's also polished and chic. Plus you never have to worry about holiday specific wrapping.
What's the most inexpensive item you could receive that warms your heart every time?
I think there are few more personal and heartfelt gifts than a good old fashioned mix CD (Really, I miss mixtapes. But does anyone have a cassette player anymore?! And I wouldn't even know where to buy a blank cassette tape). Mixes might be my favorite thing to give. I love curating the songs for the specific person, picking the order and then designing a personalized cover. I take it all very seriously! But getting a mix made with love is also really amazing. There's something nostalgic about it that reminds me of my teen years. Can we all just stop what we're doing right now and make a pact to not let the mix CD die? Long live the mix CD!

What's your favorite reason to celebrate with a gift?
I'm a big gift giver. Christmas, birthdays, housewarming, etc. I'll take any excuse to give someone a gift. But my favorite reason is no reason at all. A surprise gift is the best kind. To both give and to get.
What's the best food to give as a gift?
Anything baked at home with love. Chocolate chip cookies or pumpkin bread usually do the trick!
What's your most extravagant Want?
I'm thinking I could get pretty excited about an iPad. Or a Le Creuset Dutch Oven. Or some ridiculously expensive towels because that's something I would never buy for myself.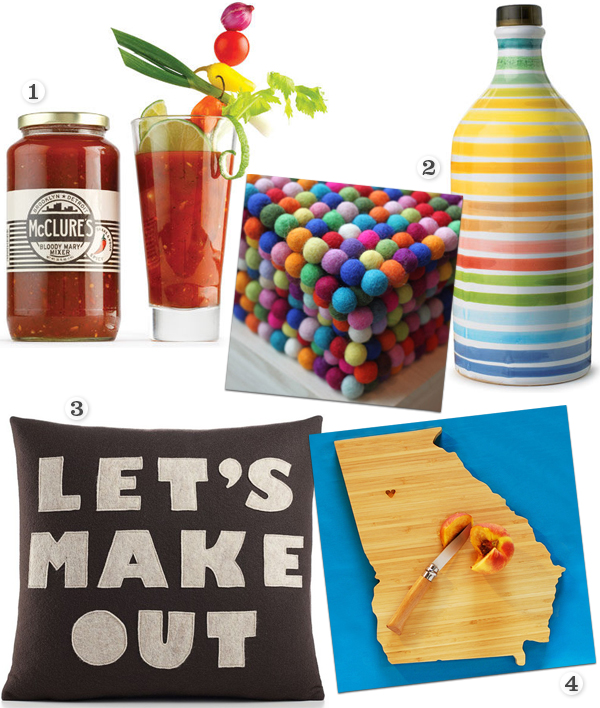 What Amy wants to give:
1. Bloody Mary Mix by McClure's Pickles for my sister because she's the only other person on the planet who loves bloody marys as much I do. And if McClure's Bloody Mary Mix is as good as their pickles this should be phenomenal.
2. Antico Frantoio Muraglia 'Intenso' Extra Virgin Olive Oil and these felt trivets for my mom because she loves bright colorful things and these would go nicely in her kitchen.
3. The Let's Make Out Pillow by Alexandra Ferguson for my boyfriend because well, isn't it obvious?
And something she wants for herself:
4. A Georgia state shaped cutting board because I can't resist a good Georgia themed item. What can I say, I just have tons of pride for my home state.