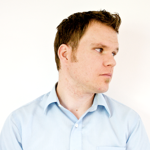 Creede coins himself a frugal design junkie. His site Grassrootsmodern is a long time favorite of mine filled with modern styled home goods at reasonable prices—in other words, many Wants!
He loves miminamist and mid-century influences and often finds himself with a hammer and drill in hand in order to achieve the style he wants without breaking the bank. He started Grassrootsmodern six years ago in order to share his ideas and inspirations on affordable design—you'll recognize his blogging cohort, Wantist contributor Capree. (Design sleuth extrordinaire, that girl!)
Creede lives in Utah with his son, daughter, and golden doodle Ainsley. In between sharing awesome finds and working on his house, he took some time to Give & Tell with us today. Thanks, Creede!
What's your favorite reason to celebrate with a gift?
I love holidays, and I definitely get into the giving spirit around Christmas. That being said, the best reason to give a gift, is no reason at all. I mean really, who needs a reason to be nice to someone, or show them you love them?
What's the best food to give as a gift?
I could go two ways here. If the person is close by, there is nothing better than giving a gift of a home cooked meal. Everybody loves to have a nice dinner cooked for them, plus you get to share to food. Win, win. Of course that's hard to do for you best friend out of state, so in that case I default back to my favorite food group. Chocolate. There is a fantastic selection of quality chocolate out there, my local favorite is Amano. If your friend isn't chocolate savvy make sure you enlighten them as to the finer points of the bar you chose.

What's your most extravagant Want?
OMG, I have so many wants, especially extravagant ones, it's hard to choose. One extravagant one that I will have someday is an Eames Lounge Chair and Ottoman. I've been in love with that chair from the very first day I laid eyes on it. Mark my words, some day I will own one. Some day.
What's the most inexpensive item you could receive that warms your heart every time?
I'm a pretty sentimental guy, so it's never really about the gift as much as it is the thought. Someone could literally give me something with zero monetary value, but if it has some special significance for me, I would be delighted. Especially if it came with a hug. :)
What's the worst gift you've ever received?
One year for Christmas my uncle Tim got me a bright teal blazer made out of misc. wool and synthetic products, and a hawaiian shirt to go with it. This was about 10 years ago. He said that he heard the look was really catching on, and it was the cool thing to wear.
You were wrong Tim. So wrong.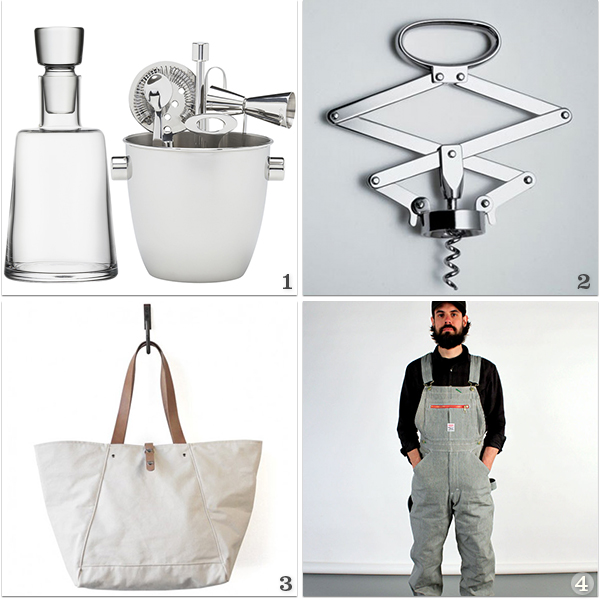 What Creede wants to give:
1. I'd love to pick up an Owen Decanter for my lady friend ;) who just restored a fantastic old metal bar cart. The cart looks amazing but it really needs an awesome decanter (or three) sitting on top to complete the package. Ohh, speaking of completing the package, the bar tool and ice bucket set would be nice too. That counts as one gift because it all goes to the same place right?
2. For my friend and amazing DJ, Jessie Walker I would pick up a Socrates corkscrew. Mostly because he always lets me come over to his house and drink all his wine, and he deserves a corkscrew as classy as he is.
3. For my mom, I'd grab a Makr Farm Tote, partially because I love everything that Jason from Makr does, but also because my mom actually lives on a farm where she makes artisan raw cows milk cheeses. Pretty sure that tote would feel right at home, and it would get some serious use like it deserves.
And something he wants for himself:
4. For me? Ever the practical person, I'll gladly take a pair of Pointer Brand overalls for when I'm making furniture at Modern Union so I can stay neat and clean underneath my work clothes. It does come with the beard right?