Press
About Wantist
Wantist.com, launched Nov. 2010, is a web application with a curated collection of gift ideas and a simple one-sentence interface. The purpose of Wantist is to make finding a gift enjoyable, quick, and most of all successful. We provide recommendations for great gifts from stores all across the web and continuously update the collection to fill gift-finding needs for any occasion, year-round.
Wantist was created by Brittany and Jacob Reiff in Portland, Ore. It is designed and developed by Jacob. Brittany does everything else. They are currently hq'd in San Francisco.
(Logo and screenshot below)
Who's talking about us?
"A fun place to shop for gifts designed with a clever one-sentence interface…Through a clean, intuitive "one-sentence" interface built in HTML5, Wantist provides a place for shoppers to discover great gift for every occasion." : Google Chromebook Preview
– Google
"Wantist, to change the way you approach gift giving. I needed this so badly in my life." : Stuff I found while looking around
– Heather Armstrong of Dooce
"There are plenty of shopping sites out there that you can browse from your iPad, but none of them are as slick as Wantist." : 10 HTML 5 Sites That Will Rock Your iPad
– Mac|Life
"Your new favorite online collection of gifts-to-be" : An interview with the founders of Wantist
– We Like We Love Magazine, Issue 7, p. 30-31
"Very simple and a lot of fun to play with" : Wantist: A Gift Guide for Design Lovers
– Apartment Therapy
"Maybe it's your frustration with the hunt that's holding up this gift-buying decision. Wantist makes the selection process a cinch." : Great Websites for Inspired Gifts
– Good Housekeeping
"Fantastic new curated portal for gift ideas"
– Maria Popova of Brain Pickings
"Make holiday shopping easy this year with Wantist (careful; it's addicting)." : Well-Rounded Week
– Erin Loechner of Design for Mankind for ReadyMade Magazine
"I'm always a fan of technology that solves real problems… That's why Portland's Wantist is such an interesting and compelling service. It's a simple and efficient way of finding awesome gifts for the amazing people in your life—and gifts they're likely to love." : Meet the Startup: Unwrapping the story behind Wantist
– Silicon Florist
"For Father's Day, Wantist has put together a nice-looking gift guide."
- Design Milk
"Wantist presents over 100 Father's Day gift ideas in a super nice design. Clever ideas too."
– Quipsologies by UnderConsideration
"A fun way to browse Father's Day gifts."
– Happy Cog
"Portland's Wantist.com lets desperate gift-hunters search Mad Libs–style, matching loved ones' traits to curated sets of presents." : Trophy Case
– Portland Monthly Magazine, p. 34 (slide 4)
"If you're not one of the 5,700 people following Wantist on Facebook, perhaps it's time to. Brittany and Jacob Reiff's start-up has given a fresh start to buying gifts online." : Wantist? Brittany & Jacob Reiff have got it
– Creative Couples
"This fine Father's Day gift guide from Brittany and Jacob at Wantist avoids all the traps. Its inclusive for all types of guys, and provides unique, solid stuff, that anyone might want, including dads. Plus, it's beautifully designed and full of care." : An Ultimate Father's Day Gift Guide
– ManMadeDIY
"Father's Day is coming up, and the folks at Wantist have a list of great gifts for dad. A large selection of fonts work in concert to create lovely little gift cards." : Sites We Like, Jun. 3
– Typekit
"I've been having way too much fun over on Wantist lately."
– Brandi of not your average ordinary
"Wantist takes the work out of buying gifts….for anyone!"
– Team Cargoh
"In short, it's a site that makes picking out a gift far more fun and interesting than it would be had you gone the route of going store to store…How great? No, seriously – how great!"
– Charm Design Studio
"If you're like me and not a fan of malls, that gift you need to get for that birthday, anniversary, promotion, holiday, or just to show someone some simple love, is waiting for you on Wantist."
– Holstee
"Thanks to wantist.com, you will never have a problem finding a gift again!"
– Tasia and Mary of Will Work for Cupcakes
"Could gift giving get any easier?? Pure genius."
– Lauren of the little things we do…
Hot Startups of the Week, Jan. 26
– Sprouter Weekly
35 Inspiring Examples of Websites Using HTML5
– Web Design Ledger
"Dead simple." : Curation, Everyone is a Docent
– TrendSlate
"Holiday shopping is fully upon us… I strongly suggest that you check out Wantist."
– Creede of GrassrootsModern
"Looking for some xmas gift ideas? Check out Wantist"
– FistFullaFives
What do you Wantist?
– Dan of Right Brain Resource
"I'm giving you a reason to spend hours clicking around a website…it's called Wantist"
– Colorfly Studio
Wantist elsewhere
White & Whimsical curated collection at UncommonGoods
Great Looking Rain Gear fall collection for Kirtsy
Gifts for All Kinds With Wantist on The Etsy Blog
Guest curating at Supermarket
Muggin' down on MugshotMonday
Cargoh guest post: What Wantist wants for Valentine's Day!
Get in touch
Wantist, @Wantist
press at wantist dot com
Jacob Reiff, @jaacob
jacob at wantist dot com
Brittany Reiff, @redhooded
brittany at wantist dot com
818 SW 3rd Avenue #364
Portland, OR 97204
503.465.4449
Press Releases
November 23, 2010
Gift Ideas, Simplified – Wantist.com Helps Shoppers Find Gifts Quickly
Logos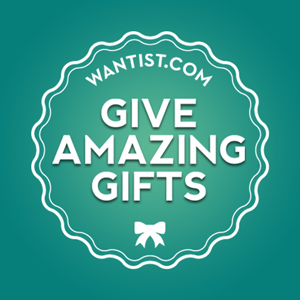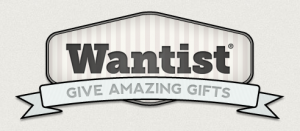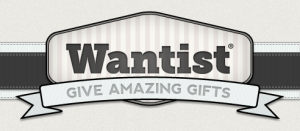 Screenshots