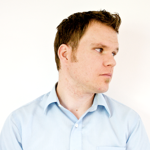 Creede coins himself a frugal design junkie. His site Grassrootsmodern is a long time favorite of mine filled with modern styled home goods at reasonable prices—in other words, many Wants!
He loves miminamist and mid-century influences and often finds himself with a hammer and drill in hand in order to achieve the style he wants without breaking the bank. He started Grassrootsmodern six years ago in order to share his ideas and inspirations on affordable design—you'll recognize his blogging cohort, Wantist contributor Capree. (Design sleuth extrordinaire, that girl!)
Creede lives in Utah with his son, daughter, and golden doodle Ainsley. In between sharing awesome finds and working on his house, he took some time to Give & Tell with us today. Thanks, Creede!
What's your favorite reason to celebrate with a gift?
I love holidays, and I definitely get into the giving spirit around Christmas. That being said, the best reason to give a gift, is no reason at all. I mean really, who needs a reason to be nice to someone, or show them you love them?
What's the best food to give as a gift?
I could go two ways here. If the person is close by, there is nothing better than giving a gift of a home cooked meal. Everybody loves to have a nice dinner cooked for them, plus you get to share to food. Win, win. Of course that's hard to do for you best friend out of state, so in that case I default back to my favorite food group. Chocolate. There is a fantastic selection of quality chocolate out there, my local favorite is Amano. If your friend isn't chocolate savvy make sure you enlighten them as to the finer points of the bar you chose.
Read More
Comments Off