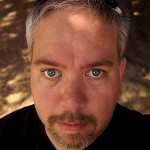 Ken Denmead is a husband and father from the San Francisco Bay Area, where he works as a civil engineer. He's also the editor of Wired magazine's parenting blog, GeekDad, where along with a group of other geeky parents, he posts projects, book and movie reviews, podcasts, and more about being a parent and being a geek.
You've seen Ken's work around Wantist before—he's also the author of the Geek Dad series of books, Geek Dad, The Geek Dad's Guide to Weekend Fun, and just released this month, The Geek Dad Book for Aspiring Mad Scientists, filled with science experiments and MacGyvery exploits for the family to do together.
Needless to say, he's a busy guy, so I'm completely geeking out when I tell you that we snagged some of his time to Give & Tell today. Thanks Ken!
Could you share a wrapping secret with us?
My favorite tried-and-true technique is one I learned as a kid – curling ribbon with the edge of a scissors blade. But I always take it one step further. I will snip the ribbon into smaller strings, and then curl them, for a very interesting curly string effect.
Have you ever given a gift in an interesting way?
Especially with our boys, we love to do treasure hunts. And it's a tradition in our family to put interesting clues to a gift on its tag. Sometimes they're funny, sometimes obscure.

What's the best food to give as a gift?
I love to give high-quality, fresh spices. So many folks just assume the spices they get in bottles at the supermarket are all that's available, but there are a number of sites online specializing in very fresh and exotic spices, which can take food to a whole new level.
Who's the hardest person in your life to buy gifts for?
My grandmother is the hardest person to shop for. At her age (in her nineties, but still rolling along), she's received everything she's ever really wanted, and has no interest in elecronics. We try to do more with experiential gifts, but it can be a real challenge.
What's the most inexpensive item you could receive that warms your heart every time?
Praise for my work from a complete stranger. I've written books and blog posts and send them off into the world, never knowing what their real impact is. When I get an email or at tweet from someone who has found value in them, I'm always tickled.
What's your most extravagant Want?
Free time!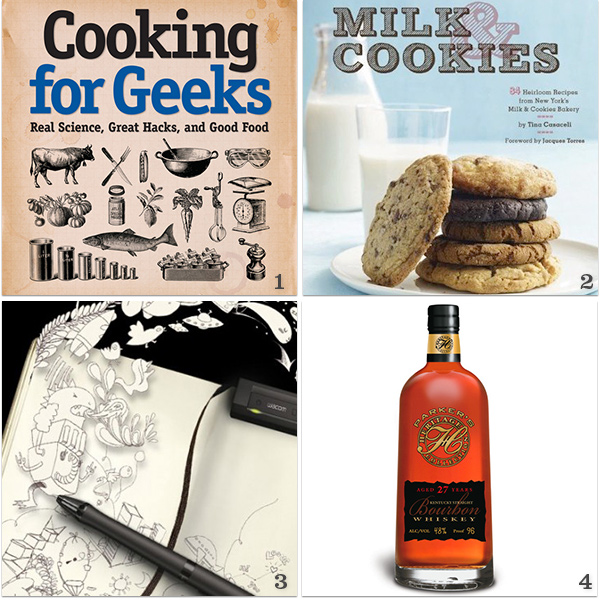 What Ken wants to give:
1. For my older son, Cooking for Geeks, because he is passionate about cooking, and he's a geek-in-training.
2. For my younger son, Milk & Cookies, because he appreciates fine baked goods.
3. For my wife, Wacom's Inkling, because she's a teacher, and a good illustrator, and this would be the perfect way for her to transfer her drawings onto documents for her students.
And something he wants for himself:
4. For me, Parker's Heritage Collection 27 Year-Old Whiskey, because I am a huge fan of small-batch bourbons.
Your turn! Want to Give & Tell on Wantist? Let's do it! Email me for details.