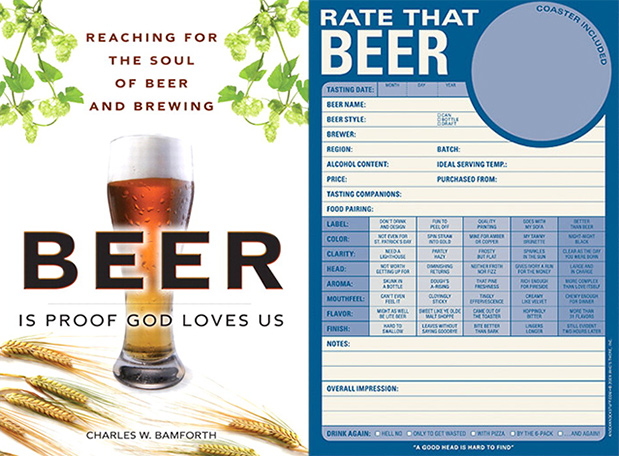 Raise your mug and toast your favorite brewmaster, it's International Beer Day! With celebrations in pubs and breweries around the world today, it seemed a fine time to share with you these sixteen awesome gifts for beer lovers.
So if you'll be my Hops, I'll be your Barley and tell you a tale of gifts to celebrate your favorite ale.
Beer Is Proof God Loves Us tells beer's social history, shares the culture of brewing and the business behind the brewski. To entertain the analytical beer drinker, the Rate That Beer Notepad, complete with coaster, at the bottom reads, "A good head is hard to find."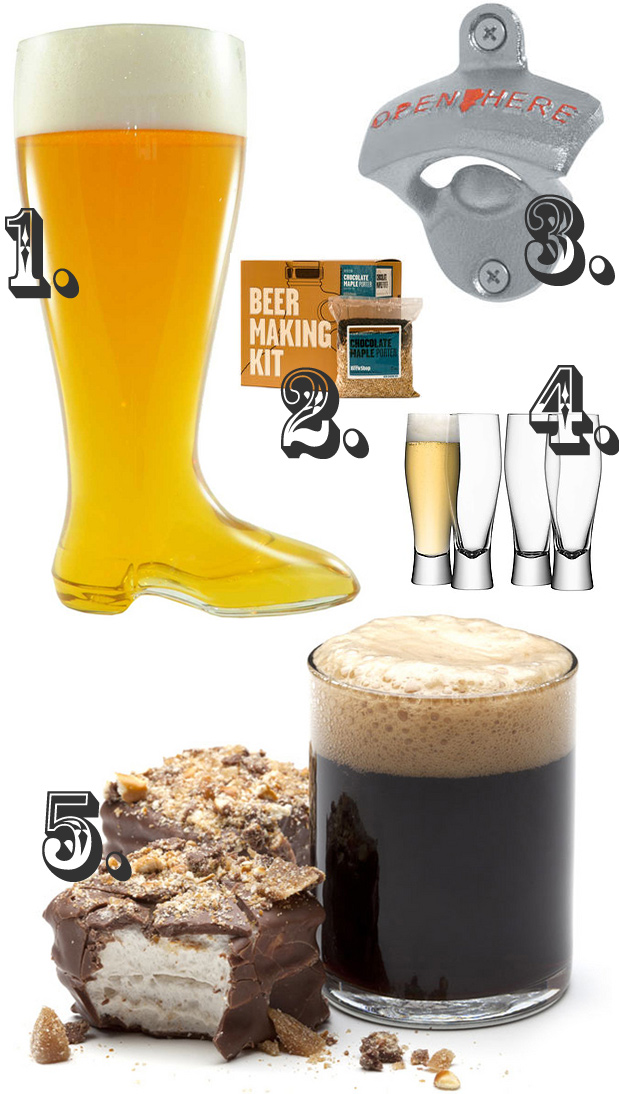 Who could refuse a drink from a 2 liter (1) glass beer boot? Casually coined Das Boot, in Germany it's actually called a bierstiefel. A gift for DIY beer-types, the Brooklyn Brew Shop is here to help with (2) beer making kits in flavors like Peanut Butter Porter, Grapefruit Honey Ale and Everyday IPA. Keeping things classic is Kikkerland's (3) Open Here Bottle Opener. No questions, just answers: open your beer right. here. And enjoy!
From classic to classy, if they're too urbane for the bottle, then these (4) lager glasses should suit them nicely. What about beer fans with a sweet tooth? We've got a gift for them too. They're sweet and they're salty, handcrafted with Rogue's Chocolate Stout. They're (5) Beer & Pretzel Marshmallows! Oh yes.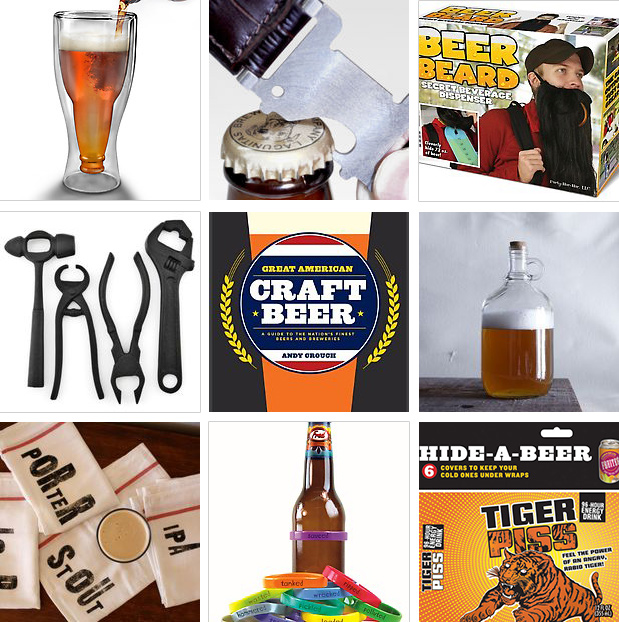 Taking a look at these gifts left to right, top to bottom, the Hopside Down Beer Glass might make you look twice and is delightfully perplexing, especially after you've had a few. Next you see a bottle opener, but what you don't see is that it's actually a Nano Watch Band/Beer Opener. Yes, someone thought of that. He goes by Richard Tracy.
If a laugh is what you're after, then give them the Beer Beard. No it's not really a beer beard. It's a Prank Pack fake gift box intend to deceive them about what's inside. In a satirical way. We promise, it's a good time. Fill it with beer & pretzel marshmallows or something.
For tool-toting beer fans, gift a bottle opening wrench or hammer. For armchair beer enthusiasts, take them on a virtual cross-country brewery tour with Great American Craft Beer. At the next backyard pot-luck, instead of a bucket of bottles, try passing this stylish glass growler around the table.
In a list of gifts for beer lovers we'd be remiss not include these hand-stamped beer lovers kitchen towels. Perfect for a casual dinner party or around the poker table. Speaking of parties, you know what's annoying? Setting down a beer bottle next to another beer bottle and not knowing whose is whose. Beer Bands fix that and even get a little cheeky while they do. Finally for that beer drinker who prefers to be sneaky, Hide-a-Beer Can Wrappers will lead others to believe it's not beer, it's um… tiger piss. So sly can man, so sly.
Have a cold one for us too! We've got a busy couple days ahead. We'll be back next week with a brand new look on the blog. Hooray! Stay tuned.