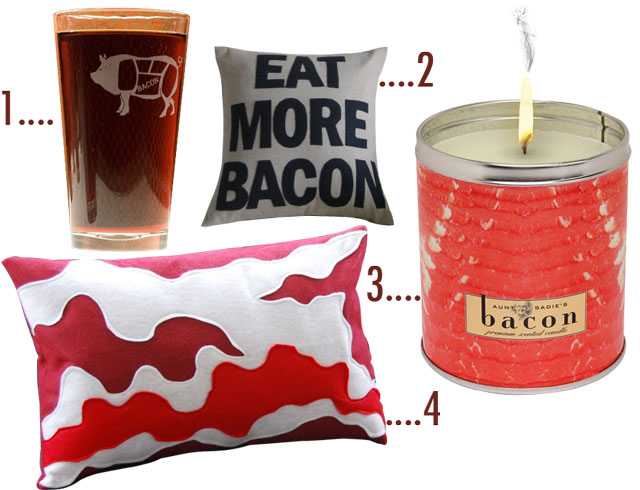 Savory or sweet, on its own or wrapped around a friend, infused in booze or expressed with art; it's bacon, and it's the best thing ever! I honor bacon at least once a week, but I'll take any excuse to commemorate its amazingness more frequently. Well, we're in luck, because tomorrow is Bacon Day! While you're out celebrating the gateway meat this weekend, think about bringing some of these tasty treats with you, since there's nothing worse than forgetting to BYOB on September 3rd!
Bacon really brightens up a room, so you're going to want to get your hands on a few of these sizzling items. Start with a toast to bacon mania from this etched pint glass while savoring the scent of a bacon candle (made with real bacon fat). Don't forget to keep things cozy with a decorative pillow or two, but be careful, guest envy will likely ensue!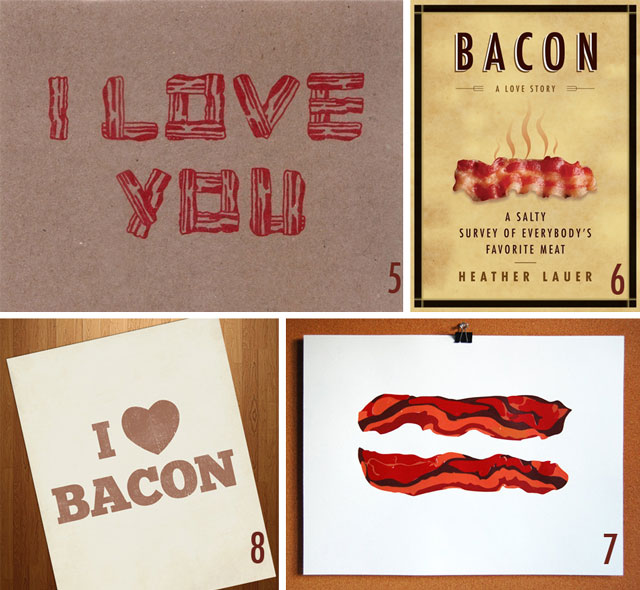 We all know sharing is caring, so send a greeting card to a pork enthusiast, or read a salty love story with your sweetheart. Perhaps you know a wall that needs a piece of awesome art…there's no need to be shy, say it loud and proud with me, "I LOVE BACON!"
Dudes have it made when it comes to accessorizing with eggs' best bud. Get him a tie, cuff links, some socks and a 'bringing home the bacon' badge, and they're good to go! Just add Bakon Vodka, and he's officially armed and ready. Please don't go bacon my heart, sir.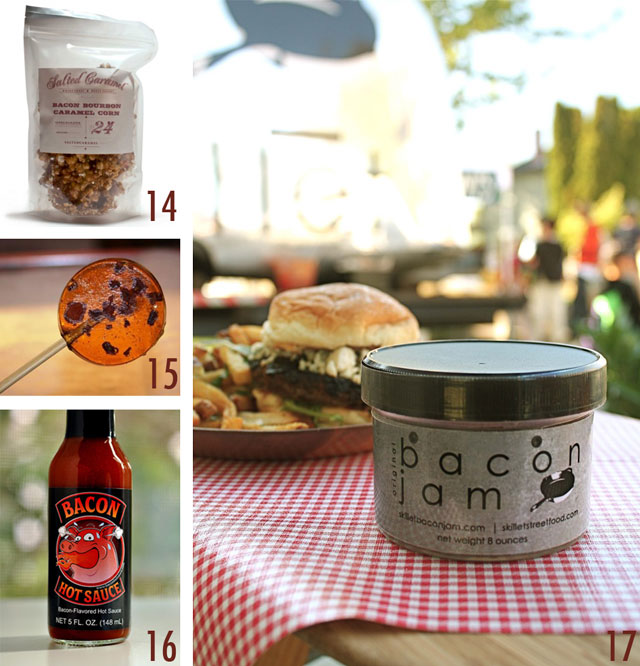 But maybe you just want to eat it, and I don't blame you one bacon bit. How about you pig out on bourbon caramel corn, lick a salty lolli, or get your jam on and spice up a boring meal with a dash of pork belly goodness. Done and done.
Is there anything better than bacon? Nope, everyone loves bacon! So let's hear it, how will you celebrate this delicious Jollyday?
1. Bacon Etched Pint Glass by East Mesa Design, 2. Eat More Bacon Pillow by Sew English, 3. Sizzling Bacon Candle, 4. Tastes Like Bacon Lumbar Eco-Felt Pillow by diffractionfiber5, 5. I Love You Bacon Card by Sweet Meats, 6. Bacon: A Love Story, 7. Mmmm…Bacon Screenprint by badDumpster, 8. I Love Bacon Art Print by Lucius Art, 9. Bakon Vodka, 10. What the…Bacon Cuff Links by elementAg, 11. Bacon Screenprinted Microfiber Tie by toybreaker, 12. Merit Badge for 'Bringing Home the Bacon' by Lee Meszaros, 13. Geek Statement Socks, 14. Bacon Bourbon Caramel Corn, 15. Maple Bacon Lolli Pops by Roni Sue, 16. Bacon Hot Sauce, 17. Bacon Jam from Skillet Street Food