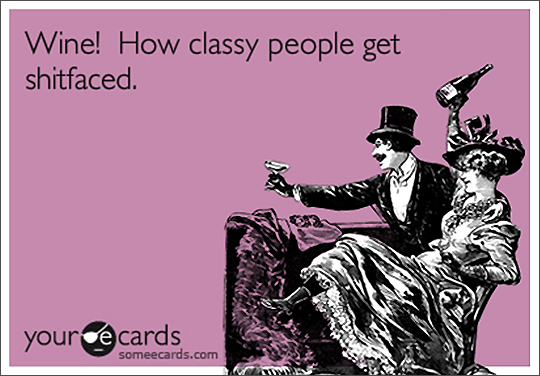 Hard to believe that the holidays are upon us, but indeed, they are. Rather than winter or holiday season, maybe we should just call it what it really is: party season! Whether it's a close friend, family member, work colleague, or simply an acquaintance who's throwing the party, wine is a go-to gift to bring your host. But don't just bring any old wine, kick it up a notch and gift with a sense of humor. Your cheeky gift will will have all the guests talking, making yours the most memorable and you the life of the party!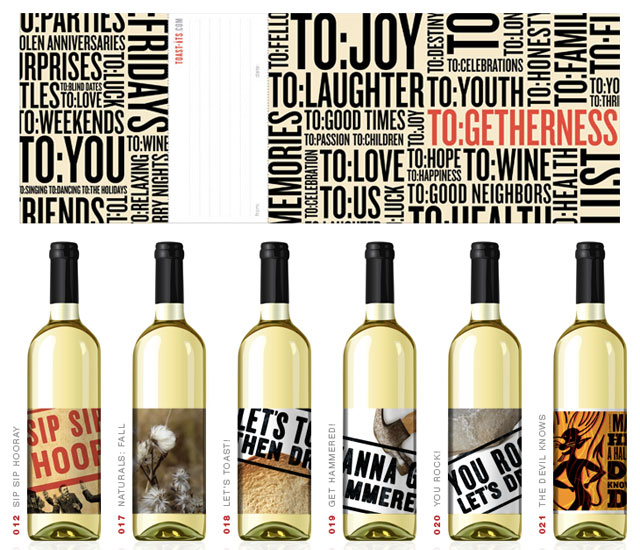 Uncork your compliments and give gifts with a personal touch. Toast-its are dual purpose greeting card/wine labels. With room for a personalized message, they wrap around wine bottles, making them a stylishly smart alternative to a traditional wine bag or box.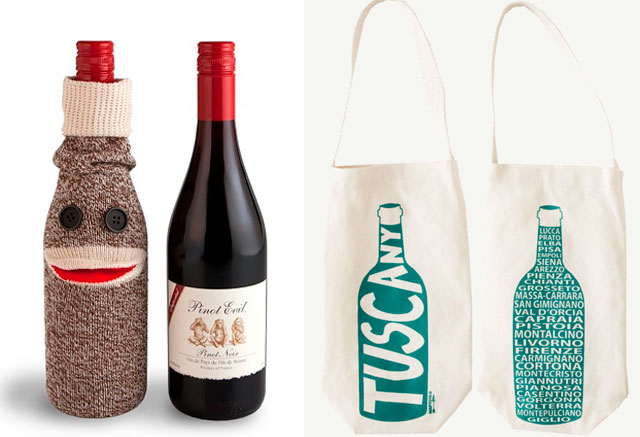 If you are more comfortable with a traditional wine bag, however, the cozy little Wine Monkey is just what you need. He will help you gift with a little sense of home as he's handcrafted from Americana red-heeled socks. Give two and your host could even wear them!
Or maybe your host has a thing for reusable bags, The Tuscany Wine Tote is double sided, made of 100% natural cotton, and features a long, slender handle, making it the perfect fit to throw over your shoulder. The host can then reuse it at the grocery store or quick trip out.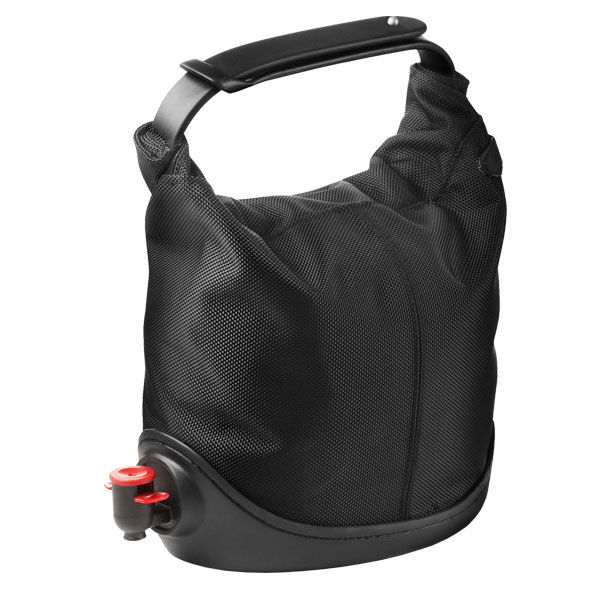 Here in Southern California we have parties outdoors all year round. The Baggy Wine Coat is the perfect way to bring your gift of wine to an outdoor soiree.
The design accommodates an ice pack, making it ideal for red OR white wine and the rubber base provides stability, making it great for dining at a table or even picnicking in the grass. Drink the wine and your host can reuse the bag for future outdoor frolicking.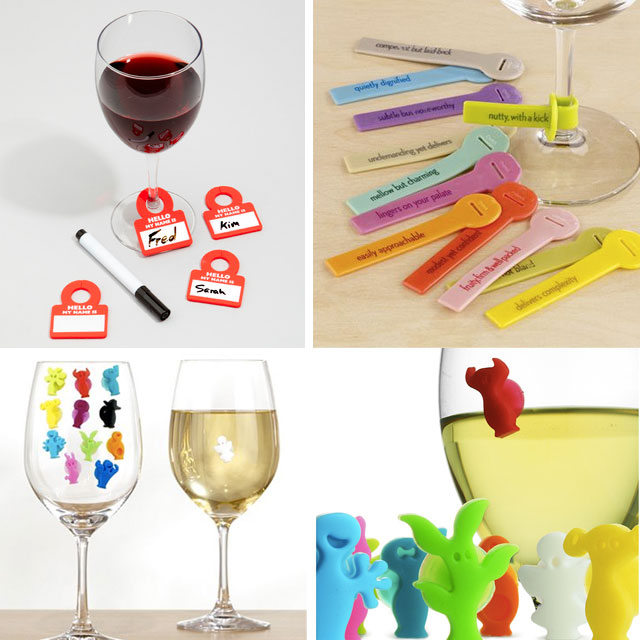 Remember when wine charms first came out? They were all the rage and were akin to charm bracelets, in collectible shapes and kitchsy themes. And while they are pretty outdated now in terms of a quality gift, they definitely do serve a purpose and can be quite functional, particularly in a setting where few people know each other. After all, in a room full of strangers, the last thing I want to do is lose my drink!
The Wine Glass Name Tags will take all the guesswork out of a) remembering people's names without the dreaded embarrassment of wearing an actual nametag, and b) finding your drink after you set it down somewhere. A little more clever, the silicone Wine Lines Reusable Glass Markers feature witty wine-related phrases, keeping guests laughing and talking all night (or day) long. Equally fun and creative, the Party People Wine Charms are cute little characters that suction onto the side of the glass, holding tight wherever your wine glass goes making it easy to recognize. Any one of these wine charms would help put the "fun" in functional!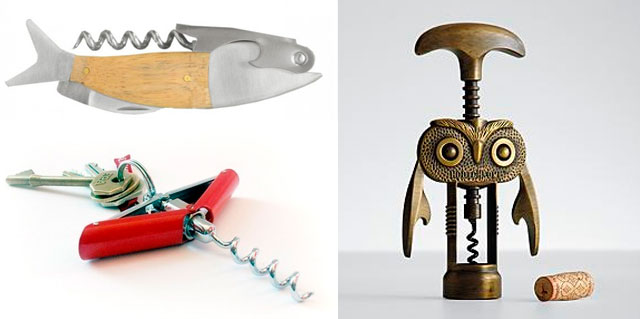 Corkscrews are kind of a necessity when drinking wine and a great complementary gift to your bottle when attending a party. The fun Fish Corkscrew features a foil cutter and would make a great gift for a seafood cookout or clambake. The vintage inspired Hootch-Owl Corkscrew, on the other hand, is wise and powerful with it's double-lever style and hand rubbed brass finish. It's so nice your host may not want to hide it away in a drawer. The Key Ring Corkscrew would make the perfect mate for the Baggy Wine Coat. Designed to fit on a key chain it would be perfect for partying al fresco or impromptu run-out-the-door occasions.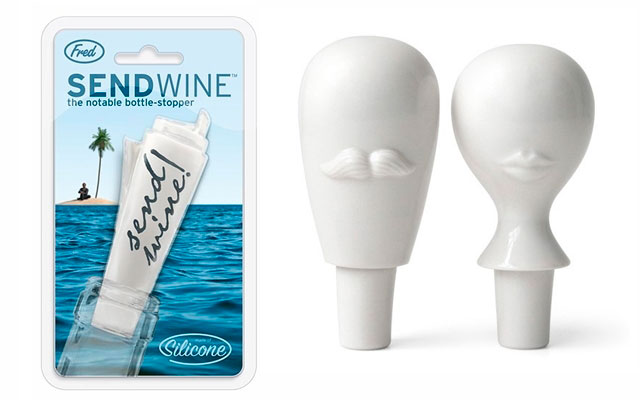 Sister to the corkscrew is the bottle stopper. Equally necessary, at least until the bottle is empty. Add some comic relief to the party with the Send Wine bottle stopper. Made out of silicone and shaped like a rolled-up note, guests will be reaching for the bottle if only just to read the inscribed, "Send Wine."
Perfect for a wedding reception or anniversary party, Jonathan Adler's Mr. and Mrs. Muse Bottle Stoppers, crafted from high fired stoneware, compliment one another like a bagel and cream cheese, making them and ideal gift for any couple.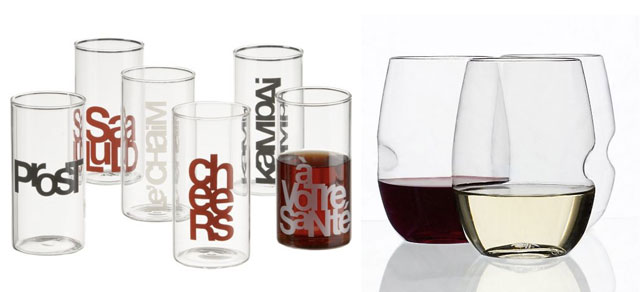 Say you're going to a house warming party; if you're bringing wine, you'd better hope they have glasses. Why not save yourself the worry and include some with your gift? The Cheers Wine Glasses Set is reason enough for celebration. Six handblown glasses in a half-dozen world languages will warm any home no matter the location.
Or say you once again find yourself attending an outdoor function. The Govino Stemless Shatterproof Wine Glasses feature a unique ergonomic thumb-notch for comfort and ease of use. The glasses aren't really even glasses at all. They are made from proprietary, food-safe / pharmaceutical-grade polymer "aka" PETG making them the ideal solution for outdoors or even just clumsy drinkers. The best part is, after you use it and abuse it, you can recycle it!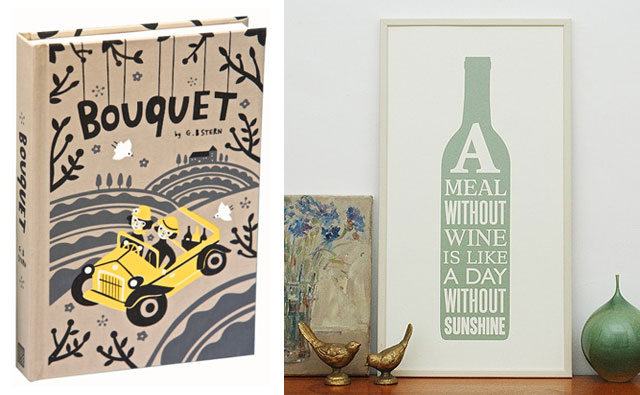 Many wine enthusiasts are also admirers of the arts. In this case, a great book or cheeky print would be a great gift. Bouquet is a limited edition recount of the author, G.B. Stern's, 1926 tour of the vineyards of France with her husband and two friends. The book is loaded with voracious eating and and lavish drinking, picturesque descriptions of the French countryside, and filled with a happy sense of humor, making it a far cry from the usual dry book about wine.
The Meal Without Wine Print comes from the ever popular Keep Calm Gallery. The design is screen printed in a soft shade of green onto recycled off-white paper. The phrase was first written by a 19th Century French gastronome who also wrote, "A dessert without cheese is like a beautiful woman with only one eye." Thankfully, they didn't make that one into a print!
If you're at a loss for creativity, you can always simply give an actual bottle of wine. And while a bottle of wine is thoughtful, a bottle of wine with some gourmet chocolates, cheese, and other sweet delights, all wrapped up in a lovely basket, well … that's divine!