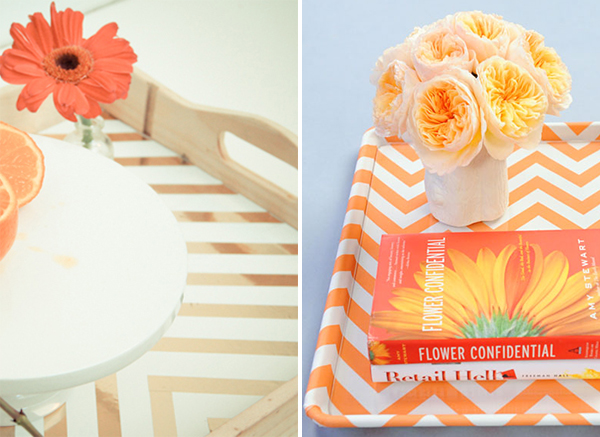 I've often found myself on the lookout for the perfect breakfast-in-bed tray. Nothing's ever seemed quite right—too small, too wobbly, too tiki hut. So when I spotted these DIY trays on Curbly it was a bit of a yes-of-course moment for me. The perfect breakfast-in-bed tray is the one you make yourself.
One idea comes from Martha Stewart and involves glue, fabric, and a baking sheet. Quite simple. (And just think of all the fabrics out there to choose from!) Or why not paint the thing? You could really go so many directions with this one.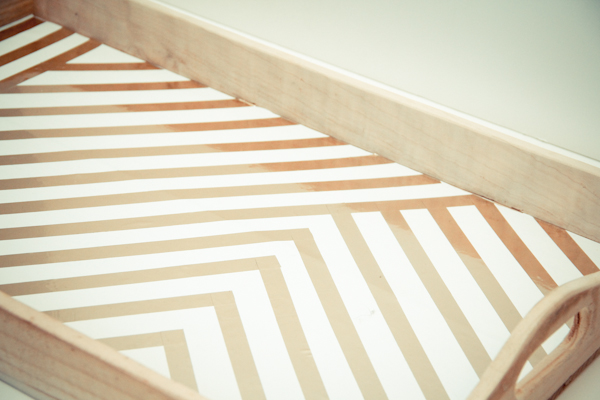 The other DIY from Lovely Indeed is a bit more involved but looks oh so nice. It involves a wooden wine box, gold metallic tape, and a carpenter husband. (And just think of all the colorful tapes you could use!) Visit the DIY links for instructions and more pics.
Will you be serving Mom breakfast in bed this Mother's Day? Will you try one of these trays, perhaps with your own personal twist? Remember these free printables are the perfect finishing touch and if you're looking for recipes don't miss House & Hold's drool-worthy breakfast board.