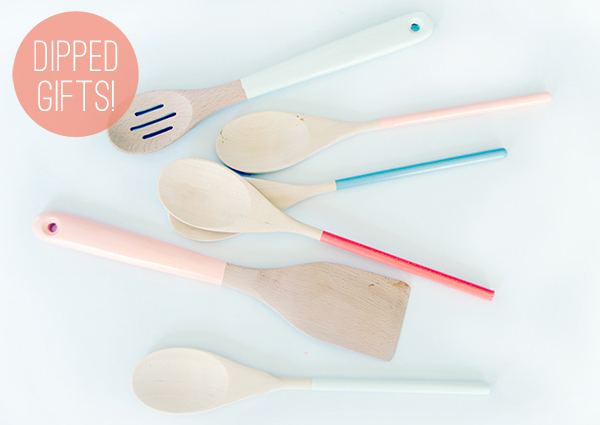 Lately dipping and dying isn't confined to Easter eggs and Grateful Dead t-shirts. Nope, this trend is everywhere and I'm completely digging the dipping.
From fashion, to furniture, hair dos and kitchenware, a dipped pop of color plays up the original texture of each piece the paint touches—glass seems clearer, ceramics softer, metals more shiny, and woodgrain more beautiful.
As a DIY gift, adding your own dipped embellishment is a fun and relatively simple way to add a personal touch to your present. (Wink, nudge. Mom would love these!) I've rounded up some favorite tutorials to get you inspired and walk you through the steps to do it yourself.
If you're not so inclined, leave the dipping to the pros. Included are some really wonderful options for you to buy and gift too. Enjoy!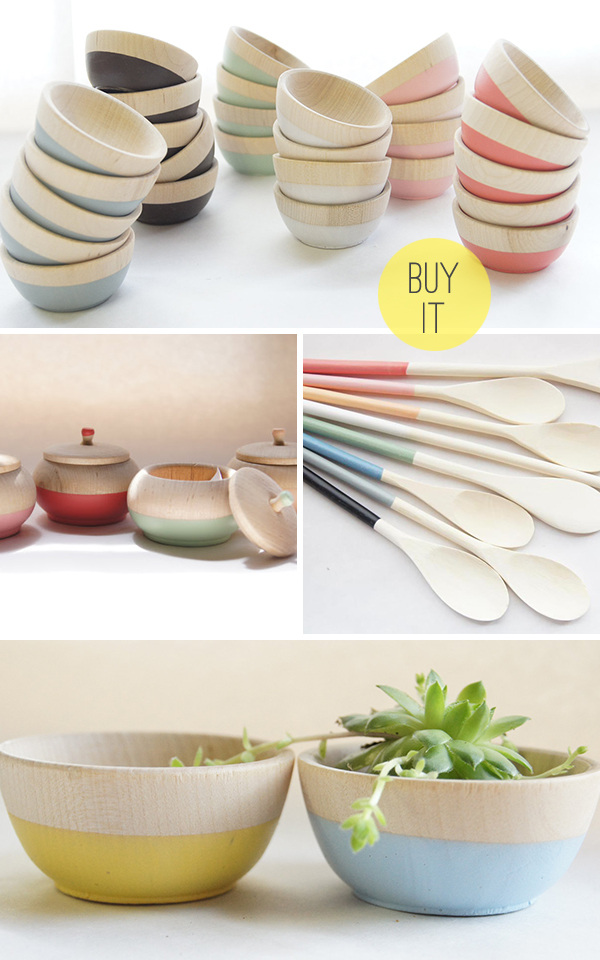 Araya Jensen's new shop DIPPED by Wind & Willow Home has me swooning. Her color selection and craftsmanship is just lovely. The handmade, nature-inspired collection includes utensils, bowls, condiment dishes, candleholders and more.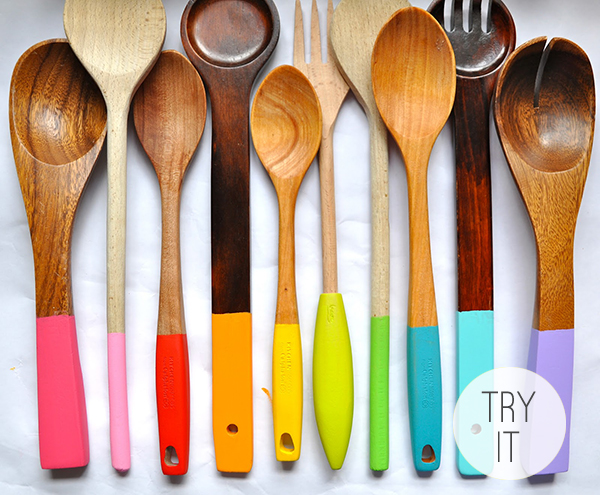 A rainbow of spoons?! Indeed. Crystal Johnsen turned ordinary kitchen spoons into awesome kitchen spoons and you can too by following her simple suggestions at Little Bit Funky.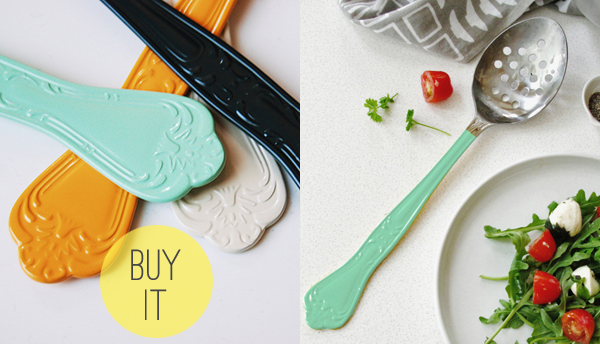 These polymer dipped servers by Ladies & Gentlemen are still big favorites. They continue to add to the collection too—Superior Cake Servers, anyone?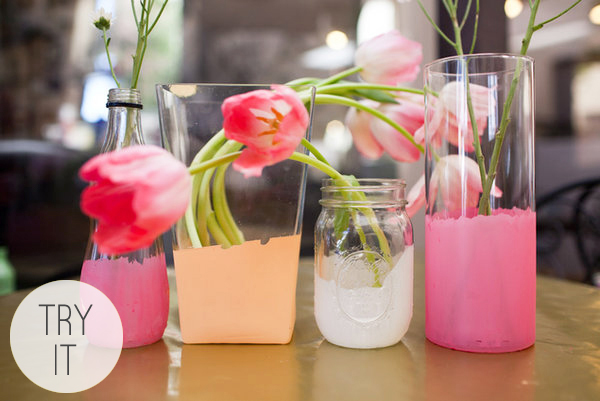 Stems disappear behind a wall of pink—or whatever color you choose to make these pretty painted vases.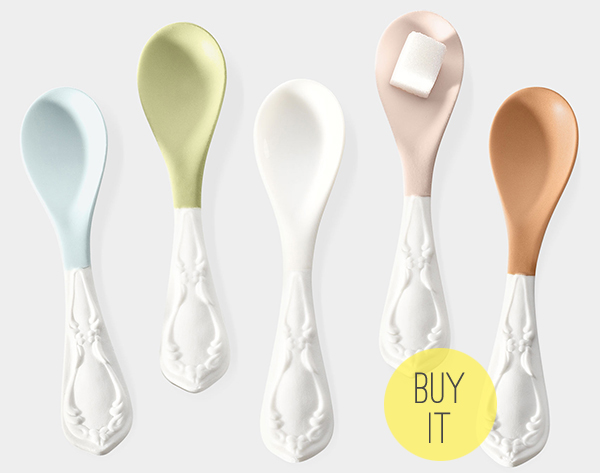 Designed by Chi-Wing Lee for MoMA these bone china teaspoons are dipped in pastel glazes. They have me reminiscing about Fun Dip and Pixie Sticks. You too?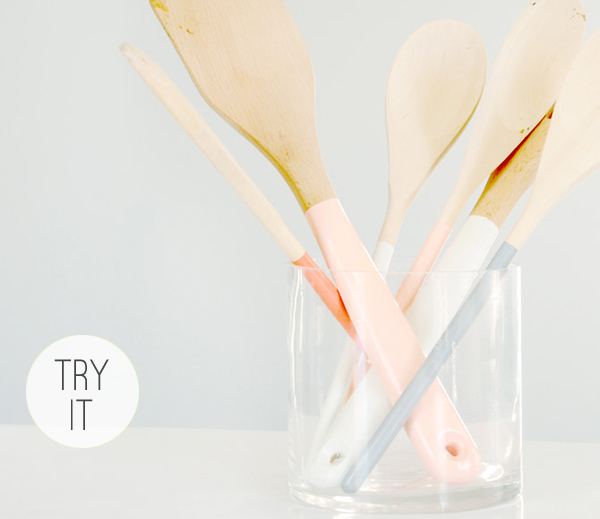 Looking for a culprit to blame for all this dipping? Blame Erin, of House of Earnest. She had boring utensils and created brilliant utensils. She inspired Crystal's rainbow spoons above and she's inspiring us too.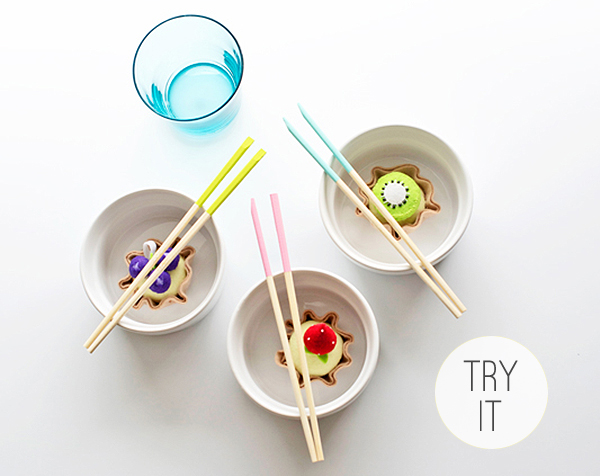 Chopsticks too?! Yes, chopsticks too. Penelope & Pip paints pastels in this post for Poppytalk. Perfect.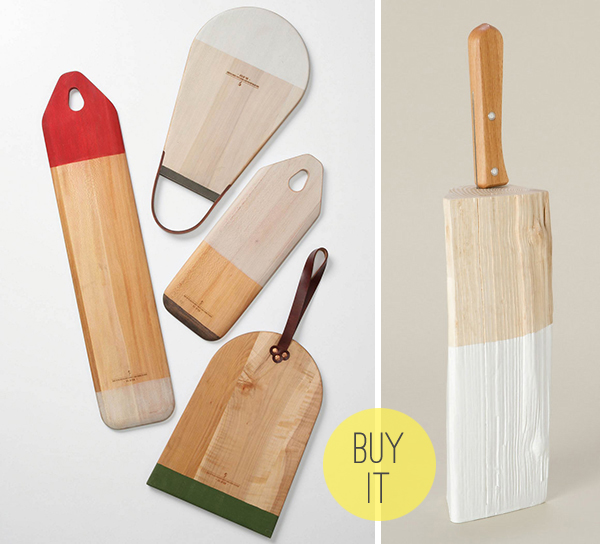 Using Pennsylvania-grown sycamore and food-safe milk paint, Lostine hand-crafted these gorgeous dipped cutting boards—you'll find them at Terrain and Anthropologie. Also at Terrain, a stripe of matte white paint transforms this wood knife block. Lovely.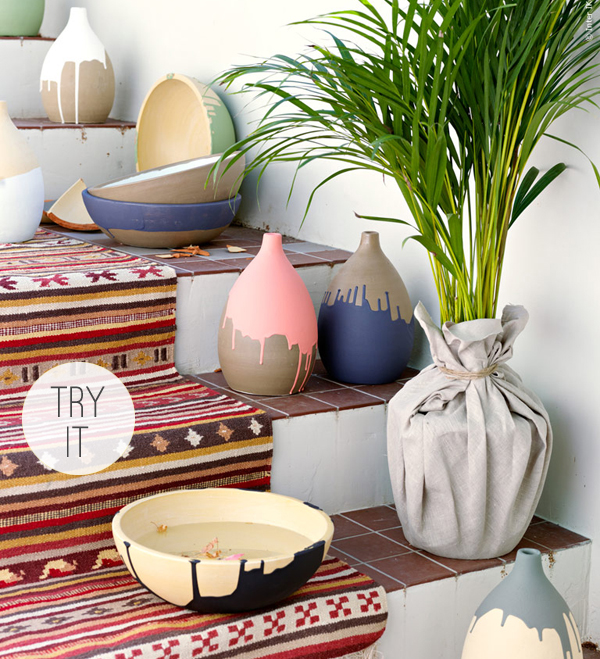 This dipped DIY comes from the Swedes—from IKEA's editorial staff in fact. Dips and drips turn ordinary flower pots into DIPTASTITORNs!
So what'll it be for you—buy it or DIY it?