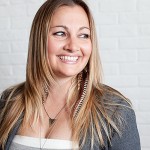 Cariann Burger is one cool chick. She's got talent (of the super-creative kind), she's genuine and sweet to everyone (that smile!) and she runs a company that empowers and celebrates the work of artists all over the world.
Cariann and her husband Paul are the founders of Cargoh, a marketplace of independent art and design—essentially a jackpot of wonderful things from an inspiring community of creative people.
Today she joins us for our very first Give & Tell. Thanks, Cariann!
What's the most inexpensive item you could receive that warms your heart every time?
Flowers from my husband, even though I tell him not to buy them, and his love notes.
Have you ever given a gift in an interesting way?
When I first started dating my husband we lived in different countries. I would send him a meaningful gift weekly with a letter in it. The letters spelled a word, which was a clue to the surprise I had for him when we saw each other again.

What's your most extravagant Want?
Well, number one on my list is a time machine, but I think I'll be waiting for a while on that one. Second would definitely be a sailboat that you could live on and sail around to exotic places.
What's the best food to give as a gift?
Oh so easy… wine, cheese and chocolate, you can never go wrong with those!
Would you share a wrapping secret with us?
I love wrapping presents. I like to collect unique papers and ribbons and anything that can be recycled. Then I pick a theme and wrap it up. I think the wrapping should be just as awesome as the gift inside. My go-to is black and white Chinese print newspaper with hot pink satin ribbon and black and white feathers to top it off.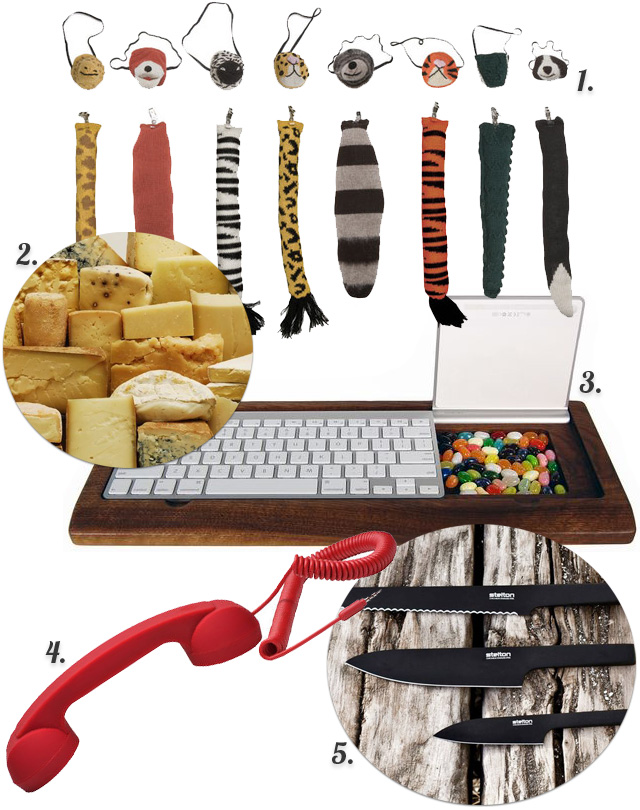 What Cariann wants to give:
1. I have a new 6 week old nephew named Ollie, who I'm totally crazy about, so this is for him when he gets a little older. (Oeuf Mask and Tail Set)
2. Murray's cheese of the month club goes to my friend Megan who is a total cheese addict. I've never seen someone so hard core about cheese. She has defiantly taught me everything I know about cheese. She would be over the moon with this gift.
3. This one is for my husband! His two favorite things after me, are his computer and sweets. The best snack storage ever! (Ambidextrous Keyboard Tray)
And couple things she wants for herself:
4. This is just too awesome not to have, I've always loved the old phones with the cords. (Pop! Handset)
5. Black knives are just hot! Every lady in the kitchen should have a pair of these. (Pure Black Knives by Stelton)