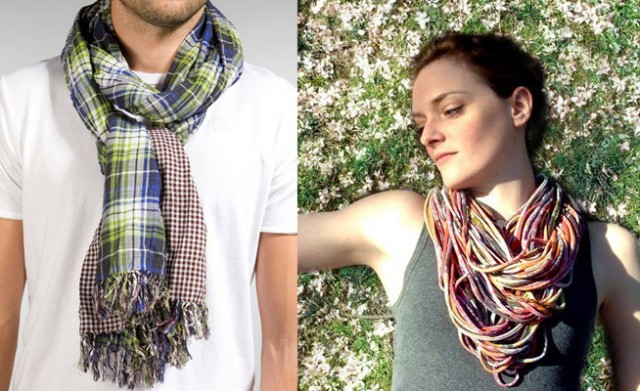 It's the perfect accessory. Scarves add color, shape, texture, and interest—right there next to your beautiful face.
With a swish, a wrap or a knot you can dress up a tee, embellish a jacket and complete an outfit in a matter of seconds.
And when the breeze starts to bite and the days grow shorter, nothing is quite as cozy as bundling up in your favorite scarf.
We've pulled together an eclectic collection of fall styles for men and women. And it's not just the look and feel we love about these scarves. In many cases there are some wonderful people whose creativity and hard work went in to these pieces, making them that much more covetable.
---
This is a two-part feature; this list is all about the guys. Check out scarves for the ladies here.
---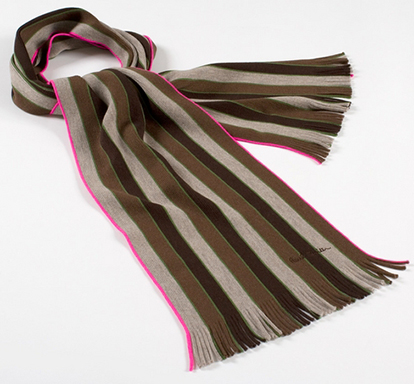 College Stripe
Subtle browns, a touch of green and edged in hot pink. Hear that description with eyes closed and there's a good chance that you wouldn't give this scarf a fighting chance. See it, and at once the collision of gentility and playfulness reminds you of yourself—a sophisticate's taste with the spirit of a boy.
Such a mixture is reminiscent of the designer himself. Self-described as mixing mischief with his love of tradition, with almost forty years in the fashion industry trend-setter Paul Smith has a knack for riding that line.
Nearly six feet of style and 100% wool, this scarf will dress up your peacoat and take the edge off your best topcoat. The Paul Smith College Stripe Scarf is $100.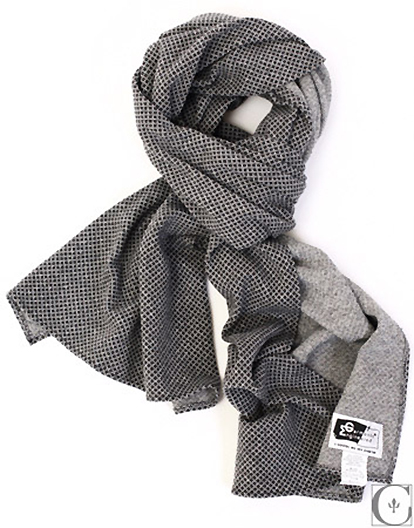 Diamond Jacquard
Designer Daiki Suzuki wants to make clothes you "love wearing and become yours through the experiences you have with them." Growing up in Japan, he'd always admired American sportswear. Through his line, Engineered Garments, Suzuki has taken the best details from quality pieces of the past, outdoor clothing and military uniforms to create menswear that is practical, lasting and timelessly styled.
This scarf has those exact qualities. A wide, cotton blend jersey, in a black and white diamond pattern, it's the perfect scarf to bundle up in and look debonair without trying too hard.
Made in New York, EG can be found at a variety of stockists worldwide. We're sending you over to Sam and Ryan's store, Context Clothing, out of Madison, Wisconsin for their commitment to service, incredible bevy of brands and passion for what they do. Engineered Garments' Grey Diamond Jacquard Jersey Scarf is $74.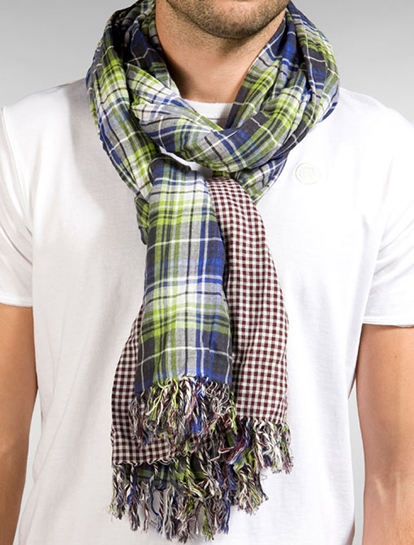 Blue Plaid
Brisk or balmy, this scarf will serve you well. Thick but not overwhelming. Laid-back but not sloppy. It's got just enough color—a plaid in cobalt blue and grassy yellow-green juxtaposed by a brown and white gingham. It's different, but not outrageous, and that's why we love it.
100% cotton, it's soft and comfortable. As in doubles-as-a-pillow-when-you-crash-on-your-friend's-armchair comfortable.
From Scotch & Soda, a casual couture line from Amsterdam, you can find this scarf at Revolve Clothing out of southern California. They've got free shipping, free returns and a great collection. What's not to like? This Scotch & Soda Blue Plaid Scarf is $53.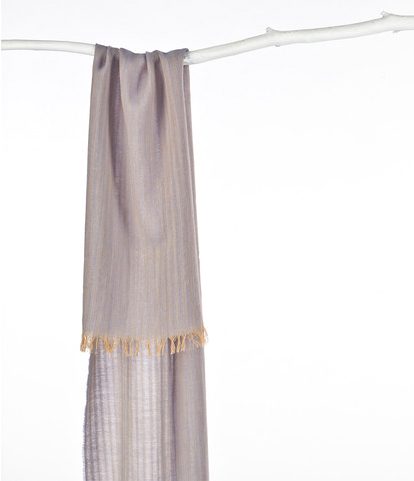 Merino Woven
There aren't many companies quite like Nau. Every aspect of how they do business, how they produce apparel, and even how they approach their place in society is done within a self-imposed code of conduct, a commitment to giving back and a design philosophy of balancing beauty, performance and sustainability. We could go on as they do, but instead encourage you to venture out and learn more about Nau—a good place to start is this video.
We like Nau's Merino Woven Scarf for its elegance and versatility. Lightweight and worn loosely it allows a warm autumn breeze to swirl around your beard. Wrap it tightly around your neck and the wool acts as a barrier against the elements on cold days.
This scarf comes in six classic colors from neutral to plum and gold. The Cast Dew Stripe seen here is our favorite with a dark charcoal coat. The Nau Merino Woven Scarf is $85.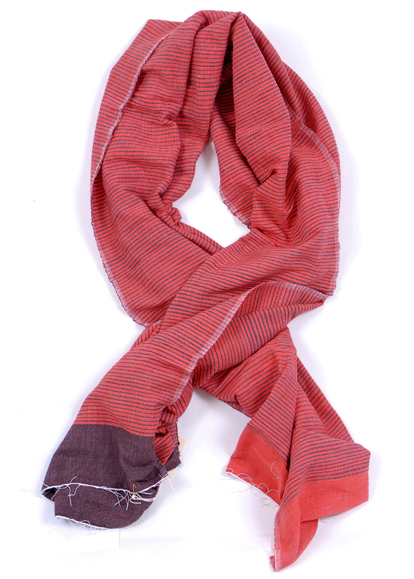 Sammy Red and Brown
Straight outta Brooklyn is Smith+Butler. With their love for Neil Young, 70's motorcycles, heavy plaids, chunky boots and mustaches, they popped up last January just in time for retail's recession-driven kick in the pants and the work-wear fashion trend that followed.
To say we've given in to that trend whole-heartedly would be a lie, but extracting the bits and pieces we do like is what it's all about.
This lightweight, intentionally unkempt woven scarf is just the bright swatch of color to wear with your jeans, worn tee and favorite parka. In a red vermilion color with a thin brown stripe that gives a textured look but a smooth touch, it's an easy finishing piece and a cozy wrap on cool days. Pick it up at Smith+Butler's Refinery29 shop. The Sammy Red and Brown Woven Scarf is $80.