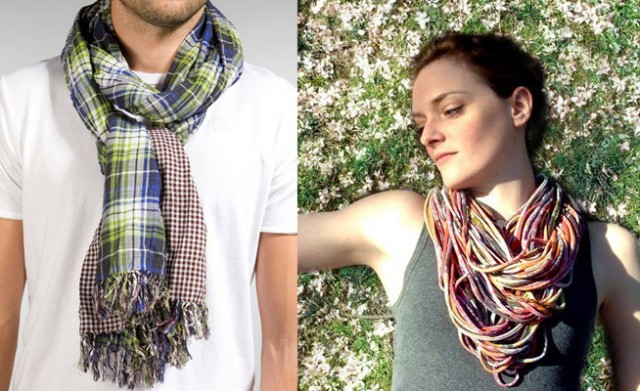 It's the perfect accessory. Scarves add color, shape, texture, and interest—right there next to your beautiful face.
With a swish, a wrap or a knot you can dress up a tee, embellish a jacket and complete an outfit in a matter of seconds.
And when the breeze starts to bite and the days grow shorter, nothing is quite as cozy as bundling up in your favorite scarf.
We've pulled together an eclectic collection of fall styles for men and women. And it's not just the look and feel we love about these scarves. In many cases there are some wonderful people whose creativity and hard work went in to these pieces, making them that much more covetable.
---
This is a two-part feature; today we've got our 5 picks for the girls, next week we'll have our guys' picks. UPDATE: The guys' picks are in.
---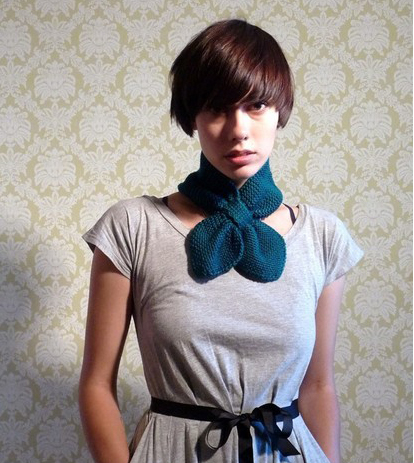 Perth
Named after small southern cities in Ontario, each of Tara-Lynn's handmade pieces have modern appeal and timeless beauty. An advocate for buying DIY, a mom, thrifter and 30-something, you can get to know her better on her blog Stay Fancy Free.
Tightly knit with a keyhole design that holds the scalloped ends in place, the above ascot is called PERTH. It's available in the teal shown here as well as other rich autumn colors. Each of Tara-Lynn's pieces are custom made when you place your order and sold at YarnOverMovement, her Etsy shop. The PERTH Scarf is $30.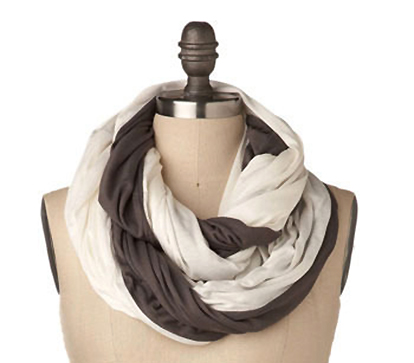 Twisted Sister
Made from two pieces of rayon—one grey, one white—that are sewn together, twisted and then stitched at the ends to form a circle, the Twisted Sister Scarf can be worn long and loose or doubled up for warmth and a tangled, wrapped-up look with no dangling ends.
It's sold at ModCloth, an online shop founded and run by Susan Gregg-Koger and her husband Eric. The pair launched the site in 2002 selling Susan's thrift store finds when she was just 17.
Today they have over 100 employees in the U.S. and a great store that sells vintage wares as well as new styles sourced from all across the globe. Available in purple too, this Twisted Sister Scarf is $24.99.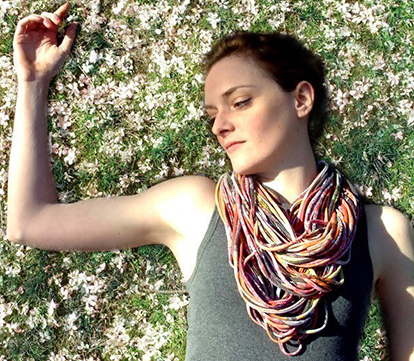 Oranges and Reds
Handmade by Stephano Diaz and Troy Mattison Hicks in their Brooklyn studio, Necklush is a one-of-a-kind scarf, necklace and cowl that can be wound up or worn long, and the strands twirled tightly or left loose and messy. Here's a video with tips on how to wear yours.
Each Necklush is made of multiple seamless cotton loops that are hand colored and printed making each one unique. All kinds of beautiful designs are available and they look great on guys too.
For fall I love this Necklush Ultra (ultra because it's twice as full as the original form) in Oranges and Reds.
While Necklush can be found on their own website, they attribute much of their success over the last year to the Etsy community, and even started BuyThisNow, a collection of their favorite Etsy finds.
Take your pick; shop Necklush on Etsy, Supermarket or their store: Necklush Ultra Oranges and Reds is $74.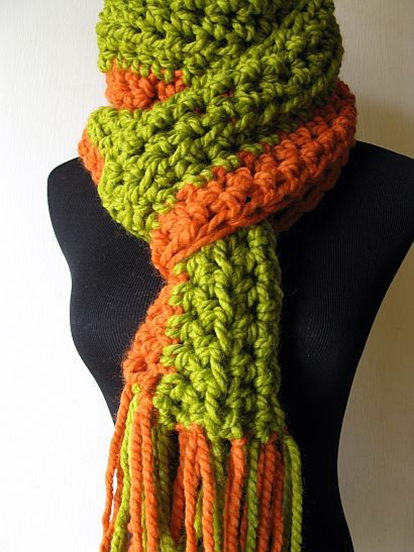 Peas and Carrots
Sometimes it's cold—you just want to snuggle up. For those days I chose this chunky crocheted scarf made by Kim from her home in Springfield, Missouri. Kim designs a huge assortment of cuddly scarves, gloves, hats, and other accessories for her Etsy shop, BeautifulBridget.
When she's not making things she's sharing glimpses into her happy, whimsical life on her blog and spending time with her two daughters who also make things (here's Mandy's shop).
Made with a thick soft wool acrylic blend yarn, this scarf will definitely keep you warm. This Peas and Carrots Scarf is $55.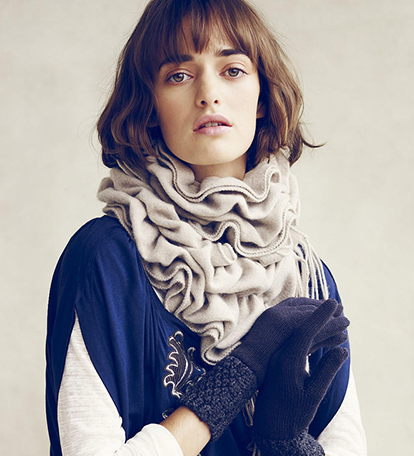 Cashmere Squiggle
The smooth softness of cashmere is hard to resist and when it's scrunched and ruffled for a texture like this, the look is at once classic and beautiful.
A take on everything good about 16th-century ruffs and Seinfeld's puffy shirt this Cashmere Squiggle Scarf will not go unnoticed. The fringe off the ends are a nice touch, and the entire piece is not your typical cashmere scarf.
While we don't always know much about the lines they carry, Anthropologie's buyers do have a great eye for for styles that tow the line between modern and traditional with just the right dose of femininity.