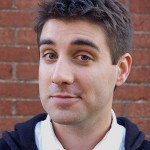 Writer and maker Chris Gardner is is the main man at ManMadeDIY, a crafting blog for guys (though this gal really digs it too). He's also the editor at Curbly.com, a community of people who make things for their homes. As Chris explains, "ManMade recognizes that all sorts of creative outlets can be realized by, for, and with men. Rosie can rivet, Chris can craft, and all demographics can DIY!"
I'm been a big fan of Chris's creative how-tos and crafty finds from around the web. In the spirit of the holidays, a couple posts of his you'll want to checkout are Why You Have to Make Egg Nog… and How to Do It, How to Make Modern Perforated Tabletop Christmas Trees, and How to: Turn a Tacky Glitter Reindeer into an AWESOME Glitter Reindeer.
Oh and while you're at it, don't miss Curbly's mega set of holiday roundups like 10 Other Places to Hang Your Christmas Stockings, or their rad gift guides like 30 Hip Design Gifts Under $25. Here he is sharing gifting tips and tales as only Chris can—thanks so much Chris!
Have you ever done any sneaky research to determine the right gift for someone?
Oh my, yes. I'm a total trickster when figuring out preferences or sizes for gifts. My masterpiece was giving someone a hug while secretly holding a tape measure. I also made up an elaborate story to snag my sweetheart's fingerprint to make some original art for Valentine's Day last year, and have managed to use calipers to figure out her exact finger size while she was taking a nap.
Could you share a wrapping secret with us?
I think brown kraft paper will never get old. It looks amazing simply tied up with string, but can be customized in all sorts of fun ways. Last year, I cut out the recipient's name from old books I got for ten cents at the thrift store and simply glued them on. I also figured out a way to make custom gift "envelopes" by sandwiching the gift between two layers of craft paper and stitching it shut with a zig-zag stitch on my sewing machine.
Plus, it matches regular brown paper sandwich bags for those small or bulk gifts, which can look amazing with a simple stamp or hand-printed gift tag.
Read More
Comments Off