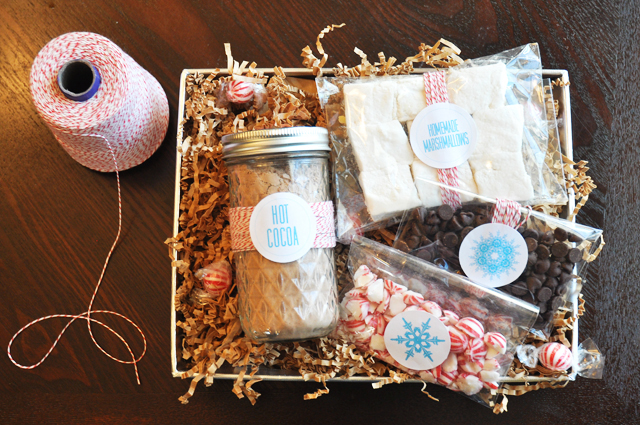 I love giving handmade gifts for the holidays, don't you? This is one of my favorite gifts to give to neighbors, coworkers or a hostess of a holiday shindig. They will love it, I promise!
Start by making the Hot Cocoa mix.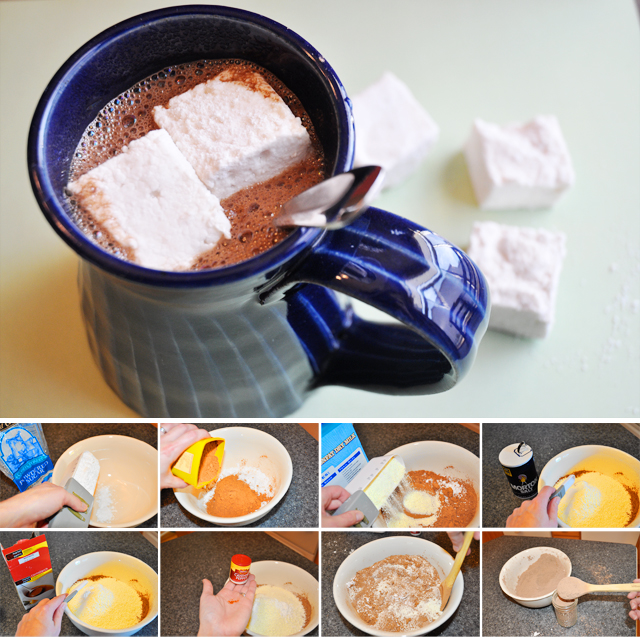 Ingredients:
2 cups powdered sugar
1 cup cocoa
2 1/2 cups powdered milk
1 teaspoon salt
2 teaspoons cornstarch
1 pinch cayenne pepper
Instructions:
Combine all ingredients in a bowl mixing evenly. To make a cup of hot cocoa, mix 2 heaping tablespoons with warm milk or water.
Now move onto making the Homemade Marshmallows. These are one of my favorite holiday treats! And I know it seems like a lot of steps, but it's really, really easy. It just takes a little bit of time (30-40 minutes).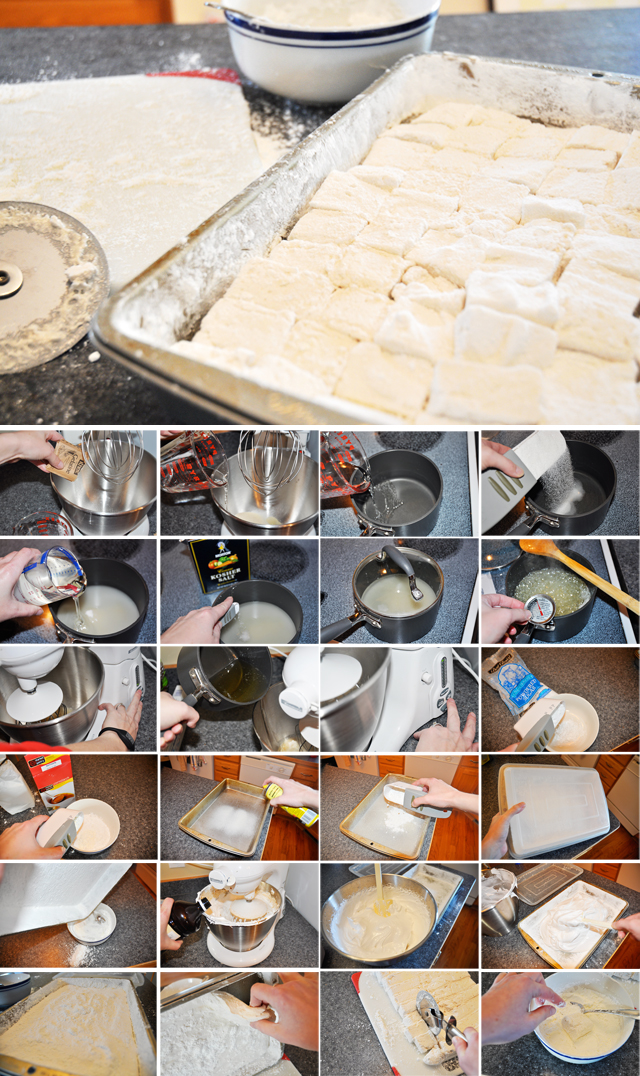 Ingredients:
3 packages unflavored gelatin
1 cup ice cold water, divided
1 1/2 cups granulated sugar
1 cup light corn syrup
1/4 teaspoon kosher salt
1 teaspoon vanilla extract
1/4 cup powdered sugar
1/4 cup cornstarch
Nonstick spray
Instructions:
Place gelatin into bowl of stand mixer along (with whisk attachment) with 1/2 cup of cold water.
In small saucepan combine remaining 1/2 cup cold water, granulated sugar, corn syrup and salt. Place over medium-high heat, cover and cook for 3 to 4 minutes. Uncover and cook until mixture reaches 240 degrees F. This will take approximately 7 to 9 minutes. Once the mixture reaches this temperature, remove from heat immediately.
Turn mixer on low speed and slowly pour the sugar syrup down the side of the bowl into the gelatin mixture. Once you have added all the syrup, increase the speed to high. Continue to whip until the mixture becomes very thick and is lukewarm. This will take approximately 13-14 minutes. Add vanilla during the last minute of mixing (if you want a stronger vanilla taste, add a little more vanilla than recommended). While this is mixing, prepare the pan by combining the powdered sugar and cornstarch in a small bowl. Lightly spray a 13×9-inch metal pan. Add the sugar and cornstarch mixture and gently coat the pan. Return the remaining mixture to the bowl for later use.
When ready, pour the mixture into the prepared pan and use a spatula to spread evenly. Dust the top with some of remaining sugar and cornstarch mixture. Keep the rest for later. Allow the marshmallow to sit uncovered overnight.
The next day, remove the marshmallows from the pan onto a cutting board. Cut into 1-inch squares using a pizza wheel. Once cut, lightly dust all sides of each marshmallow with the remaining mixture and store in an airtight container for up to 3 weeks.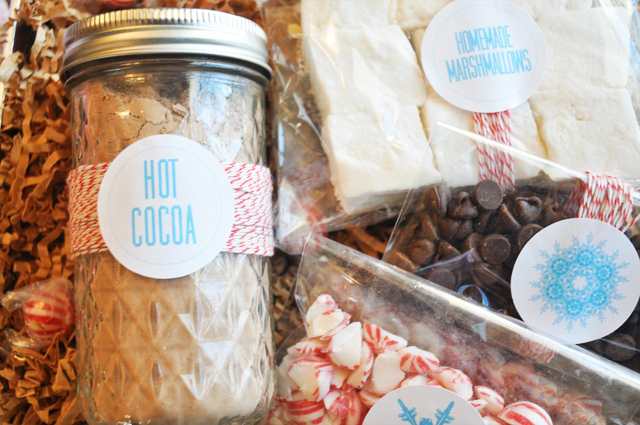 Now for the finishing touches. I like simple packaging so I used a sturdy box I had at home and filled it with brown shredded paper.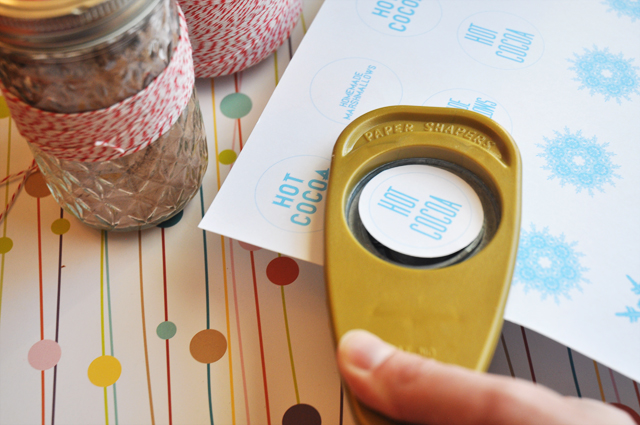 I designed little tags to place on each item of the package so it was all tied together.
You can get them here! Just download the PDF, print, and punch. (printed on 8.5×11 label paper)
It's amazing what a little red and white twine and some cute snowflakes can do.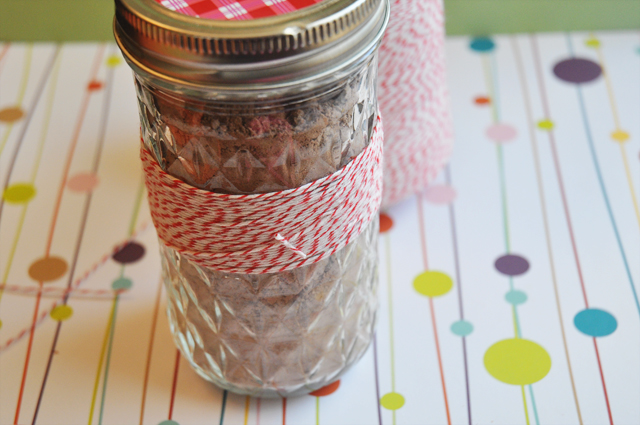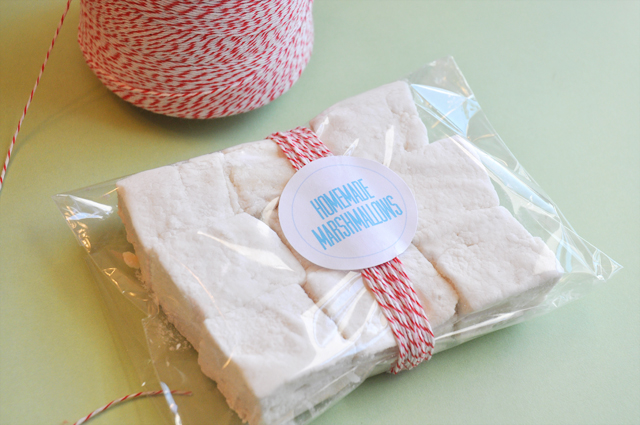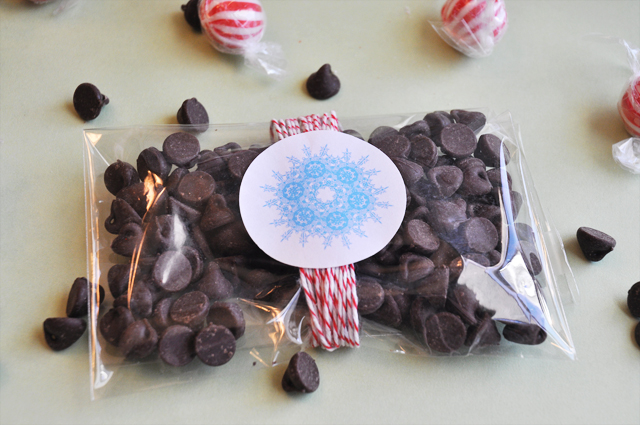 I placed the hot cocoa mix in a recycled jam jar, the marshmallows in a 5×7 clear bag, the chocolate chips and peppermints in a 4×6 clear bag so the receiver can make their cocoa just the way they like it.
Be sure to treat yourself to a warm cup of hot cocoa when you're all finished. You deserve it!
Need a little help tracking down your supplies? If you're short on empty jam jars, you'll find plenty of great options at Terrain and The Container Store. For your twine, clear bags, and all kinds of other packaging goodies, visit one of our favorites, Garnish.