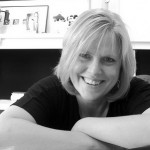 Meet Bridget Butch (aka BB). She's an internet heroine of mine. I've been following her blog for years and years, and years. Not to age you, BB, but she's been sharing link-ity goodness since 2003, which is a long time ago on these here tubes.
BB is a user experience guru (nerd) living in Milwaukee, WI. She has distinct taste, two cats (Oskar and Eva), can't quit Brooklyn (her home away from home), and enjoys cheese (on an epic level). See? You love her already. Say hello to Bridget as she shares her gifting stories and the gift she really wants from Wantist. (Bet you'll never guess.)
What's the best gift you've ever received?
The best gift ever? I don't think I could possibly answer that. Too many people in my life have given me such thoughtful gifts. A few examples that spring to mind:
My mom's given me two quilts that I absolutely love. She knows I have a spectacular weakness for quilts. One is a hand-made lap quilt that a neighbor made for her, and the other is a quilt that she picked up at an estate sale just for me. I absolutely love them. Who wouldn't like to bundle up on a cold night with a quilt from Mom?
When I went to Paris a few years ago my friend, Gretchen, bought me a tube of Mac red lipstick because I couldn't POSSIBLY go to Paris without perfect red lipstick. Since I'm awed by Gretchen's ability to wear red lipstick perfectly and for HOURS (seriously – it's a superpower), it was absolutely the perfect gift from her.
My friends, Lorraine and Tina, have both bought me airline tickets to see them when I wasn't financially able to swing it. As a travel bug, airline tickets are the gift motherlode. I'm always grateful for a chance to travel. Doing it for free puts me over the moon.
Every year, my sister, Eileen, gives me Green Bay Packer tickets for my birthday. Packer tickets are nearly impossible to get and very expensive, but she and her hubs have four season tickets. They always take me and a guest to a game, usually in December. It may be incredibly cold, but, if you've ever been to Lambeau Field, you know it's worth the eight layers of clothes.
What's your favorite reason to celebrate with a gift?
I think the best gifts are the ones you get or give when there's absolutely no occasion at all. Those are the gifts that really say, "I was thinking of you, and it made me happy." They're absolutely heartfelt and so touching. No one buys impulse gifts for someone they feel ambivalent about. Maybe they do on reality TV, but not in my world.

Have you ever given a gift in an interesting way?
I once went to a reading by Julian Barnes, an English novelist. A friend of mine in England sent me Barnes' book, "The History of the World in 10-1/2 Chapters," and I loved it. After the reading, I asked Julian Barnes to hold up a sign that said, "Hello, Goole!" (the little English town my friend lived in). I sent the photo to my friend who said he couldn't stop laughing that I'd had a Booker-nominated author give a shout-out to his tiny little village.
Who's the hardest person in your life to buy gifts for?
Teenagers. Hands down. Teenagers' tastes are so often in flux. It's easy to get it all wrong unless you see them all the time. I'd rather buy a gift for a complete stranger than a teenager. More often than not, I give up and buy gift cards or give cash. I hate doing that, but sometimes you just have to admit defeat and move on.
What's the most inexpensive item you could receive that warms your heart every time?
Greeting cards! Getting snail mail from a friend or someone in your family is, hands down, one of the best things in the world.
What's the best food to give as a gift?
Anything local – I'm really proud to be from Milwaukee, and we have loads of amazing local coffee roasters, distillers, chocolatiers… so many choices! Giving something from Milwaukee or Wisconsin is always fun. Most people think of cheese when they think of Wisconsin – they don't think absinthe or gorgeous milk chocolate with sea salt.
What's your most extravagant Want?
A brownstone in Brooklyn. Or a fully-functional Japanese robot. Or a baby panda. UGH. I can't decide. Don't make me decide. Please.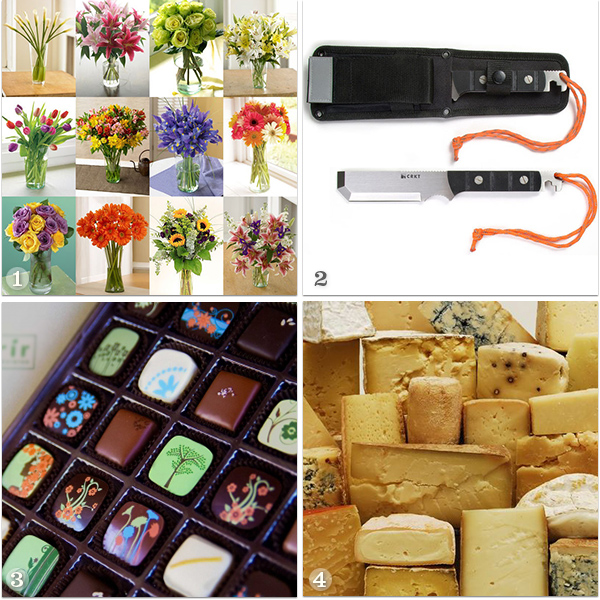 What Bridget wants to give:
1. For me mum or sis, 12 months of organic bouquets. Who wouldn't be cheered up getting gorgeous organic flowers twelve times a year?
2. For my buddy Bradley, this Fireman's Rescue Knife tool. Bradley and I are always joking about what he will put in his End Times Emergency Kit – a.k.a. ETEK™. (You know, for when a zombie apocalypse or global virus happens.) Seeing this, I don't think any ETEK would be complete without it. A pocket-size tool to pry open doors and smash windows to rescue small children and endangered animals? Yes. It would be right next to his waterproof matches and collapsible shovel.
3. For any hostess, Fleur Chocolates. These chocolates are gorgeous. If they taste as good as they look, this is the kind of thing few people would buy for themselves, but would really appreciate as a gift. If not, the chocolates are very easy to re-gift or set out at work. There is very little chance these babies would go to waste.
And something she wants for herself:
4. Murray's Cheese of the Month Club. Are you kidding? I've never met a cheese I didn't love. I'm from Wisconsin. It's in my blood, literally and figuratively. (If my robot could serve it to me, that'd be even better.)
Your turn! Want to Give & Tell on Wantist? Let's do it! Email me for details.