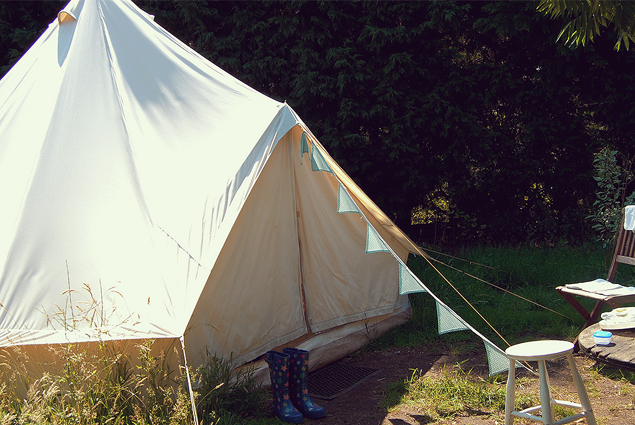 As a city slicker through and through, the idea of camping has always been a bit daunting. I actually enjoy doing the whole "nature thing", as long as I can come home to a hot shower and a comfy bed. That's what makes the concept of "glamping" so attractive to me—The New York Times may have put it best when they said that glamping was "camping, but not quite roughing it".
If you're not familiar with the concept, picture arriving to "camp" to find pre-pitched, pre-furnished tents, solar-powered heating, and bathroom facilities kept well enough for even the most squeamish travelers. At some locations, like the Clayoquot Wilderness Resort in Vancouver, BC or the Costanoa Lodge in San Francisco, there are even the occasional over-the-top resort amenities like on-premise laundry service, personal butlers, and spas.
While some hardcore woodsmen and women might shake their heads at the very idea of camping comfortably, glamping lets the less inclined enjoy the best of both worlds—gorgeous scenery and outdoor sports by day, cozy digs and gourmet food by night. Sounds like my ideal long weekend!
While there are many dedicated glamp sites around the world to choose from, we've rounded up our top picks for gifts that'll make any foray into the great outdoors just a little more luxurious. DIY glamping, if you will.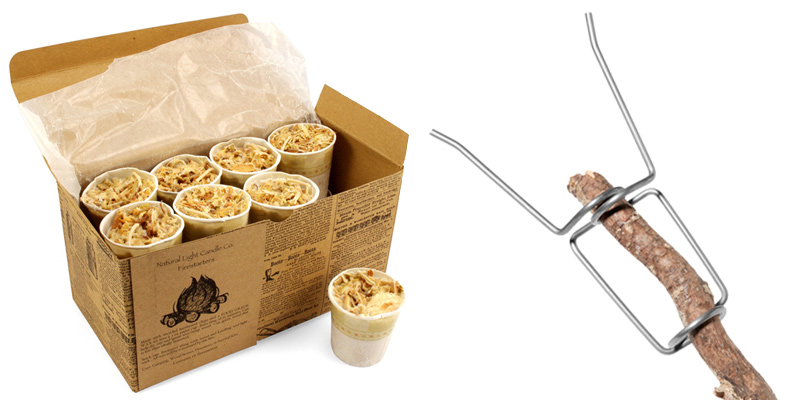 A mainstay of any camping experience is a crackling fire to warm things up after sunset, and Dayora Firestarters will help get one going in no time. An amalgamation of wood chips and food-grade wax set in a three ounce burnable cup, they're especially helpful when all that's available is damp or badly-seasoned wood, and have an excellent burn time of twenty-five minutes.
Once the fire's going and everyone has gathered 'round, the next logical step is to make s'mores! We posted a nifty guide to making the perfect s'more not too long ago, but the hardest part really is producing a perfectly-roasted marshmallow. That's where Grandpa's FireFork comes in. The large, sturdy prongs provide maximum 'mallow stability while rotating. Best of all, they'll spare any germaphobes from having to taint their food with a bare branch that's been who knows where.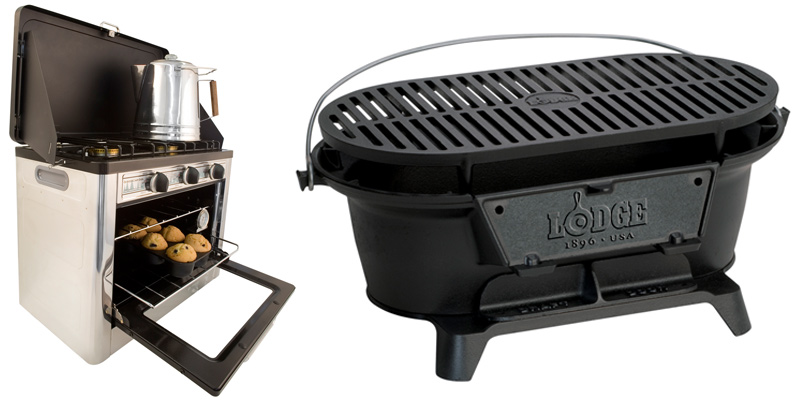 For a more full-featured cooking experience than a simple fire would provide, there's this camp oven with a two burner stove. Think of all the tasty treats you could make with this thing, like stuffed wild mushrooms, berry pies, or a hearty breakfast of gourmet bacon and freshly-baked biscuits! Mmm, that'd be enough to get anyone out of their tent, even in the wee hours of the morning.
If you've got a giftee more inclined towards simplicity and portability, the Lodge Logic Sportsman Grill is another good choice. The rugged, durable cast iron would be right at home out in the woods, perfect for cooking up hot dogs or freshly-caught fish. It's preseasoned and cleans up in a snap, which is great because wants to do chores on vacation, anyway?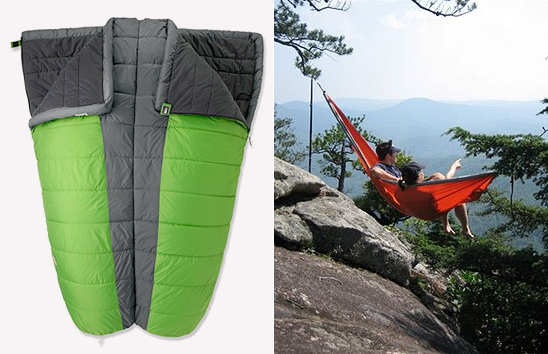 When it's time to turn in, any camp-y couple would be lucky to have REI's Siesta +35°F Sleeping Bag for Two. The perfect balance of warmth and durability—it's water and tear-resistant—this sleeping bag is perfect for snuggling under the stars.
Another fun option the ENO DoubleNest Hammock. It's extra-wide and can accommodate up to 400 pounds, allowing for family-sized relaxation. The super strong marine-grade line lets you set it up just about anywhere, even the terrifying space between two pine trees perched on the edge of a cliff face, as pictured above. (I bet those two got some great vacation photos, though.)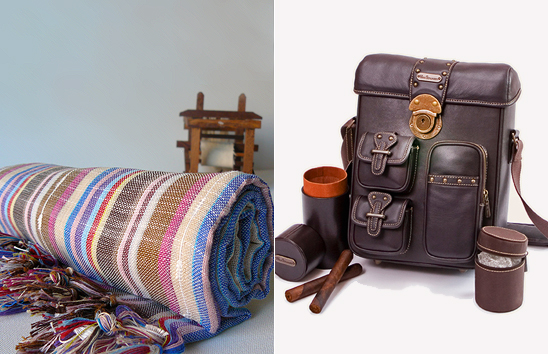 For a gift that screams sophistication, I like this Mini Cigar Bar. Yes, it's a little outrageous to bring a cigar bar camping with you, but this isn't camping, it's glamping! This is how Don Draper would vacation if he weren't so busy being a high-powered GQMF at Sterling Cooper. So what's wrong with having a cigar and a glass of cognac—there's a compartment in there for that, too—after a long day of strenuous wilderness exploration?
A little less excessive, but still just as posh, these Handwoven Turkish Beach Towels would be just the thing to warm up a cold tent, tipi, or cabin floor. They come in a crazy variety of colors and patterns, and are made out of lightweight, antibacterial, anti-allergenic materials. They're both functional and lovely to look at.
What's your take on the glamping phenomenon? I think it's great. After all, even if you're a seasoned outdoorsman or woman, a little leisure never hurt anyone! And, if you know someone like me who rarely spends a night outdoors, these gifts are sure to give them a bit of incentive to jump in the car and head out towards their nearest middle of nowhere. Happy trails, folks!
Top Image: "Bell Tent" by Stephanie Chapman