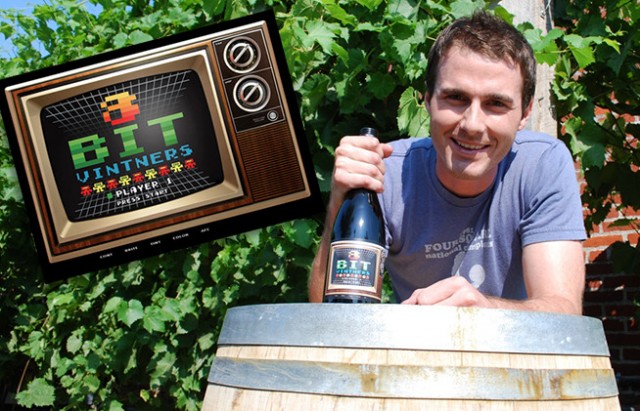 Wine and video games play together at 8-Bit Vintners
Press Start
We couldn't help wanting to share Mike James' story with you. When "Pick a box. Its contents will help you on your way," is one of the quotes rotating in the masthead, yeah we pretty much feel right at home.
Whether you haven't touched a controller since '94, or you're a gamer that never misses an episode of CO-OP, you'll appreciate the passion and determination Mike gives his quirky wine business.
8-Bit Vintners is an homage to simpler gaming days when managing a d-pad and two red buttons was all it took to play for hours. For Mike it's about the good memories of his childhood days merged with a love for wine in his grown-up days.
After wrapping up his BA and not really knowing what he wanted to do, Mike got married, packed up and moved from Phoenix to the wine country in Walla Walla, Washington. There he studied wine for two years—an education that led him to starting 8-Bit Vintners.
Player 1
His first vintage is a Syrah blend called Player 1. Tales of wine-making and the bottling process are nicely documented in photos and video on the 8-Bit site. Also in video are Mike's successful guerrilla assaults on Diggnation and 1UPYours—tenacious, funny and great examples of simply going for it.
As Mike puts it, "My wine is for anyone who spent time trying to save a princess or fit odd shaped blocks together. We may have never met, but we have more in common than we ever knew. So blow out that old Contra cartridge, give the NES a good dust off, and pour yourself a glass."
Player 1 is $18 a bottle from 8-bit Vintners in Walla Walla. (In case you forgot it's up-up-down-down-left-right-left-right-B-A-start!)