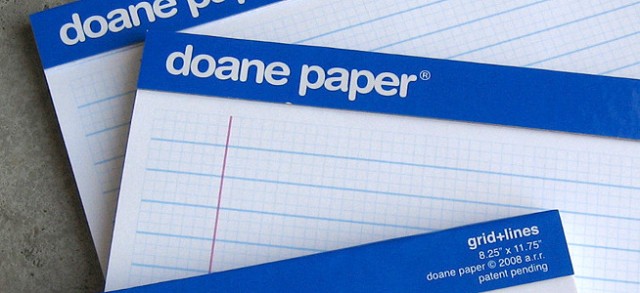 A simple thought—combine ruled lined paper with grid paper. Clever!
That was the idea Chad Doane had back in 2005. We'd come across it then, downloaded the pdf (the only version available at the time) and waited anxiously for a notepad of the same design.
Five years later and the Doane Paper line has grown into an impressive collection of pads, journals and notebooks that make writing and sketching on the same piece of paper a breeze.
We wanted to hear the whole story. Here he tells us how Doane Paper started and about the new products just launched this month.
Tell us where the idea for Doane Paper came from and about that first digital version. How did you get the word out?
During the day I'm a marketing communications manager for a 90 year old sporting goods manufacturer. I was in an initial meeting to discuss retail packaging for a football mouthpiece and the room was filled with about 8 people; half marketing and the other half from an outside design firm. I looked around and saw that the designers were jotting down notes in grid filled moleskines while we the marketers had ruled lined legal pads. I thought it might be cool to mash up the two stationery patterns and that's how the Doane Paper stationery pattern came about. I had some other side projects going on at the time so the idea just sat in my head for a couple of years, every time I'd go into a meeting the idea would float right back up to the surface when someone would try and sketch something out on a legal pad.
For whatever reason in the fall of 2005 I had some free time and decided to try and actually create the stationery pattern, after about a week of experimenting with the pattern I had a finished pdf. The finished pattern turned out pretty cool and I thought why not "rise it up the flag pole" and see what kind of feedback I get.
I built a very simple website and offered the stationery pattern as a free pdf download. I had always been a big fan of the work that Josh Rubin was doing at COOLHUNTING and decided to send him a two sentence email about the free PDF and he was kind enough to do a post on Doane Paper. After the COOLHUNTING post the online attention snowball started rolling downhill picking up more posts from design focused blogs along the way.
It took a little while before we saw a tangible version of Doane Paper. When did the pdf become a writing pad?
One of my side projects before starting Doane Paper was operating a traditional skateboard hard goods company that eventually crashed and burned. After going through that I never had any intention to put the Doane Paper stationery pattern on any type of physical product. I didn't want the risk involved with holding inventory for any project again.
My hope was that the exposure that I had generated for the free Doane Paper PDF would somehow translate into a licensing agreement with a traditional stationery or office supply manufacturer, where the traditional manufacturer would handle producing the physical DP products and I would get a small percentage off each sale. That never happened.
In the spring of 2006 I was getting a steady stream of emails asking when Doane Paper would show up on some sort of physical paper product and I had just won another Threadless contest so I had some extra funds to play around with. I found this wonderful "old school" 50 year old office paper supply manufacturer and they were nice enough to do a 500 piece sample run of the first Doane Paper writing pad.
Tell us about starting the online store. What products have you introduced since that first writing pad?
After selling only the writing pads for a couple of years I was getting a lot of push from my customers to sell another product. They continued to ask me for a pocket sized notebook in contrast to the large sized writing pad so I listened and found a great source in Portland's Pinball Publishing to produce our Utility Notebooks. Two products meant I would need an online store to manage it all. Last year on Oct. 30 before carving pumpkins the switch got flipped on the online store. This spring we added a half page version of the writing pad and we also added our first bound product in June, the very well received Idea Journal.
Occasionally on your blog you share examples of how customers are using Doane Paper products. It seems you have some pretty loyal fans?
One of the things I love most about Doane Paper is making a connection with the people who buy DP goods. There was a point last year when I was seriously considering packing it in but one super loyal customer, a physician out of LA who uses DP for his post-op notes really pushed me to keep going. It's a great feeling getting an "Order Placed" email and recognizing that it's from a repeat customer, that's what keeps my head up when dealing with small business hassles.
You recently added two new products to the Doane Paper lineup. What are they?
To help celebrate the one year anniversary of our online store we're debuting not one but two new products. Over the past 3 months the full sized Idea Journal has been flying out the door so why not build on a good thing? The first new product is a mini 5" x 7" version of our highly popular full sheet sized 100 page rugged wire-o-bound Idea Journal. Think of the Idea Journal family as the Land Rover Defender 110 and 90 of the stationery world.
The second new product is the first series variation of the standard black cover 3 pack Utility Notebook called the Traffic Light series. Red, yellow and green make a great three color combo so why not put them together in a 3 pack? I've always been a huge fan of skate companies issuing deck graphics in a series and the Utility Notebook is now mature enough to carry some artistic variations on its cover. I hope to be tapping the shoulder of an artist or two to create a couple of Utility Notebook series a year from here on out.