Colors, patterns and smiles for your feet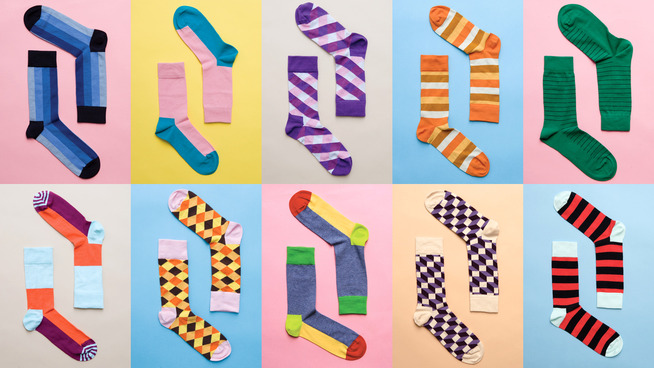 Forget the Prozac and put away the chocolate cake, your disposition is about to be altered by a pair of socks. And if you just can't shake your apathy—perhaps it's part of your getup—then a wiggle of your toes will be so ironically jolly.
Happy Socks from Sweden debuted this time last year at Stockholm Fashion Week with their first collection of 100 styles, scholastically titled "Chapter 1". The launch of Chapter 2 is days away so they're offering an incredible deal of 10 pairs for half price. Right now.
Red Sock, Blue Sock
Easily the most overlooked and under-appreciated accessory, particularly in a man's wardrobe, Happy Socks have found a little niche and they're rocking it.
Made in unisex styles—because what's the difference between a man or woman's sock anyway?—the socks are manufactured by a thirty-year-old family-owned company in Turkey. They're made of combed cotton, for softness and strength, and the seam at the toe is sewn by hand so that it fits smoothly next to your piggies.
I'm not boring
Happy Socks can be worn as a completion accessory to an outfit for all the world to see or hidden beneath the cuff as a personal expression of your own playfulness. They can individualize your uniform, accentuate your high-waters, peek out from your Armani suit, or breathe life into your usual tshirt and jeans.
Add contrast. Be bold or be subtle. Just please don't be boring and wear white socks.