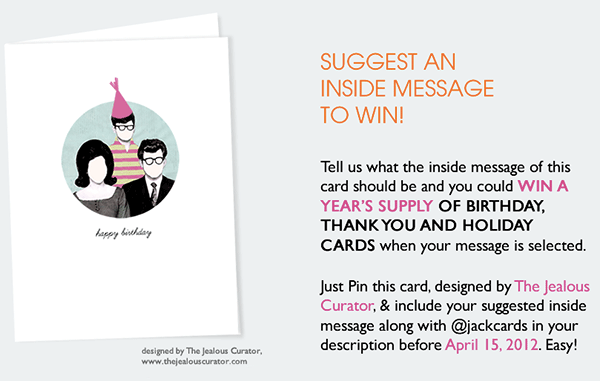 Hey pinners, time to jump all over this one. You remember our lovely friend Danielle, creator of The Jealous Curator? She was with us here on the blog back in December.
Well she's collaborated with our friends at Blogstar and the awesome service Jack Cards for a contest that you'll want to get in on.

Jack Cards, if you're unfamiliar, is a service that helps you keep track of special occasions that are important to you and the cards you wish to send. It then sends you the cards addressed and stamped just in time to put them in the mail. So handy.
Danielle has designed the card above, but it still needs an inside message. Come up with something clever, pin the card, and add your suggestion in the description for your chance to win a year's supply of birthday, thank you, and holiday cards! Pretty great, huh?
Visit Jack Cards for complete details on how to enter, and act quickly—the contest ends Sunday, April 15th.