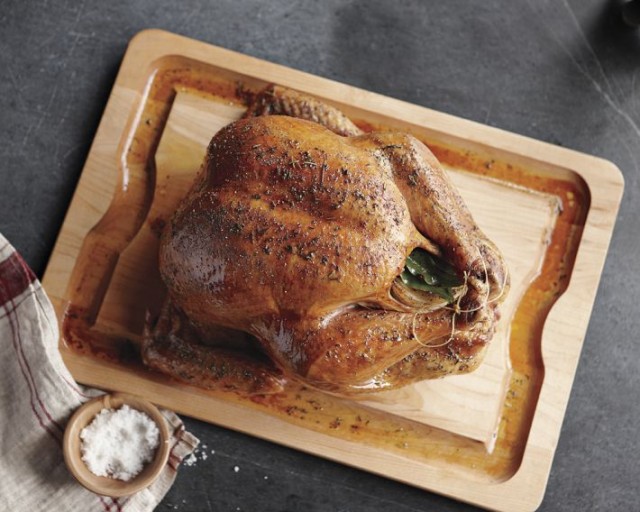 Happy November everyone! Or Movember to some… Either way, Thanksgiving is just around the corner! Held in the golden warmth of fall, the trees filled with deep red and orange, the cool crisp air bringing in the scents of autumn combined with warm turkey roasting in the oven… People gather, laugh and enjoy a day where the only expectation is to be thankful.
But, let's be honest, Thanksgiving is also kind of about food. Massive, enormous quantities of delicious, comforting, coma-inducing food. It's the holiday where the majority of people let go of their inhibitions (diets) for a day of sheer gluttony. Roasted turkey, stuffing, mashed potatoes, cranberries, biscuits, pumpkin pie – these are only a few of the traditional holiday meal dishes. We want to help make your Thanksgiving one to remember. Whether you're in charge of the feast or want to treat the person who is, here are 11 essential pieces for making the holiday meal everyone will be talking about!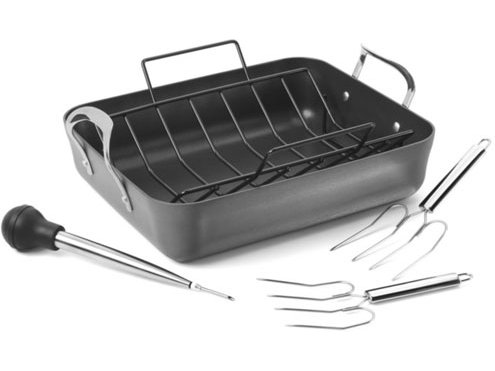 Let' start with the turkey. It's the star of your holiday feast and set's the stage for everything else. This Calphalon Nonstick Roaster provides even heat conductivity and easy cleanup with its smooth, coated interior surface. And cooking and transferring will be breeze with the included stainless steel lifters and an injection baster.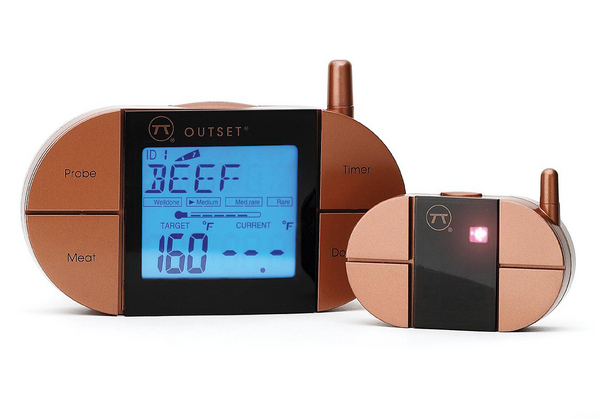 Many people like their steaks pink in the middle, but there's nothing worse than under-cooked poultry. The Outset Digital Remote Meat Thermometer ensures your meat cooks perfectly. The programmable thermometer features a large LCD screen and an alarm that sounds when it reaches the desired temperature. The best part is that the alarm works from up to 120 feet away, so there's no need to feel stuck in the kitchen!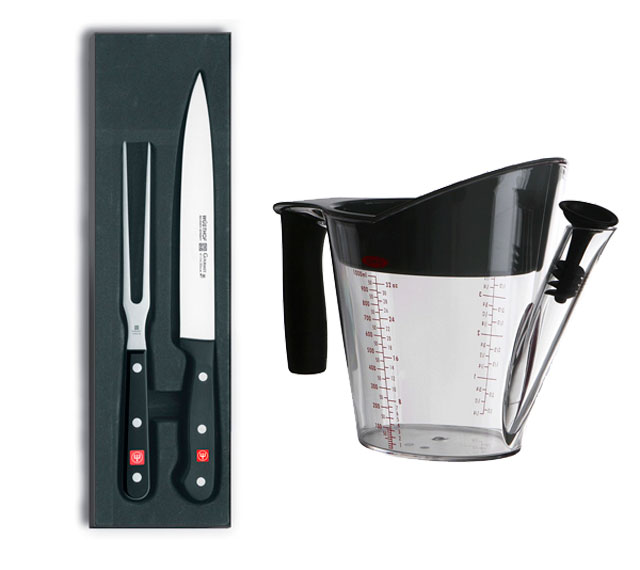 No bird would be complete without the proper carving tools or delicious gravy. The all-steel design of the Wusthof Gourmet 2-Piece Carving Set makes carving a turkey like slicing through butter – smooth and simple – while the heat-resistant 4-Cup Fat Separator from OXO will help you trim a few calories from your meal (and maybe even your waistline)!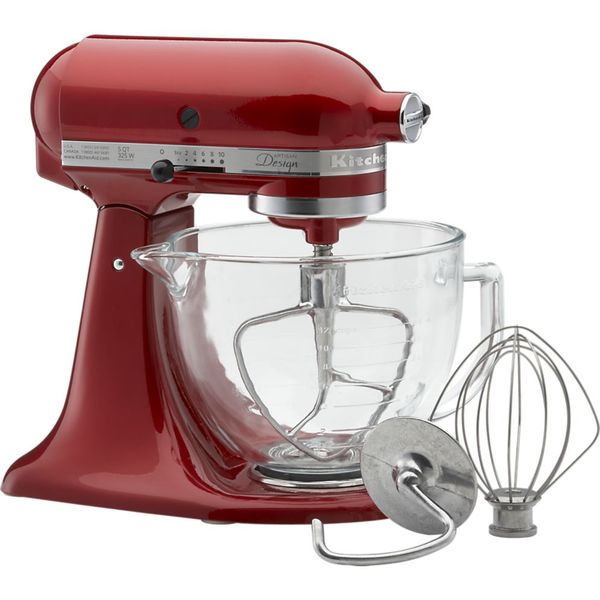 Mashed, baked, layered or even in a casserole, potatoes (sweet ones included) are a must-have at the Thanksgiving table. With ten mixing speeds, and a tilt-back head for easy access, you'll enjoy flexibility and high design with the KitchenAid Artisan Stand Mixer. The glass bowl even has measurements in both liters and cups, so you're covered whether you're cooking for two or twenty!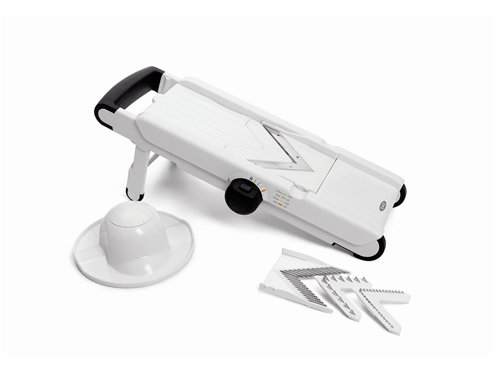 We've got to have some semblance of healthy eating within this giant feast and that means vegetables. The V-Blade Mandoline Slicer from OXO makes cutting vegetables a breeze. Four blades and a height adjuster let you make straight or crinkle cut slices in a variety of thicknesses so you can prep in whatever shape you like. Slicing, dicing, from hard foods to soft, you'll cut prep time in half with this tool!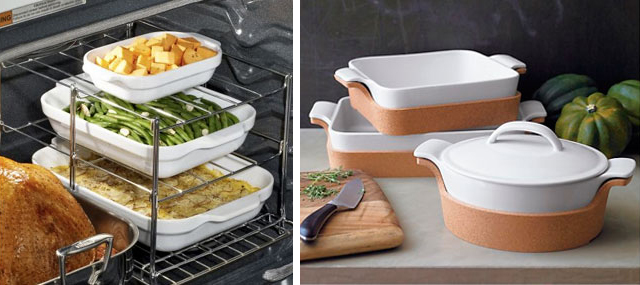 Now that we've got the food prepped, let's get it in the oven. With the amount of food to cook, you'd think you'd need a professional sized oven to cook it in. Not so. The Multi-Tier Oven Rack holds up to three levels of heavy casserole dishes, maximizing your oven space and these Bakers with Cork cooking dishes will take you directly from oven to table without dirtying any extra dishes in between.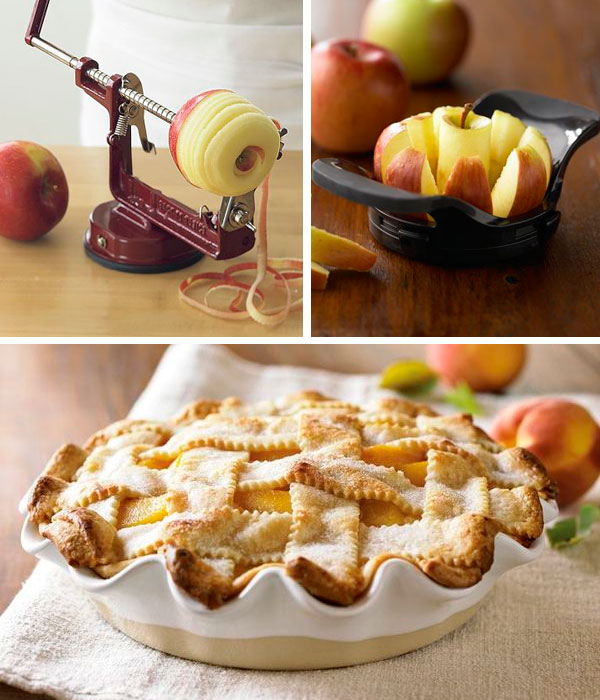 It wouldn't be Thanksgiving without pie and there are about a hundred different acceptable varieties to round out your feast. I prefer apple, myself and these items will not only produce an epicurean delight of epic proportion, they'll also make making it, ridiculously easy. Peel, core, and slice your apples before placing them into this Artisan Ruffled Pie Dish. Made from Burgundian clay, absorbs, distributes and retains heat evenly, so pies bake and brown to perfection. The dish is microwave, oven, dishwasher, freezer and broiler safe and finished with hand-applied glaze so it won't scratch or craze when slicing.
The best part about this list of essentials is that they are not single use items but good, high quality ones you can use year after year, for many other occasions outside of Thanksgiving. And if you want to know a secret – the KitchenAid Stand Mixer is wish list gift for many, many women, so why not use Thanksgiving as your reason to give one? Trust me, your lady with thank you. And not just on the holiday!