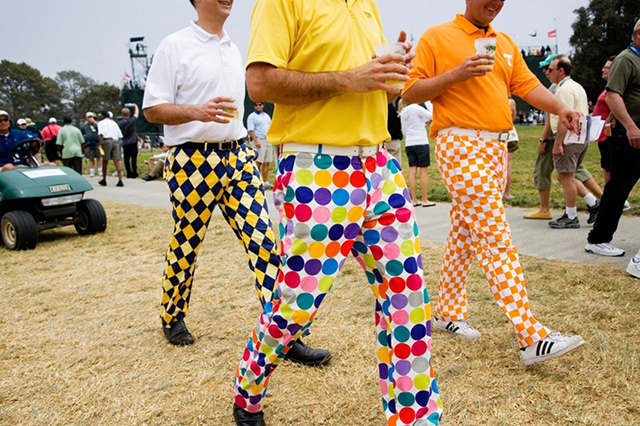 What's your relationship with golf? Do you play? Love someone who does? Do they wear rainbow polka dot pants? They should.
I took up the game, quite casually, about a year ago. In other words, I mostly play when we're visiting my in-laws. I found myself more into it than I'd expected to be. Turns out golf's a lovely cocktail of serenity and frustration, athleticism and bloody marys.
When it comes to gifts for golfers there's an unfortunate amount of chintzy gift ideas out there. While it's tempting to tell you all about the worst ones I've seen (perhaps that's a fun post for another time), I'd rather save you time and help you out with the good stuff. Here's a few favorite golf gifts for the linksman (or woman) in your life.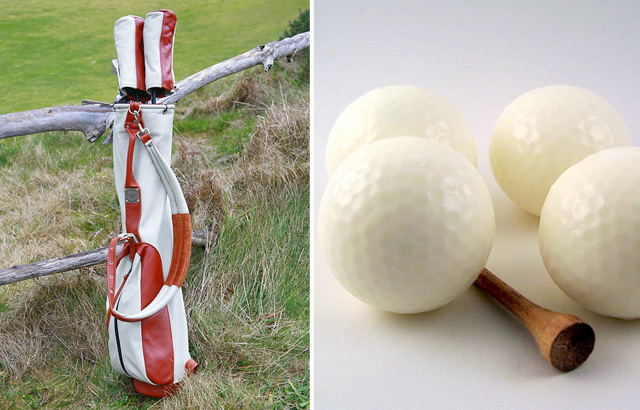 Is this not one of the snazziest looking golf bags you've seen? The whole MacKenzie line is stellar to look at. Pictured is the Sunday Walker. As the name implies it's a smaller carry bag you might take on a quick weekend round, looking dapper and sipping juleps. (Juleps and golf? I'm actually not sure if people do that.) These bags are hand sewn and hand stitched in my town, Portland, Oregon.
At right what may look like your average golf balls are actually not-so-average golf ball soaps. Luxurious, all natural, hand-craft, Ocean Rain scented soap. They're made on the other coast in Raleigh, North Carolina and would make a fun addition to a game room sink or wet bar. (A strange golf and booze correlation keeps happening.)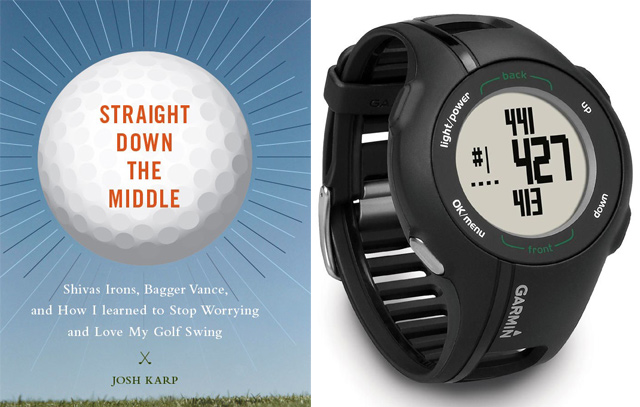 If your golfer is also a reader then here's a book that should entertain. More memoir than teaching tool, if they're open to the idea of Zen-assisted golf then they very well could learn a thing or two. I'm sure I could. Straight Down the Middle is "for golfers of all stripes and plaids" (and polka dots!). It's a humorous account of the author's quest for enlightenment and a lower handicap.
The Garmin Approach S1 is my golf-crazy (crazy in a good way, Ronnie!) father-in-law's new favorite thing. It's 2nd best only to a caddy who travels with you. This GPS watch automatically knows over 14,000 US courses and your exact distance to the hole.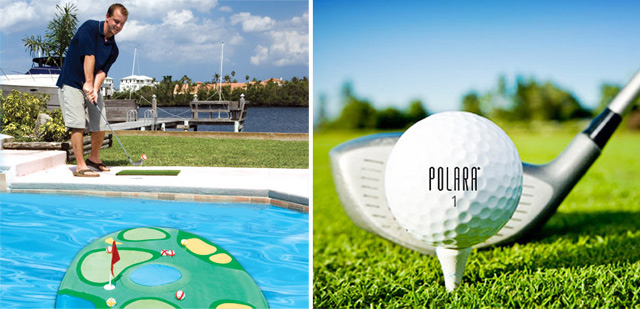 I don't know about you, but my short game is where things completely fall apart. My ball likes to play Keep Away with the hole. When I saw Pro-Chip Island it immediately looked like a good time. Could be that refreshing water in the photo. Don't let the name fool you, there's nothing pro about the Pro-Chip Island, but it is a fun way to practice your chip shot at a floating target. Pool not included. (damn.)
If you're a golfer yourself, you know it's far more fun when the ball actually goes straight. Enter the Polara Ultimate Straight golf ball. It has special dimples that help your drives fly straighter—75% straighter. Perfect for novices who want to keep up with their game-a-day friends and lots of fun for advanced golfers who want to pretend they're Jack Nicklaus. Just don't try to play these in some serious tournament. That's not allowed.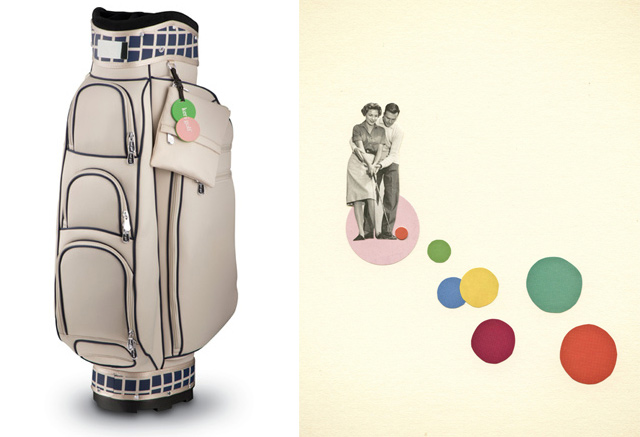 Here's something fancy. Keri Golf is a boutique line of golf bags for gal golfers. They're decidedly feminine but not overly so. The Kate Cart Bag has a classy look in a light shade that pops, without being pink. While I've yet to walk 18 holes, Keri's tempting me to do so—there are some great looking stand bags on the site too.
A gift for golfers with a softer side, golf meets art in Crazy Golf by Cassia Beck. Fine art reproductions of this charming collage are available as prints, on canvas—even as iPhone cases. Who said golf couldn't be romantic? (Tiger Tiger Woods y'all.)
What are some of your favorite golf gifts? Or perhaps your favorite terrible ones?
Top image: Nice Pants by Landon Nordeman for sale at 20×200.