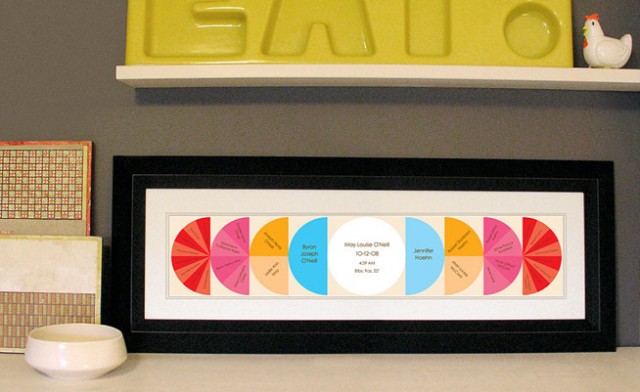 Jen O'Neill tells us about her modern genealogy charts
Modern Genealogy
Sometimes you stumble across something and it strikes you as the perfect solution to a dilemma you never knew you had. One such recent and delightful discovery is My Tree & Me.
Jen O'Neill designs and customizes non-traditional family trees that are modern and beautiful. Family, turkey, and friends having babies aside, I'd never considered wanting to display a family tree or to give one as a gift. But as I look through the creative ways Jen has come up with to illustrate one's family history, I've determined that I'd really like an artistic reminder of those special people on my wall.
The charts are gicleés printed on acid free watercolor paper. If you'd prefer to fill in the names yourself, blank charts are available too.
A celebration of who you are and where you came from (and who comes next), they're a lovely reminder of generations before you. Like nothing I'd seen before, I wanted to find out more about Jen and where the idea came from, so I got in touch. The following are Jen's words.
About My Tree & Me
I became interested in my own family history when my first child, Finley, was born. As a new mother, it felt incredible to take my place in the long line of mothers who had come before me. And in the more challenging moments, it was comforting to think that all of these generations of parents had raised children, day-by-day, year-by-year, through the highs and lows, and they made it through! I didn't want to lose that sense of connection. By graphically interpreting our history, our family tree serves as an emotional reminder that we always have the wisdom, humor, and experience of generations to draw upon.
A little more about being a Mom
Motherhood was definitely a catalyst. When my first child was born it pretty much blew my mind. I started thinking about (brace yourself for a cliché) what a miracle we humans are and how just by going even 4 generations back, there are 8 people whose genes you carry. The mind reels at the infinite combinations of individuality right? And how different one could be say if great grandma didn't marry great grandpa and perhaps married someone else? So that piece of it all was of great interest and I wanted to be able to display one's individuality.
I also quickly realized that motherhood is such a crazy cocktail of the highest highs and lowest lows but hey my mom made it and my grandmother and on and on. So being able to see that long long line of women that came before me gave me encouragement on tough days. I felt that displaying this connection rather than having it in a file cabinet or on a computer somewhere made it something that I could draw on more often.
Jen's background & the business
I have a design background—I went to Fashion Institute in NYC and worked in the fashion industry in NY and LA before taking a few years off to have my kids. This whole project took me a year and a half as I was squeezing it in during nap times and after bedtime! It's been a fun creative outlet for me to have to break up the daily grind of mom chores.
I guess I thought it would be a good idea to start a business around them when I searched around and couldn't find any in the market place and was getting such a positive response from friends and family. Plus I was looking to go back to work but didn't want to go back to my 60+ hour a week in fashion having two small kids. I'm able to do this out of my home which is great.
Final thoughts
Another thing I love about this work is being a part in a small way of celebrating all the milestones in people's lives.
Creating a family tree is a profound experience, one that allows you to step out of yourself and create a larger storyline. In designing modern genealogy charts, my hope is that your history and your connections will serve as a very personal form of art on your walls—one that inspires curiosity, reminiscing, and storytelling.