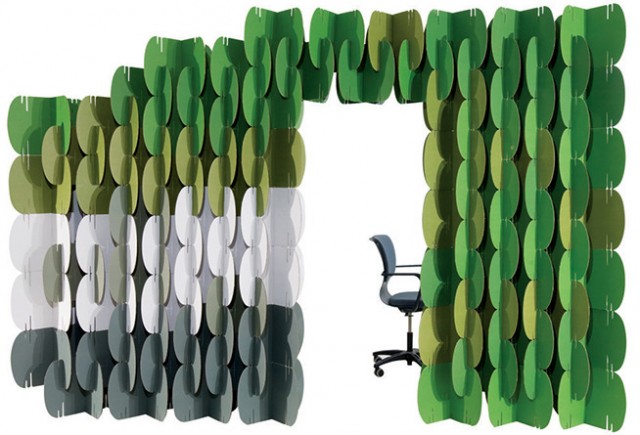 MIO's Nomad modular architectural system divides your space
If you've ever shopped for a room divider, then you know. Something good looking, flexible, affordable and NOT a cheapy three-panel with built-in picture frames, is hard to find.
We've lived through many scenarios where the Nomad System would have been just the thing we were looking for. Having moved eight times in the last ten years, three of those cross-country, and landed in a live/work studio, the name "Nomad" isn't lost on us.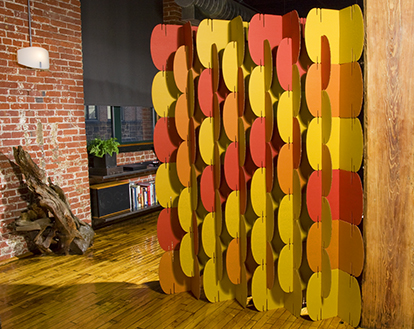 MIO's Nomad is a modular, free-standing system that requires no tools to assemble, or for that matter disassemble and build again. It's sculptural, decorative, and pleasing to look at. It's versatile functionally and limited mostly by your imagination (well not "yours" per se—we know you are super creative).
Nomad can divide a workplace or create a room. It can go up for a party and come down when it's over. Put a tabletop on it and you've got yourself a table.
Made from recycled, double-wall cardboard, and colored with vegetable based inks, the tiles can be dusted and cleaned with a damp cloth. The Nomad system is, unabashedly, an impermanent solution. It's temporary—as are so many situations in our lives. So thankfully, it's recyclable.
I'm reminded of Karim Rashid's suggestion in Objectified, that if you're going to buy something that you know you will dispose of, choose the disposable option. He asks, "Why on Earth does anything have to be built to be permanent? It should be all 100% disposable." If you've ever visited an office liquidation warehouse, you understand my point.
Responsible desire
MIO was founded by brothers Isaac and Jaime Salm in 2001. Based in Philadelphia, the company uses local manufacturing and materials to build their products. Their philosophy is one of "Responsible Desire" which is summed up nicely in their recent catalog (pdf):
True, we're in the business of creating sustainable products. But our true mission runs deeper: we strive to change the way consumers think about their purchasing decisions.

At MIO, we believe that's a good place to start. We want sustainability to be something that everyone seeks. In creating responsible consumer desires, we can facilitate the development of a sustainable culture.

In the meantime, we'll continue to leverage our understanding of design, manufacturing and consumption to create responsible products that are both beautiful and affordable.

Inspired? Read more…
Also for sale at: