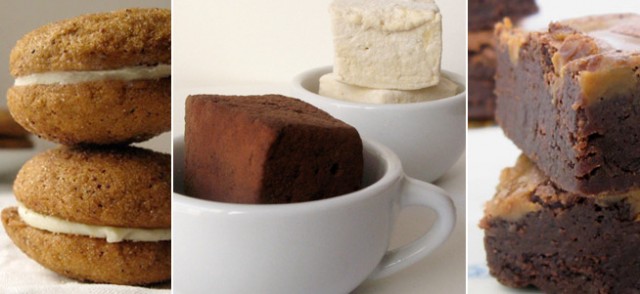 Jenna Park and her husband Mark Sopchak hit the ground running in April 2008 and founded Whimsy & Spice, a line of handmade sweets with a distinctive twist—savory herbs and spices in the recipes.
Mark, a former pastry chef at popular New York City restaurants and Jenna, a talented art director and designer decided to do something they'd dreamed about and start a business together. The timing was unexpected and the transition, naturally a little scary.
As the parents of two little girls, the decision was influenced by their desire to have more time together as a family (restaurant hours didn't provide a very family-friendly schedule). Jenna has been able to continue doing freelance work for clients the likes of Daily Candy and the Smithsonian. And while the family business has provided them a flexible lifestyle, it's certainly a busy one.
Mark does all the baking and Jenna does the branding, design and web work. Each day's surprises from their life in Brooklyn and the ups and downs of the business are captured on sweet fine day, a blog full of stories and photos going all the way back to the beginning.
We were thrilled to catch up with Jenna as things heat up for Whimsy & Spice again this fall. And we were even lucky enough to snag a delicious hot cocoa recipe from Mark.
With a year and a half under your belt and the busy season approaching, tell us how things feel this time around as you get ready for the holidays.
Our first holiday season last year was absolutely crazy. We don't necessarily feel better prepared for the holidays this year as our staffing has remained unchanged (it is still Mark and I doing all the work). We were only doing markets and corporate gifts last year since we secured a few very large corporate gift accounts so we had shut down our online shops. We have no idea what to expect this year and we hope that we don't have to shut down our shops. We hate to turn anyone away!
As the name would imply, you use a variety of spices throughout your recipes. With what seems like a tendency for only the best, are there any interesting stories behind where you get your ingredients that you can share with us?
We don't really have any interesting stories behind where we get our ingredients, but we haven't found a good wholesale tea source for our earl grey sandwich cookies so Mark goes to the grocery store and buys the tea in tea bags, and sits there in the evenings opening each tea bag and emptying out the contents to make his earl grey cookies.
Cardamom. It seems to have a special place in your kitchen. Can you tell us why?
Mark has always cooked with cardamom – in both savory dishes and desserts. He has made cardamom creme brulee and a white chocolate cocoa with cardamom as a key ingredient. He just likes cardamom.
You knew you wanted to include "Brooklyn" in the name, how much does living there influence your work?
I'm a native New Yorker and have lived in Brooklyn on and off. We've been in our current neighborhood for the past 9 years and have chosen to raise our family here so it's definitely an integral part of our life and work. There are many artisan food producers in the borough that have cropped up in the past couple of years so it's a nice community. We support each other, often sell at the same events, and have seen our businesses grow over the years. Aside from the food producers, Brooklyn also has an incredible art, craft, design and blog community so we draw influences from all these areas. It's a thriving, creative place!
You guys had the guts to take the leap and start a business on your own—because you did, the rest of us get to enjoy your unique and delicious treats. There are many people out there who have a special skill but are afraid to take that leap. What advice do you have for them?
It can be scary to venture out on your own for sure. You sacrifice a steady paycheck, benefits and stability. You also often work harder, but you get the satisfaction and joy from seeing something that you've created flourish, and every milestone is that much more meaningful. The only advice that I can give is to hold your breath and go for it. Save some money, have a plan, operate smartly, take advantage of all the social networking tools to market your business and have a good time.
Jenna, you're the designer—responsible for the brand, the website, the packaging and the blog—so tell us, what happened to the dots on the i's? Did someone mistake them for cookies and eat them?
yes. precisely.
And Mark, we've got maple marshmallows on the brain. Can you give us a a yummy hot chocolate recipe to go with those?
3 cups whole milk
2 cinnamon sticks
4 pieces star anise
6 slices fresh ginger
8 ounces bittersweet chocolate
whipped cream
Bring milk, spices and ginger to a boil. Turn off the heat and let the flavors infuse for 5 minutes.
Pour though a fine strainer. Whisk in the chopped chocolate. Heat more if necessary, pour into serving cups, and garnish with lightly sweetened whipped cream.