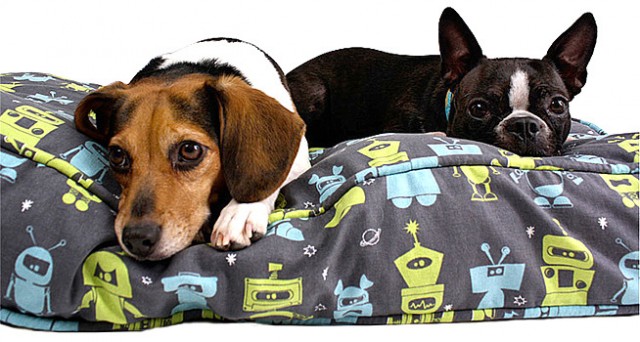 Molly Mutt for a fresh, clean dog bed all the time
Dog beds get stinky. True story. Not all that long ago we got Everett a new bed. He'd out-grown his first one, and that little cushion with no removable cover had seen better days—so into the dumpster it went.
The new bed, while well-made with a zipper cover and able to withstand the toils of our crazy beast, cost a pretty penny and just isn't as cool or clever as these.
Molly Mutt makes dog bed duvets—great for us and our existing bed, but also a great solution when you need a new bed all together.
Ah, and the true story gets even better. They took their duvet idea a few steps further for a creation that's smart, inexpensive and a really good way to reuse your old skivvies.
Lemme 'Splain
Molly Mundt has three dogs and lives in San Francisco. For Molly, clean dog beds used to mean a trip uphill to the laundromat more often than she cared to make the trek. It occurred to her how nice it would be to have spare covers on hand to freshen the beds as needed—impromptu friends on the way, other stuff already in the washer…
Idea begets business (with a whole lotta work in between) and voilà, you have Molly Mutt dog bed duvets.
Molly knew that she wanted the covers to be durable, stylish and easy to wash. She also came to the quick conclusion that a duvet would save dog owners the cost of a new bed and the waste of tossing the old one.
And the kicker that makes Molly Mutt a fast favorite…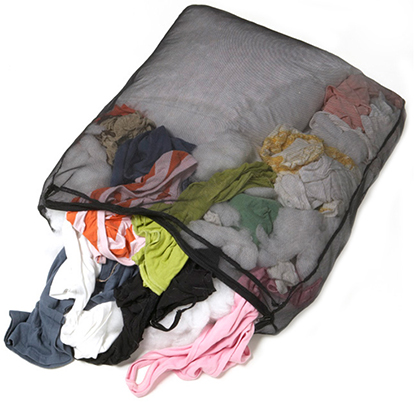 Upcycle? Stuff it!
Dogs like a soft warm bed, regardless of what's inside. Your old NKOTB t-shirts, Star Wars bed sheets and Spuds McKenzie beach towel might as well be a five star pillow top to your pooch.
So Molly created the Stuff Sack for organizing all kinds of squishy odds and ends inside your dog duvet, keeping them out of the landfills, out of your closet, and in good paws next to your snugly canine.
And when the insides get stinky too, you can just toss them in the wash. Molly Mutt, you rock.