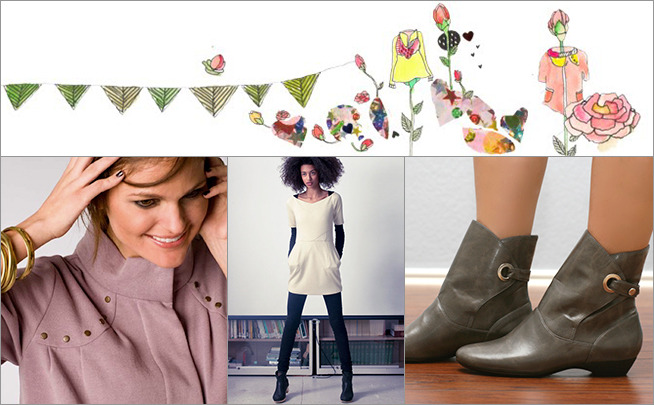 Designer and vintage wares from KIND Boutique
When I came across Erin's new store, everything about it made me smile—the sweetly hand-illustrated graphics by Jackie Bos, the saucy vintage finds, the carefully curated mix of clothing and home accessories, and of course the name.
From KIND's about page

KIND is an eco-friendly boutique that believes in a lot of things. We believe we can change the world from our homes, that tiny changes can make huge and wonderful differences, and that the things we wear, fill our homes with, write on, use to beautify ourselves or give as gifts are a reflection of ourselves. But, above all we believe in kindness- to ourselves, to our neighbors, to the animals, and to the environment.

Our goal is that you come to our little shop and are inspired to join us in the life changing pleasures of living consciously. And, we have a surprising mix of things to hopefully do that. Whether it be old, new, simple, embellished, humorous, silly, handmade, curiously tailored, or is constructed of odd bits and bobs one thing is for sure, the items we carry are the result of a passion, obsession, great finds, and great ideas.
The shop just opened a month ago and will surely continue to evolve. As all good things must start somewhere, we'd sure love to see the kind ones find success.
What will you find at KIND? Prices vary $8-$300 for gifts, housewares, vintage pieces and eco-designer clothing.