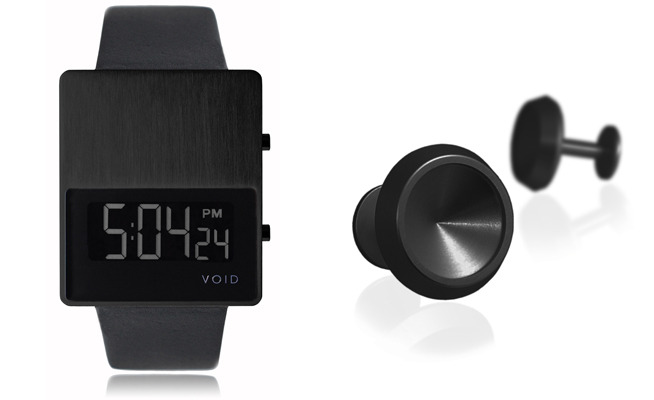 VOID Watches and Cufflinks by David Ericsson
Some days you need to be loud. Other days though, your style is a bit more subtle—modern, with a healthy dose of reserved and powerful. VOID Watches and accessories are made for those days.
An independent brand launched last year by Swedish designer David Ericsson, the line is influenced by the simple elegance of Scandinavian design and the smooth materials of modern architecture.
Updated this summer, the VO1EL has a larger backlight display than its previous incarnation. Made of half glass, half brushed stainless steel, the LCD is set into the frame for a smooth finish. The lines are clean, the shape contemporary and the band a traditional leather—a nice juxtaposition. Five colorways are available including a new copper face, though as you can see, we're smitten with the black.
Black on black
There's always something sexy about black on black. One black glossy, the other almost matte. Like the glory of seeing a great big painting from far away and then discovering other details as you get closer—black on black is kinda like that.
Suit up
The low profile of VOID's watches are a perfect fit under your colder season suits and to finish the look, Ericsson's latest addition to the collection may make you want to go out and get a new shirt with french cuffs just to wear them.
Lathed from a single piece of anodized aluminum, the VC1 cufflinks (also in gold and silver) scream style without making a sound. They're poised, not pompous, and sure to make a lasting impression.