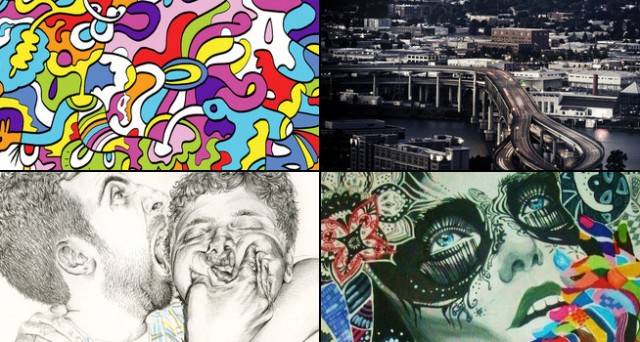 Gallery quality prints from your favorite artists now at Society6
Bare white walls. They make me sad. Beautiful, inspiring artwork makes me extremely happy!
For that reason we're very excited about Society6's new shop. Photography, illustrations, paintings, and collages from artists all over the world are right there at your fingertips and offered at incredible prices.
Since we can't always afford the originals, this is the next best thing for beating bare-wall syndrome and directly supporting the artists you like. While they're not the first to make great artwork accessible and affordable (20×200, we love you too), their approach is different and we're certainly enjoying perusing the artwork on their lovely site.
Giclée
I can never say that word right the first time. Pronounced "zhee-clay," it's a replica really, but not like the posters of your dorm room days. Thanks to advances in the ink-jet printing world, terrific reproductions at extra-fine image resolutions are now possible.
The barometer from our art-collecting perspective is: What's the quality of the print? And is the artist getting their fair share?
All of Society6's giclées are printed by their established printing partner on bright white cotton rag archival paper using Epson K3 archival inks.
Artists set their own price above the base and make 100% of the profits. Depending on the size of the upload, a variety of print sizes are available.
Sociewaaa?
Society6 is a platform for established and emerging artists to share their work, collaborate with one another and connect with unique opportunities. In addition, fans and supporters, professional and avocational, can discover, promote and even curate digital collections through their social profile. It's really quite rad.
Those unique opportunities I mentioned are made possible through the Grants section of the site where organizations or individuals can issue cash or opportunities (in the form of say…coveted publicity, a special event or free product) that are awarded based on merit, as determined by the community. Super great, huh?
Clockwise from top left: Hyperheadache (eeshaun), Portland (dibec), Daydreamer (Fiona Rose Batey), Cheeky in Check (Tom Hovey).