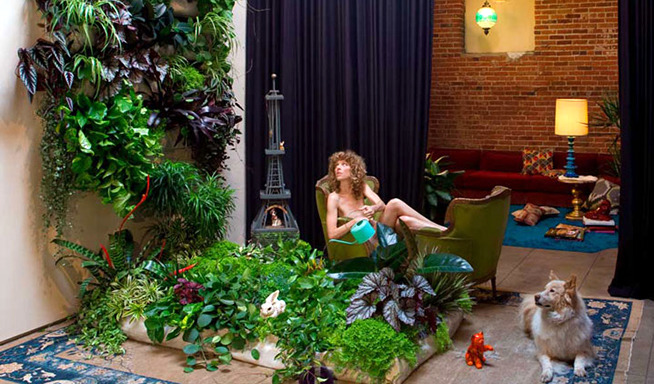 How does your garden grow?
Vertically.
You know when you're on a walk in the woods and the air smells fresher, the breeze feels cooler and the greenery around you seems almost huggably lush? Imagine that on the wall of your apartment, your office, your patio. We are, and we're flipping out over the possibilities with Woolly Pockets.
Inspired by living walls he'd seen while traveling in Paris and New York, Miguel Nelson created a soft-sided pocket, filled it with soil and began growing plants on his wall. They grew so fast and so successfully, he knew he was onto something.
Breathable bottles
It turned out that the fabric Miguel used to make the pockets actually promotes healthy plant growth. Made of felted recycled plastic bottles, the material is soft like wool, retains moisture and is remarkably breathable, allowing the soil to aerate and the roots to be happy.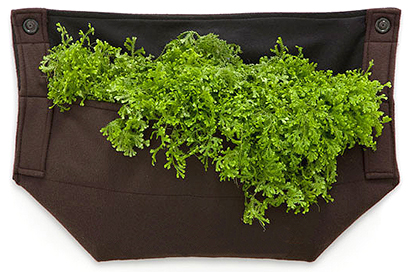 Smart, succulent, space saver
Woolly Pocket Garden Company makes a variety of breathable planters—some can sit on the floor or furniture, and Wallys which hang on the wall. While we love both ideas, it's the Wallys we're especially jazzed about.
They're a space saver for one, allowing you to hang as many pockets as you like on your available vertical space, freeing up valuable floor real estate.
In addition, they're simple to install. The pockets are hung by grommets in the fabric and as long as you can successfully put an anchor into the wall, other than the soil and the plants…you're good to go.
Not the greenest thumb in the garden? Don't worry, Woolly Pocket provides great instruction on their site with tips and photos, and they're happy to answer questions over email. Like: What plants should I choose? or What soil should I use?
And finally, there's the beauty of it all. Inside or out, a wall of Woolly Wallys seems divine. Check out their blog for some incredible photos of Wallys on fences, storefronts, living rooms and more.