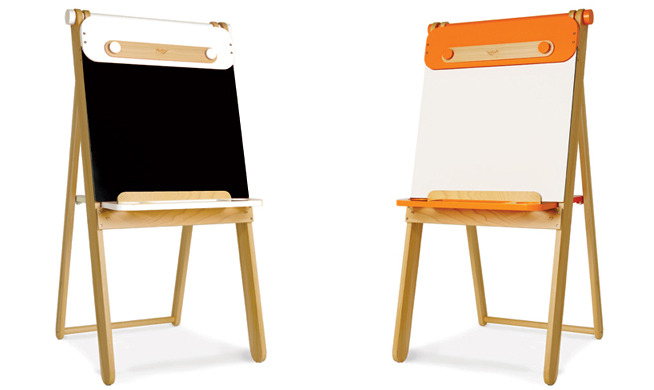 It goes without saying that kids grow and change quickly. And while they're busy laughing and learning, their parents' homes become a quick pit stop for all kinds of toys and other products that are loved one moment and out-grown the next. Nature of the (cute little) beast.
Then it makes perfect sense (in your head and your bank account) to do your best to choose products that are multi-purpose and engaging. So goes the philosophy of one of our favorite brands of children's toys and furnishings, P'kolino.
Founded by two dads in 2004, P'kolino's products are designed to be fun for kids, have an aesthetic value parents appreciate, functionally support a child's developmental needs, and enjoy a long life in your home by having multiple uses.
It's a bird, It's a plane, It's
So it's not a bird or a plane, but it is quite the versatile children's easel. The art surface is two-sided—one side a chalkboard and the other a whiteboard. If you'd like to save junior's masterpieces, or maybe it's a crayon day, there's a dowel in the back that holds a roll of paper to be pulled on top of the art surface.
For storage there's a tray in the front to hold art supplies and two cups holders—for containing juice, snacks, paintbrushes, chalk, you name it. Optionally in the back, you can attach one of P'kolino's nifty Play Kits.
When it's time for the show, the art surface detaches and slides onto the legs of easel to hide your little puppeteer. Two color-in scenes come with the easel (a second use for the cardboard it ships in) that slide into the top half to frame the puppet show.
And as if all that's not spectacular enough, the easel folds flat for easy storage under a bed, behind a door, in the closet.
Need help visualizing this transformer of an easel? Watch this video.
Also for sale at: