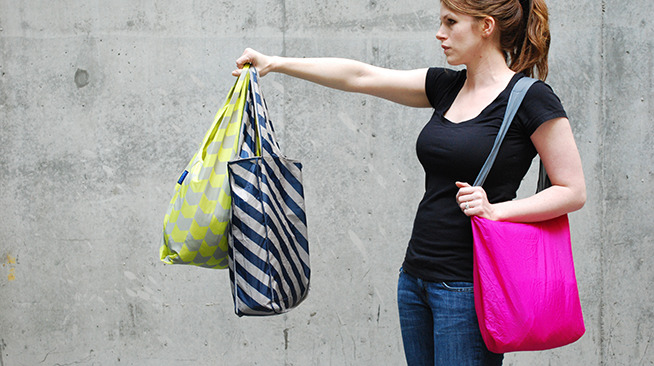 Our look at three of the best reusable bags available
One of the biggest hurdles to making the switch to reusable bags is the frustration of not having one when you need one.
The environmental reasons for the switch are obvious. Plastic doesn't go away when you throw it away, it just goes somewhere else. And your standard plastic shopping bag might get used for about twenty minutes on average before it's tossed making the logic of the whole situation a little fleeting. But amen for convenience, we hear ya on that one.
That's why we decided to figure out where the best overlap of reusability and convenience was happening to help you choose which bags (or combination of bags) might be best for you.
What we discovered is that a big part of the convenience issue could be alleviated by choosing bags that were collapsible and compact when not in use. As much as we love (and use) our favorite screen-printed canvas totes, convenience is a biggie when it comes to making a change that people really do want to make.
We narrowed down the choices based on how they are made and by who, what are they made of, overall brand impression, unisex appeal, and style. We chose Baggu, RuMe, and flip & tumble. And then we used the heck out of them.
A few things we learned:
Even when they're super convenient, using reusable bags is still a shift in behavior and takes some getting used to, though with these we got used to it very quickly.
Guys can, will and do use them, just don't buy the ones with the girly flowers on them unless you want to do all the shopping and all the heavy lifting.
It feels really good. Making the switch to reusable bags is a small step with a big impact and a bit of a gateway to greening up your life. You might find yourself making other changes soon too.
Also worth noting, all three brands are machine washable, multi-purpose and provide a recycling program for when (if ever) your bags are all used up.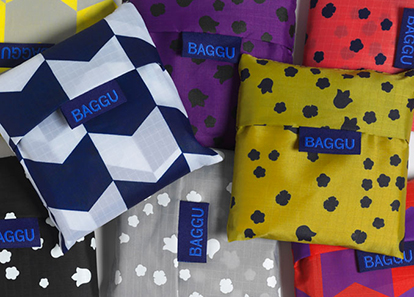 Who is Baggu?
With an office in southern California and a studio in Brooklyn, Baggu is a small team that put beauty, functionality and affordability at the top of their priority list when founding their company two years ago.
They believe that style goes a long way in encouraging you to use your bag and we agree. We love using our Baggu for the utility it provides, but reach for it the most because it looks great.
See co-founder Emily Sugihara explain the design of Baggu and several uses for the bags in this great video on Cool Hunting.
How it collapses
Baggu bags fold lengthwise into fourths and then over a few times to fit into a slim 5″ by 5″ pouch. Watch how here.
What we love about them
They look awesome! Baggu offers a selection of colors and hip patterns like no one else. These are as much a great accessory as they are a great solution.
They're also extremely versatile and incredibly strong. (see suggested uses)
Our quibbles
While we love that the fabric cut away to make the handles of the bag is used to make the pouch that holds the bag, it is one more thing to keep up with. We took their suggestion though and immediately drop the pouch into the bag when we unfold it—a simple fix and we haven't lost it yet.
So that leads us to folding it back up. This is a step that you simply have to commit to, not unlike putting dirty clothes in the hamper instead of the floor. Rest assured, it folds up and fits easily. It's not one of those that must fit back into an unreasonably tiny pouch. It doesn't have to be perfect to be functional.
Suggested uses
Anything and everything. We found these to be a good size for all kinds of things: a trip to the park (dog toys, snacks, blanket etc), various errands, the farmer's market.
We even put it to the ultimate test with a trip to Powell's Books. Filled to the brim (because that place is irresistible), Baggu performed like a champ and was even comfortable to carry given all those books.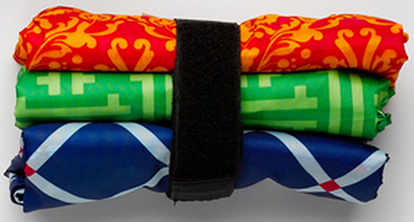 Who is RuMe?
Based in Denver, RuMe launched on Earth Day 2008 to meet the need of the "growing consumer desire for sensible, affordable products that use less by ReUsing more."
They are intent on being just as socially responsible as they are environmentally responsible and manufacture their bags in a certified fair trade factory in South Korea (they attribute the slightly higher price to this practice).
RuMe bags come in a variety of colors and themed style collections. There are even metallic bags if you like a little bling.
How it collapses
The bags fold lengthwise three or four times, the handles are folded over and then you roll it up toward a handy, attached velcro strip. Up to three can be rolled and fastened together for quick grab and go.
What we love about them
RuMe bags are strong and well, roomy. A box stitch give the bags a flat, structured base which makes loading up the bags a nice, anti-toppling experience.
The velcro closure is pretty forgiving and easy to do. It might take a few practice runs to get it back down to the size you want, but we do like that there's no extra pouch to fuss with.
Our quibbles
Though the navy and khaki Necktie pattern you see in the top photo is pretty sweet, we found most of the styles, other than the solids, to be especially feminine or just not our taste. They might be yours though, so take that for what it's worth.
Our other beef with these bags is the crinkly noise they make during use in comparison to the other two brands. Not a deal breaker. It is what it is.
Suggested uses
While they can be used for anything and are certainly strong, we found these most useful for carrying bigger bulkier items. RuMe bags are a great for clothes/shoe shopping, day trips and toting your Rock Band gear over to your friends' house.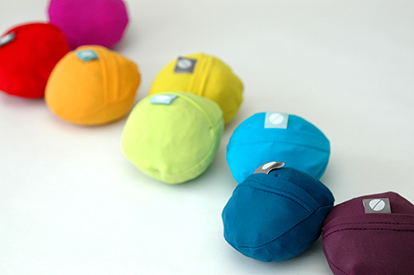 Who is flip & tumble?
Founded in early 2008 by Stanford design graduates Hetal and Eva, flip & tumble's primary objective in creating their bags was to make something that's super-stashable and therefore less likely to be forgotten.
Inspired by sockballs—the ones you get when you roll a pair up and stretch the end over to keep the two together—the final design is pretty much the coolest thing we've seen in the realm of collapsible bags.
The bags come in a rainbow of colors, some with blue handles and some with grey.
How it collapses
Here's the best part. The ease of putting flip & tumble bags back together is nothing short of impressive and instead of being a hassle is actually a fun part of using these bags. Yes, fun. I mean it.
Just inside the bag is a small stretchy pouch, that doubles as a phone or camera pocket when it's open. To store the bag you simply smush the fabric into the pouch and then fold over a little flap turning the bag into a ball like the one you see pictured. See how easy it is in this video.
What we love about them
As if we needed to explain ourselves further, what we love about flip & tumble is their genius design. Right when you empty the bag, you can fold it right back up and put it back into your purse or messenger bag. Then it's there when you need it again, and not forgotten.
The style is simple and the colors available are modern and bright. The blue and grey handles are a distinguishing feature and most of the color combinations are guy or girl friendly.
We like the long shoulder strap too. It's comfortable and convenient when you're carrying several of them.
Our quibbles
We're hard pressed to find some, though if you need a big bag then this probably isn't it. While it's strong and has been holding up great for us after many trips to the store, flip & tumble's bag is made to hold up to 25 lbs while the other two brands can hold up to 50 lbs.
Suggested uses
Of course it's multi-purpose, but this is by far our favorite bag for groceries. I keep a handful of them balled up in my purse and then whip them out and pop them open at the checkout counter. Almost every time I've used them the cashier has commented on how great the bags are or asked where they came from.