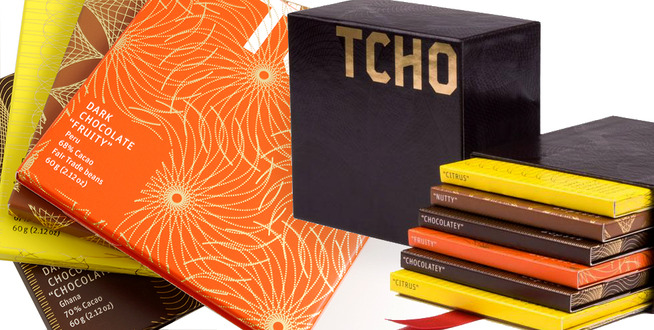 TCHO: A chocolate experience from beta to bliss
The Chocolate Start-up
We first encountered TCHO (pronounced: cho) while attending a conference for web start-ups nearly a year ago. A welcome (and delicious) snack after a morning of presentations, we'd been given a piece of chocolate wrapped in plain brown paper. Stamped on the outside was the company's name, a marked check-box next to its flavor: fruity, chocolatey or nutty, and across the top, the words "beta batch".
We were, in fact, beta tasters and TCHO was collecting feedback at their booth outside the auditorium.
An unexpected approach for prepping the launch of a chocolate company—there was nothing unusual about the software analogies or the 1,000+ iterations of chocolate prior to launch to company co-founder Timothy Childs, an internet entrepreneur and former NASA Space Shuttle technologist, or TCHO's CEO, Louis Rossetto, co-founder of Wired Magazine.
Be obsessed
Shortly after the chocolate left beta last winter, I found myself completely immersed in the story of TCHO. During this second encounter (this time at their website), I was prepared for the unexpectedness that'd made them unique and kinda quirky the first time, and now I was beguiled by everything else.
"How do you make a chocolate company?" the site questions, "Be obsessed. Be very, very obsessed."
They weren't just obsessive about making delicious chocolate, they were also especially passionate about building a remarkable company, being innovative and treating people all over the world (employees, farmers, customers) with the utmost respect—not only being kind and fair, but educating them too.
TechnologyCHOcolate
I could go on about TCHO's Flavor Labs, the tech they've introduced where the cacao is grown, and their San Francisco factory that features remote monitoring and control of the chocolate production via iPhone.
However, as impressive as those feats are (and I encourage you to read all about them), I really fell head over heels for TCHO because of their follow through on little details.
Sweet deets
First, the packaging. If you've ever hesitated to open something because the packaging was just so damn beautiful, if you took your time because each step deserved a moment of it's own, then you know what I'm talking about.
Easily some of the best looking chocolate you'll find, the colors (corresponding to the bar's flavor), the texture of the gold debossed patterns, the typography and the square shape make for a pretty stunning bundle of chocolatey goodness.
And it just gets better. When we recently received our chocolate we opened the package to find the bars tightly protected by shiny insulating bubble wrap, surrounded by ice packs and topped with a neatly folded piece about their subscription service (you can receive TCHO on a regular basis if you choose), a same sized brochure about the flavors and the company and in addition a bonus treat of their chocolate nibs (so tasty).
If you're as anal-retentive as we are then you just might notice that the packing slip was also neatly folded into a square to match the other printed pieces, rounding of their presentation score to a perfect 10.
It goes without saying that the chocolate is superb. Jacob prefers Nutty while my favorite is Citrus.