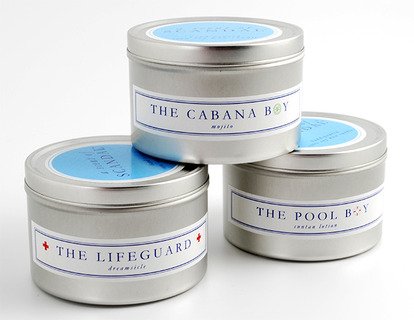 Irresistible scents with hilarious names by A Scent of Scandal
Sibling Candlry
Scandal founders, brother and sister Ari Solomon and Heather Brancaccio must know a thing or two about candle fans.
For one, we're impulse shoppers when the price and scent are right—these are both, and smell amazing. With fragrances like fig leaf, early morning dew, black and blueberry and brown sugar it's hard to resist picking one up for a sniff.
The candles are 100% soy which lasts a long time, holds the scent really well and burns clean which is good for you and the air. They're also packaged in a simple tin that looks good practically anywhere.
And just to blow our skirts up, their names are so crazy fun, whether you're buying one for a friend or looking to brighten your own day in an olfactory way, these are sure to make you smile, probably more than once.
So what's in a name?
A whole heck of a lot. A candle company must make great smelling candles to be successful, but to kick the brand into gotta-have-it, can't-wait-to-talk-about-it status an amusing association between the name and the fragrance certainly helps.
A Scent of Scandal candles come in over forty varieties. Pictured above are seasonal scents aptly titled, The Boys of Summer. There's The Cabana Boy (mojito), The Lifeguard (dreamsicle) and The Pool Boy (suntan lotion)—which really smells like suntan lotion with a twist of yum.
In their regular selection there's something for everyone. Some favorites: DILF (shaving cream), Stoner (grass), Tighty Whities (fresh laundry), D-cups (melons), Teacher's Pet (apple), Gold Digger (carat cake).
Candles for a Cause
In addition to funny names, yummy smells, vegan sourcing and oh-so-good soy, Scandal supports a variety of animal conservation organizations through sales of special edition candles and additional donations. Take a peek.
Also for sale at: