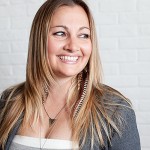 Cariann Burger is one cool chick. She's got talent (of the super-creative kind), she's genuine and sweet to everyone (that smile!) and she runs a company that empowers and celebrates the work of artists all over the world.
Cariann and her husband Paul are the founders of Cargoh, a marketplace of independent art and design—essentially a jackpot of wonderful things from an inspiring community of creative people.
Today she joins us for our very first Give & Tell. Thanks, Cariann!
What's the most inexpensive item you could receive that warms your heart every time?
Flowers from my husband, even though I tell him not to buy them, and his love notes.
Have you ever given a gift in an interesting way?
When I first started dating my husband we lived in different countries. I would send him a meaningful gift weekly with a letter in it. The letters spelled a word, which was a clue to the surprise I had for him when we saw each other again.
Read More