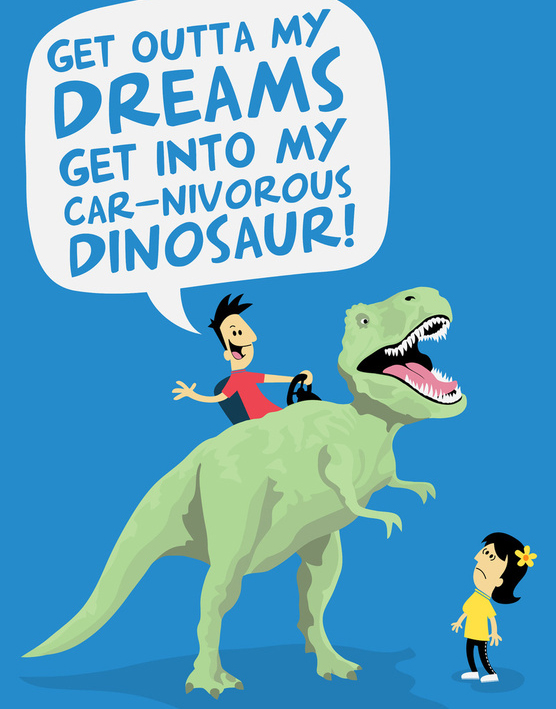 We all lead busy lives. Multi-tasking and having a to-do list a mile long seems to be the norm these days. And many of us (re: ME) live in cities with less than optimal public transportation. All this leads to spending A LOT of time in the car. Sometimes I even feel like I live in my car, which can quickly become a hot mess. Trash on the floor, extra shoes and clothes in the back, work papers strewn all about, let's not even look in the trunk … you get the idea.
But a clean and well organized car doesn't just have to be something you dream about. With a little forethought and a few key items, your car can be neat and tidy and serve a higher purpose than simply getting you from Point A to Point B.
These 10 gifts are great for anyone who spends an inordinate amount of time in their car, or really anyone who's just a complete slob in their vehicle. And what about the long drives ahead to visit family for the holidays? They'll make those even better too!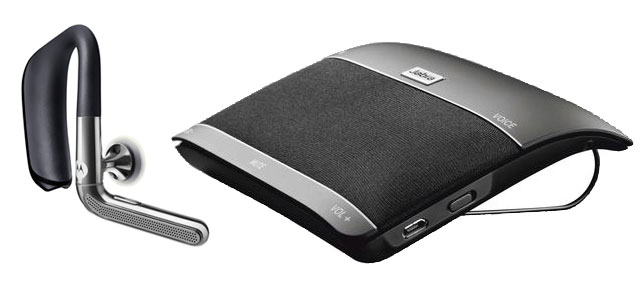 First things first – put down the phone! Many states are instituting hands-free cell phone laws while driving. The Motorola Oasis Bluetooth Headset or the Jabra Freeway Bluetooth Speakerphone would not only make you a dutiful, law-abiding citizen but keep your driving space free of wires and phones as well, allowing you to keep your hands where they need to be – on the wheel!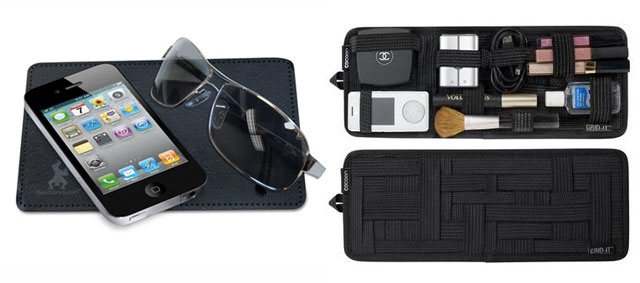 The cleverly designed Handstands Original Sticky Pad will back up your hands-free cell phone use while still allowing you to have a place for everything and everything in its place. Without the use of sticky adhesives, it clings to the dashboard and holds objects you need close by. It's washable, removable, reusable and temperature resistant.
If you're short like me, the dashboard may not be your first choice to stack items (seeing over the dashboard is a challenge in itself). Instead, put them up above with the Grid-It Sun Visor Organizer. It's the most versatile organization system available, providing endless configurations for your stuff with its rubberized woven elastic object retention system.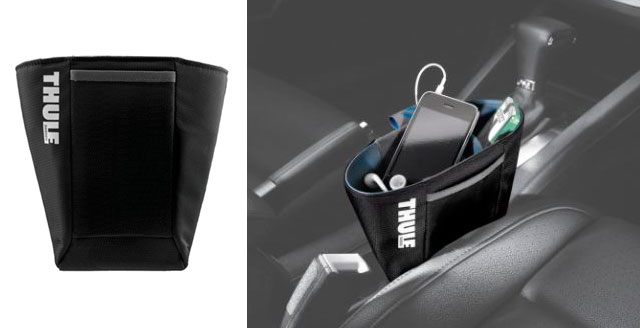 Maybe above your head isn't on your list of storage locations either and you'd rather have something directly in your line of sight. Then the Thule Transport Organizer Wedge is just the thing you need. It stays in place with its innovative wedge structure and has a non-skid lining and adjustable divider to prevent items from moving around making it perfect for quick access to your money, pens and other small items you need to keep within reach.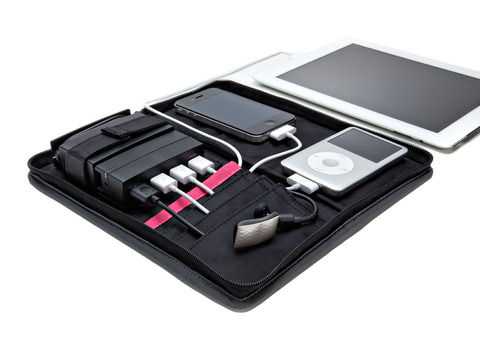 Most of us are living in the digital age with mobile phones, tablets, and laptop computers. But when you're on the go, small details can get lost and often times charging cables and batteries get left behind. The AViiQ Portable Charging Station is a space and time saver. It only requires one outlet port, giving you the ability to charge 3+1 devices. Complete with a zip-up bag, you could keep it in your car so you are always prepared, even if you do forget the the little things.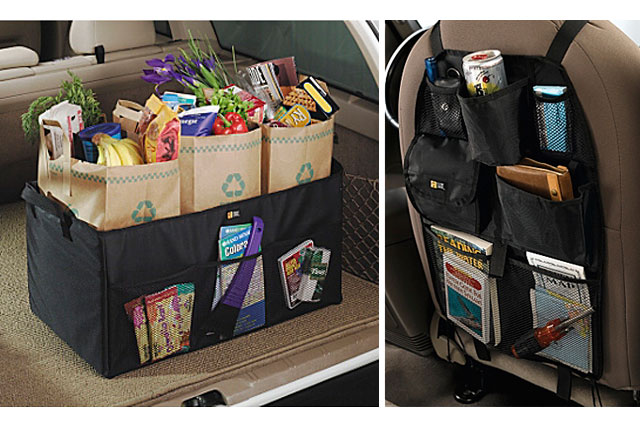 CDs, books, groceries, kid stuff; we carry around a lot. The Back Seat Organizer will keep your passengers clean and comfy while the Folding Cargo Bag Trunk Organizer will eliminate trunk clutter all together. Both can live in your car so you don't won't have worry about forgetting to organize by forgetting your organizers.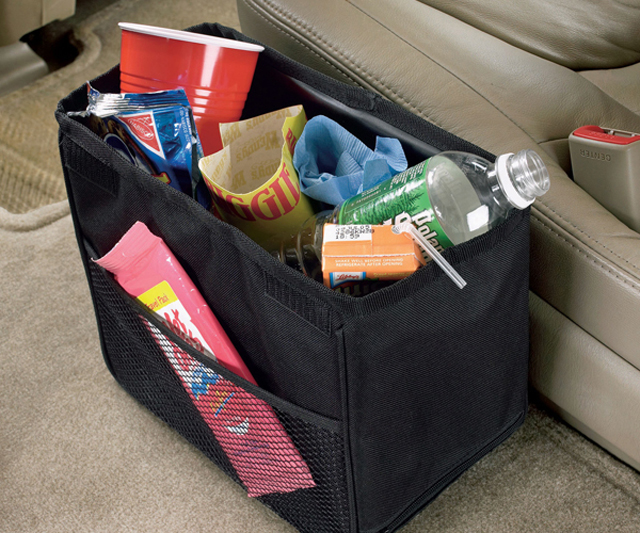 Trash can accumulate pretty quickly in the car, particularly for those with children. Keep garbage contained and out of the way with the XL Floor Litterbag from The Container Store. It's fully leakproof with rigid walls and a weighted base to keep it from tipping over, collapsing or spilling. Plus, it's got grip strips on the bottom to help it stay in place.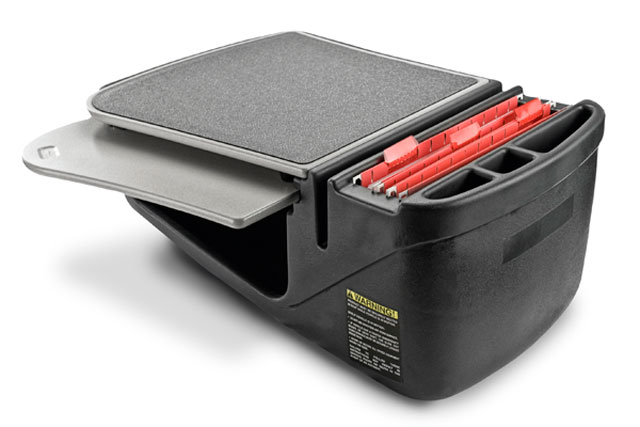 I know a lot of people who live and work out of their car. They travel from one client's location to another, working out of the car in between. The AutoExec GripMaster Mobile Desk is the perfect solution for the mobile business professional. With a non-skid surface, a slide out desktop and compartments to keep your supplies safely and neatly tucked away, the car can instantly transform from simply a mode of transportation to a mobile workstation.
What tips or items do you use for keeping the car organized? Better yet, which one of these items could you or would you use? We'll make sure to tell Santa on your behalf!