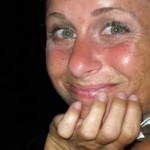 Meet the newest addition to our team! She's a talented graphic designer and self proclaimed internet addict. She's funny, clever, and been making me smile since the day we met. She's also one hell of a gift hound. Check out Morgan's first few posts on Wantist and keep an eye out for more to come. Also visit her personal blog, Internet Therapy, for tales of her love affair with Mr. Internet.
I asked Morgan to Give & Tell for us today so you could get to know her better. She was all over it. Here she is!
Tell us about a gift-giving ah-ha moment you recall.
My girlfriend and I have a running "that's what she said" joke contest. We never tire of it and use it as often as possible. We even managed to work it into our bridesmaid speech when we co-maid-of-honored another friend's wedding last year.
I was mindlessly browsing at Urban Outfitters the other day when I came across a book completely devoted to "that's what she said jokes." I instantly knew she needed to have it and snatched it up right away. I was going to wait for her birthday in December but it looks like the cat's out of the bag now (Happy Birthday, Melissa)!
What's your favorite reason to celebrate with a gift?
I believe the best days and ways to give gifts are the ones you give for no reason at all! I love to give gifts simply because I found something and thought someone I knew might like it. "Just because" gifts are so much more heartfelt and spontaneous than ones that you give because the holiday or birthday (or some other annual event) requires them.

Would you share a wrapping secret with us?
While I love funky patterned wrapping paper (Whimsy Press makes great ones), my wrapping secret is bookcloth. It's much thicker than traditional wrapping paper but so much more luxurious in its look and feel.
What's the best food to give as a gift?
Wine is a pretty basic staple to give as a gift, but it does kinda get old. I like to give edible gifts that you can try together and then the recipient can take home, like some gourmet sauces or an exotic spice kit.
Food of the month clubs are also a really unique gift as well. They have them for just about everything now so they are a surefire hit with any foodie.
Who's the hardest person in your life to buy gifts for?
As strange as it sounds, I am always stumped when it comes to buying gifts for my husband. I'm always so concerned that if I buy him what I know he would love, he'll freak at what I spent on it. So I usually end up caving and getting him some boring article of clothing. He's constantly working around the house staining all his clothes so even if it may not be what he wants, it's something he needs.
What's your most extravagant want?
I really want to go on an African Safari. I spent a month in Africa when I was in college but don't think I was really able to appreciate it. AND I slept in a tent the whole time which is not all that extravagant. I'd really like to go back and do it the right way this time.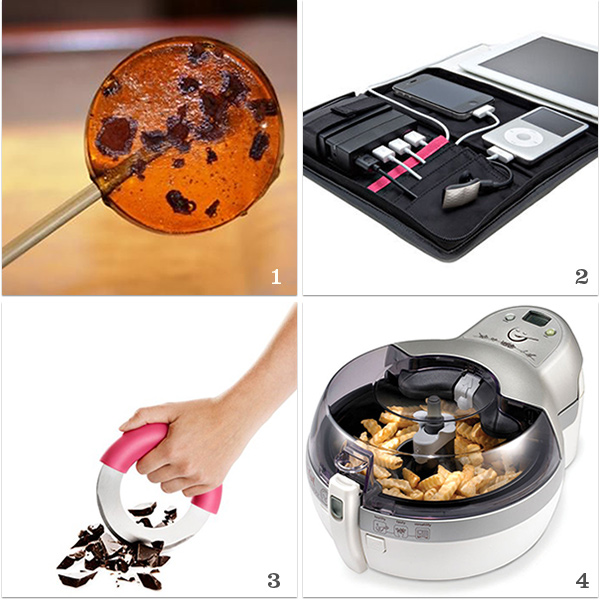 What Morgan wants to give:
1. Maple Bacon Lollipops to my friend at work who is more than slightly obsessed with bacon. Every year I get her something bacon related for her birthday and she would LOVE these!
2. Despite what I said above, I would love to get my husband the Portable Charging Station. He travels a lot for work and this would help him stay connected. And I get to be selfish in my giving since we could both use it when we travel together!
3. The Chop Round Knife to my mother. She loves to cook but has escalating arthritis, especially in her hands. This would help ease the strain and still her allow to make delicious meals.
And something she wants for herself:
4. The Healthiest Deep Fryer. If you read my byline (For the love of all things carbohydrate!) you'll understand why. And much like Kevin Costner in Field of Dreams, If you fry it, I will eat it.