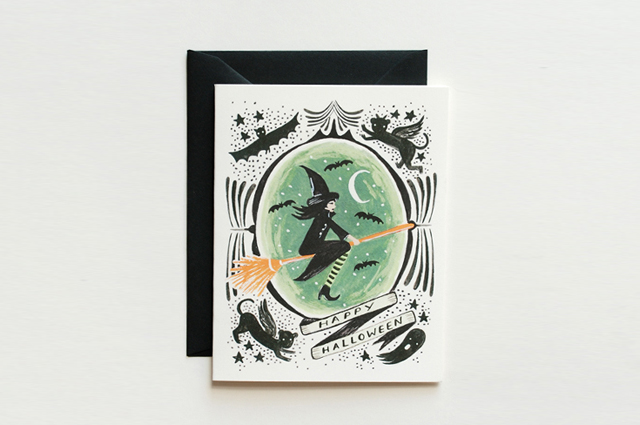 Fall is in the air and Halloween is just around the corner! It's not exactly a traditional holiday to send cards for, but I'll take any excuse to ship off a little snail mail note to friends and family. So here are ten cards that are sure to be a festively ghoulish delight in the mailboxes of your loved ones!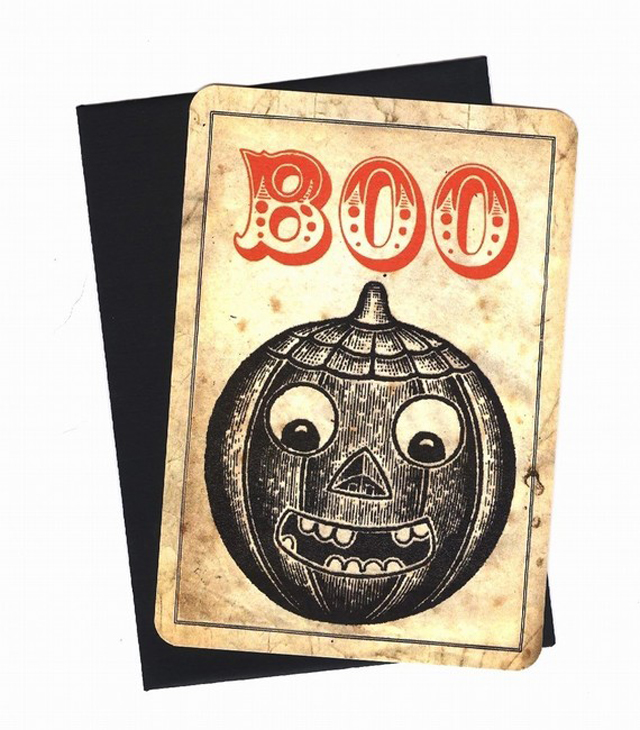 I love the vintage vibe this pumpkin card from Bluebird Lane is sending out! Vintage decorations are my go-to for Halloween, my mom's too. This would look amazing on her just-so mantelpiece.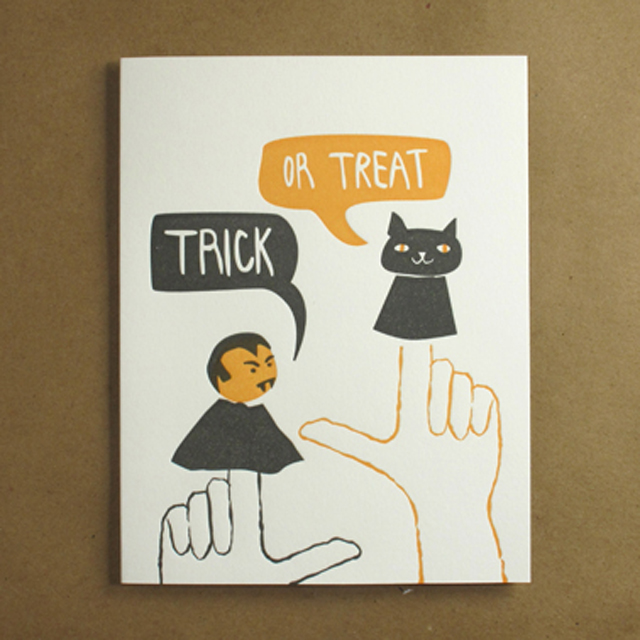 When I laid eyes on this Trick or Treat Finger Puppets card from Egg Press I laughed. I could just see my college roommate and her son making the two puppets on the front talk! The possibility of make believe diatribe is definitely a good fit for any family with a sense of humor.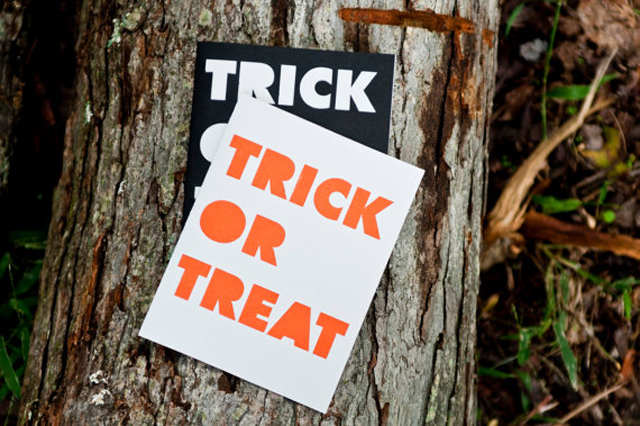 TRICK OR TREAT! I'm a big believer in less is more. This Trick or Treat Halloween card from Love Citron is a great fit for all of my type-loving designer friends, as well as anyone who appreciated minimalism and candy!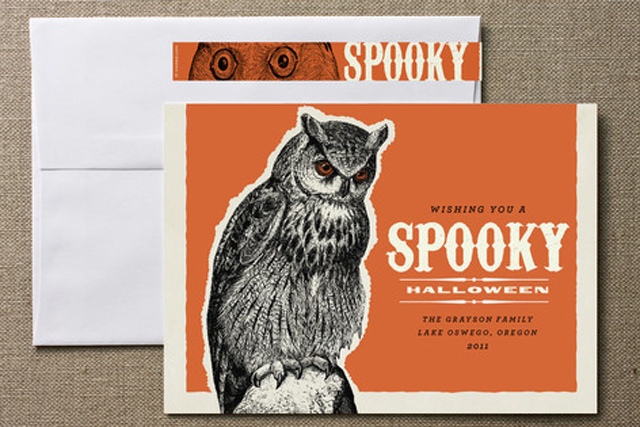 Orange, black, and white – the colors of Halloween! I love the watchful Owl Be There For You On Halloween personalized card from minted. Such a spooky way to let everyone in your address book know that you think of them more than just during the holiday season.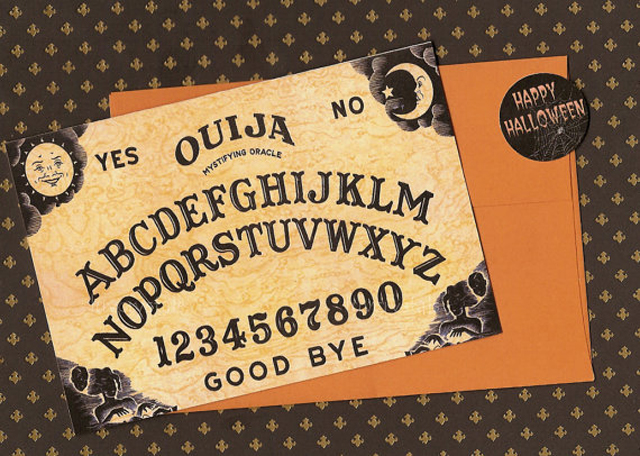 Remind your junior high gang of those late night slumber parties spent gathered around a plastic triangle with this Ouija Board from Luvcrystals! I have a few who would especially appreciate this creeptastic card.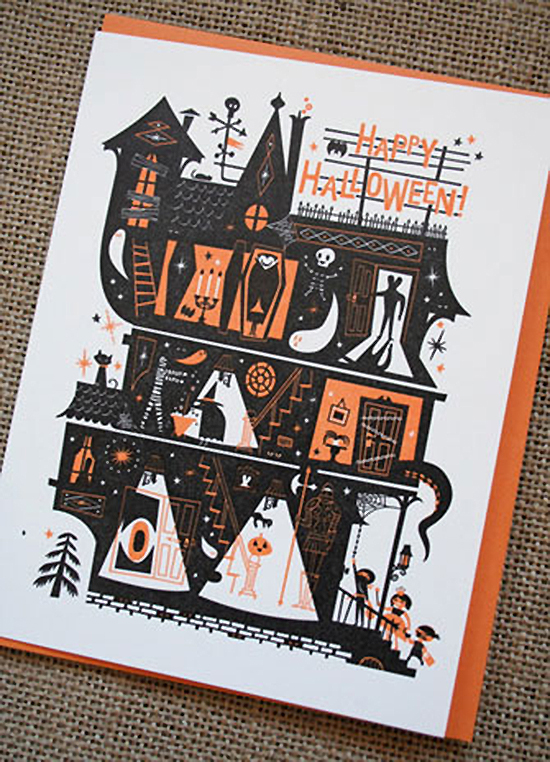 The retro illustration on the front of this Haunted House card from Lab Partners and Luxe Paperie can't help but put you in the Halloween spirit (no pun intended!). The perfect fit for that mid-century loving friend!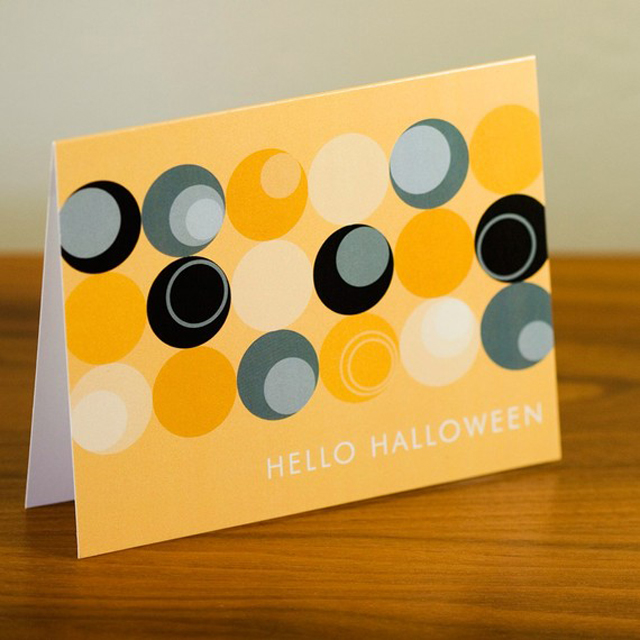 This happy graphic Hello Halloween card from Two Poodle Press cheerily welcomes in fall, the month of October, and Halloween with it's pretty palette of colors.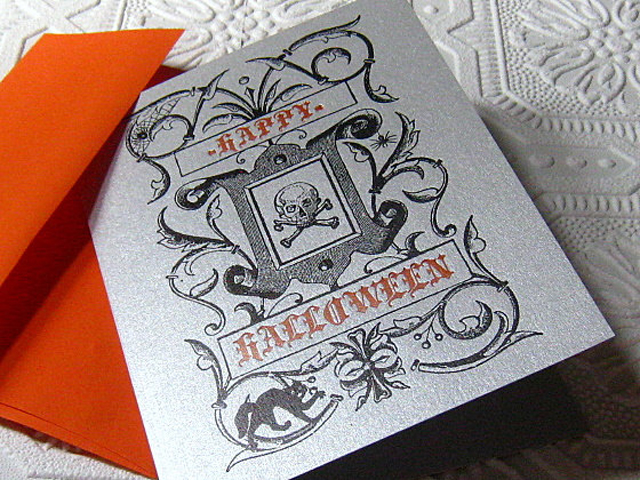 Quite possibly the most ghoulish of the bunch, this ornate letterpress Halloween Skull card from Inkadinkadoodle screams out for biggest the Halloween fan of them all—the one who still dresses up well into adulthood, who decorates to the nines, and who counts down the days til the 31st.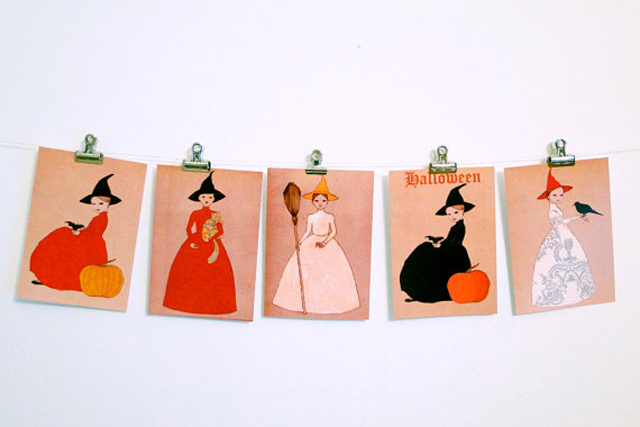 The most classic icon of them all, the witch! For the fashionistas in the group, these Halloween Girl postcards from Irena Sophia show her off in all her glory. Well, all the glory possible for long dresses with sleeves and tall pointy hats that is!