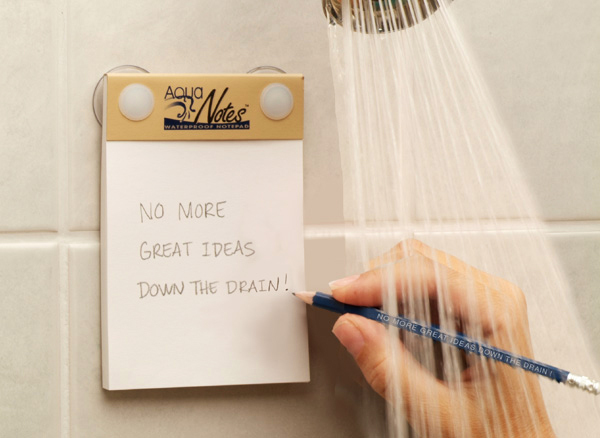 There's a lot to look at. We get it. To help you out we're calling attention to a gift you may have missed, or one we think you shouldn't. This is the Something for Someone Spotlight.
Shower thinkers and bathtub brainstormers listen up—if you're like me, your best ideas happen in the shower. You're relaxed, away from the computer, taking a break from your work, when it comes to you, the aha! you've been looking for. And the worst part, you towel off and poof it's gone. Crap!
When I found out about AquaNotes, I had to see if they really worked. This shower situation had been going on for too long. Well, let's just say I'd wear an "I ♥ AquaNotes" tshirt if they made one. They're completely waterproof. Even the eraser works in the shower. The marks don't smear or rub off. And the best part, I can tear off a sheet and take it back to my desk when I'm done.
I'm indebted to to this simple product, and I recommend it for every shower thinker and bathtub brainstormer on you list.
Find out more about AquaNotes Waterproof Notepads here.