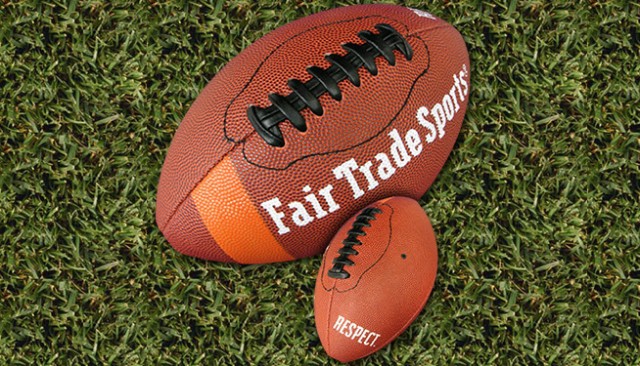 These are better balls: Footballs and more from Fair Trade Sports
I guess I'd never really thought about it—who makes that football we toss around on Thanksgiving weekend? So I found it new and interesting to learn about Fair Trade Sports, a company based in Bainbridge Island, Washington.
The mission of Fair Trade Sports is as much about awareness as it is about sales. Their blog is packed full of information about environmental and labor issues surrounding the production of sports balls used worldwide, from the pee-wee practice field on up through pro sports.
The reality is that around 70% of the world's sports balls are manufactured in Sialkot, Pakistan, where child labor has been a growing problem since the 1960s. Legislation has helped, but according to Scott James, Fair Trade Sports founder, "children are still working in manufacturing industries in Pakistan today because companies sourcing work there have failed to pay the adult workers a living wage," so families put the kids to work to make ends meet. Little fingers stitching thick, tough materials.
Reality's a bitch sometimes isn't it?
Respect: Planet, People, Profits
On to the happier stuff, it is Friday after all…
Fair Trade Sports, launched in 2006, is the first US company to produce a "full line of eco-certified Fair Trade sports balls, ensuring fair wages and healthy working conditions for our adult workers."
All profits after taxes are donated to domestic and international children's charities.
I mentioned certifications, and their list of certifications are mind-blowing, at least from where I sit. James explains, "I've said from Day One that if we can get one of the Top 5 brands to convert to certified Fair Trade, then Fair Trade Sports has won!" reiterating a greater purpose than profit alone.
As word-of-mouth continues to propel Fair Trade Sports forward they get inquires not only from partners wishing to carry their products, but from other sporting goods producers wanting to learn how to incorporate similar practices into their own businesses.
Fair Trade Sports makes footballs, basketballs, volleyballs, rugby balls, ultimate frisbee discs, and soccer balls in several sizes and in Match and Club qualities.
Recognizing overconsumption as a key contributor to the world's environmental issues, James makes an honest disclosure,"It's a bit ironic for a retail company – who frankly wants you to buy our stuff – to talk about overconsumption, but we'd be negligent not to. So, when your current sport ball gets worn out, explodes, or gets lost, we'd love to have you as a customer."
Also for sale at: