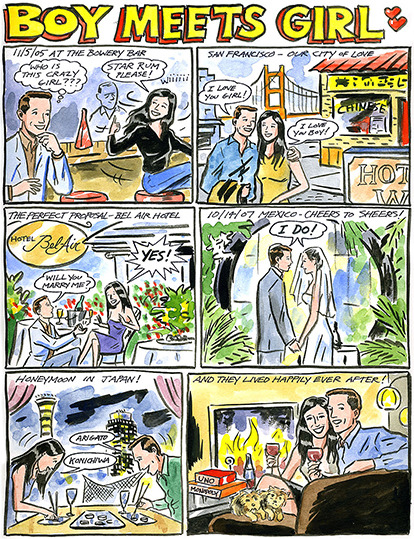 Hand drawn custom comic of you and your honey (or whomever)
You have those moments. We all have those moments. Sweet, funny, eventful—some of them completely uneventful and yet somehow totally memorable and awesome.
How great would it be to have a professional illustrator turn those memories into a comic strip? Really freakin' great, right?
That's exactly what artist Mark Weber will do for you through the delightful folks over at Elsewares. Mark's work has appeared in the New York Times, The Village Voice, Rolling Store, many books…the list goes on.
Armed with the highlights, inside jokes, and events that make up your story—whatever you're willing to share with him—Mark will draw a frameable 11″×14″ six-panel custom comic just for you.
Once you place your order, Elsewares will send a form like this one where you will provide photos and can submit as little or as much information as you wish for Mark to refer to. If you have a clear idea of what you want he'll work per your instruction. If you'd like to give a loose outline and then see what he comes up with for you, that's cool too.
Gift extraordinaire
Quite possibly the greatest gift we've seen for couples, we think it could be pretty fantastic for some other special people in your life too—like your sister, your best-friend, or dear ol' mom.