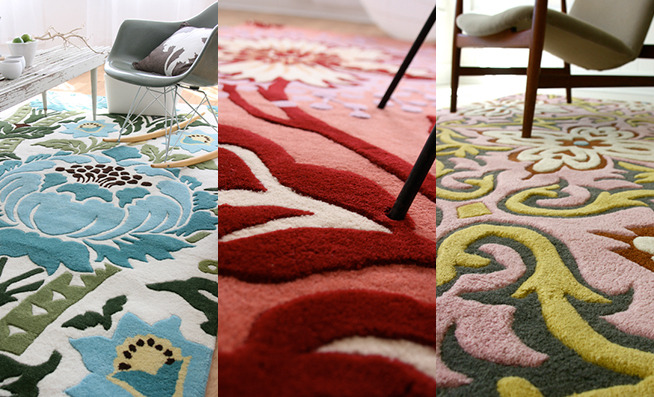 Hardwood floors are beautiful, modern and warm up a space visually, but they're cold to the touch and these feet are chilly (le brrrr!).
When Amy Butler launched her line of rugs about a month ago, I was struck by how much I loved them—we both were. Her Midwest Modern visual style (also the title of her lifestyle book), while rooted in ideas I respect and admire, hadn't been a style I was often attracted to until the introduction of these rugs. There's something wonderful about them.
They combine Amy's bold floral patterns, the craftsmanship of Chandra Rugs of Atlanta, and the toe-wiggling softness of 100% New Zealand wool. Additionally, the rugs have a relief texture that's not only unique to the touch, but a visual treat too.
Full of petals and energetic colors, they bring out the best in clean-lined furniture and manage to pull a space together for a modern and surprisingly calm feel.
The business of good
With a business almost ten years old now that she runs with her husband David and their small team in Granville, Ohio, it's clear that Amy is not only skilled at creating housewares and fashion accessories that are well loved, but she's also especially passionate about inspiring others to make their own creations.
Amy Butler Design began as a sewing pattern business and it's still a large part of the company today. As a pattern designer she emphasizes the simplicity and integrity of the craft and hopes to spark creativity in others by providing the foundation—clear instruction and fabrics that are colorful, modern and feminine.
Aside from bringing joy through vibrant designs, it's evident Amy and her team do so through their actions as well.
Some thoughts from the studio, on giving back:
(quoted from Amy Butler's about page)

Here at the studio, we firmly believe that you only get out of life what you put into it. Being generous, fair, and honest in business and in life rewards you with grace and its own success. Giving back to your community is sewing what you reap (sharing the love). It comes back to you in the form of a healthier local economy, enriched lives and dignity provided…We feel that it is a privilege to be an American small business, not a right, and with privilege comes responsibility to help. Care for YOUR community and it will take care of you.
Amy Butler hand-crafted rugs are $799 for a small (5′x7'6″) and $1699 for a large (7'9″x10'6″). Follow the link to the webstore to purchase.