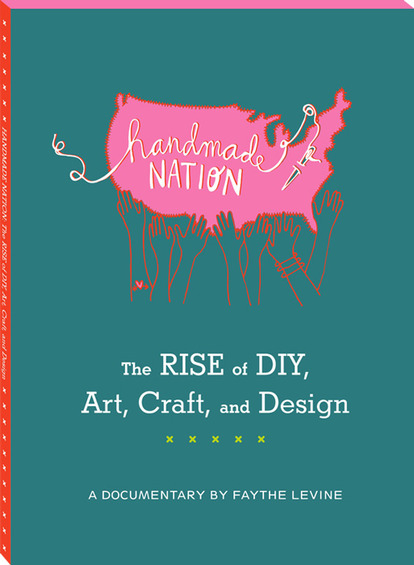 Handmade Nation Documentary now on DVD
One of the beautiful things about being a picky shopper these days is the growing contemporary craft scene and our ability to buy, almost as easily, from independent makers as we do large retailers.
Now don't be fooled thinking popsicle sticks and Elmers, maybe a little macaroni art from your kindergarten days. No, many of these artisans make quite the sophisticated array of goods. (Not to belittle artists of the aforementioned mediums. You're surely out there and likely quite awesome.) Not only are the crafters good at what they do, but by the very nature of the items being handmade, they are often one-of-a-kind created with careful attention to detail and a whole lot of heart.
The privilege of a purchase from a DIYer (whether one person or a team of ten) is two-fold. You acquire something that is unique and special—novelty that's hard to match at say, the mall. And you also support their business so they can continue to do the work they do and lead the life they love.
Story by Faythe
Director Faythe Levine's craft (well, one of them) is filmmaking. Her documentary, Handmade Nation: The Rise of D.I.Y., Art, Craft, and Design has been screening all over the place for the last year and is now available on DVD.
Faythe traveled 19,000 miles and interviewed 80 individuals in their studios, homes, boutiques, offices and craft fairs to capture "a burgeoning art community based on creativity, determination and networking."
The film features this tightly knit community that shares ideas and encouragement through websites, blogs and local events, and connects to the greater public through online stores, independent boutiques, galleries and craft fairs.
Indie is everywhere
Shopping local boutiques and fairs is important to sustain the independent businesses that are also your neighbors, and a great opportunity to say thank you face-to-face with the person who made your new find.
Bonus 2009-style, is the community-at-large of independent makers that sell online. Thanks to sites like Etsy, Supermarket, Papernstitch, 1000markets, Big Cartel and on and on, you can shop your favorites all over the world, still in support of individuals whose products you can't get enough of or whose story you love, and you get to enjoy the thrill of discovering them—which is often just as fun as the purchase itself.
Local love: the DVD is being released by Portland's Buy Olympia. All pre-sales are done exclusively through them. The packaging is printed on recycled board with veggie inks and a folded digipak that uses minimal plastic. The cover art was illustrated by Kate Bingham-Burt, also of Portland.
Also for sale at: