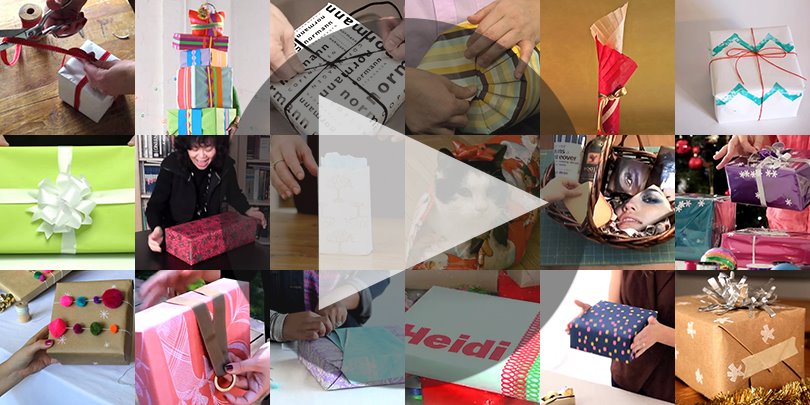 Time to wrap! Whether you're looking for inspiration or how-to help, we've gathered up the best videos to help embellish or upgrade your gift-wrapping skills.
The first few cover the basics of wrapping a box. You'll also learn creative ways to reuse materials already around your house and crafty DIYs with pom poms and potatoes.
For veteran wrappers, learn clever fixes for when your paper is too short, how to wrap a cookie tin and make it look beautiful, a dramatic way to wrap a wine bottle, and how to make glossy confetti-filled gift wrap.
These first two are simply to get you in the mood. They made me smile. I hope they do the same for you!
The Basics: Wrap A Box + Tie a Bow
When it comes to wrapping a present, we all have different approaches. Seam down the middle? Seam on the edge? Scotch tape? Double stick tape? And how to do those pesky ends—squared or pointy?
Truth is, there's no right way. Different folds create different results. Just decide what you like best. These first 3 videos show simple steps in various styles for wrapping a basic box.
A beautiful how-to by the lovely Danyelle Mathews of Dandee Designs, set to the music of Sufjan Stevens.
Simple steps from One Kings Lane.
Norman Copenhagen makes some of our favorite gifts, so I couldn't resist their equally chic and minimal gift wrap video.
Geren Lockhart and Daily Candy share steps for neatly wrapping a box plus an interesting and easy gift topper using a metal ring from the hardware store.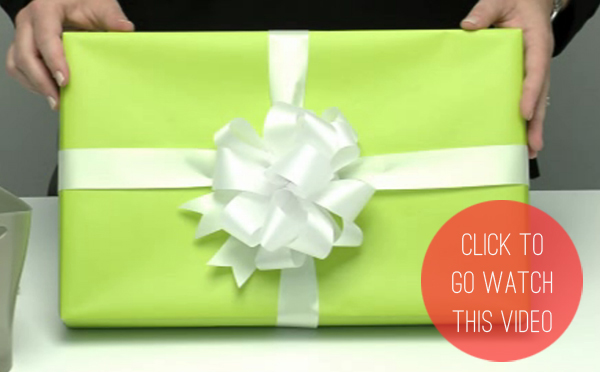 Other favorite step-by-step videos come from The Container Store, but you'll have to go there to see them. Learn How to Add Ribbon to a Box so that it's flat on the bottom, How to Tie a Pom Pom Bow that's fluffy and impressive, and more!
Get Grafty! Upcycyled Materials From Around The House
The next 5 videos will have you digging out your paints and exacto for some fun wrapping with recycled materials.
This holiday how-to by Katie and Alison of Twin Stripe, keeps things simple with kraft paper and hand-strung pompoms.
The Etsy folks go to town with a paper grocery bag, a stamp carved from a wine cork, and bows made from aluminum foil.
This one from Threadbanger is crafty to the max! They explain how to use a potato stamp to make DIY wrapping paper, how to dress up a gift basket, and creative wrap made with fashion magazines, old maps and more!
Make a gift bag with an envelope! A cute idea from RecycleNow.
Heidi Klum and Michael Ostrow show how to make flower toppers with newspaper and big typographic letters for your recipient's name.
Okay, this one's another vegetable stamp, but there are two things I really love about this video 1. She gets messy and doesn't worry about being precise and it still looks great. 2. She gets the kids involved! It's made by Phoebe CarpenterEells of elSage Designs
So clever! So fun! Advanced Tips + Tricks
This last set of 6 videos is where the real magic happens. There's some real gift wrapping genius below. Look!
http://youtu.be/-Qo004psDfo
Not only are these gifts glossy and shiny, but they wrap is filled with shakable confetti. Like a snow globe!
My jaw dropped when I saw this one. If you get the ends lined up just right, putting your gift at a diagonal uses less paper!
Sure to impress. Add drama and height to a wine bottle with this Japanese wrapping technique.

Wrapping round ojects is impossible right? No! Nilda from Kate's Paperie shows how to wrap a round cookie tin. And make it look great. Really!
For those pieces of paper that don't quite fit (you know the ones), Tajuana from UncommonGoods shows a clever technique to fill the gap and make a unique 3d texture on your gift.
Bonus! For hohoho hahahas
Meow could I leave off the How to Wrap a Cat video?
So which vid has you most inspired? The stamps, the tin, the cat?
Happy wrapping!